Back to top
Grey Cushions.
embrace tasteful style and timeless comfort with our grey cushions.
Sophisticated, versatile and a timeless style statement that'll always look the part – our grey cushions collection is every decorator's dream. From dark and moody to light and airy, grey pairs gloriously with just about any colour scheme. We've got hundreds of stunning signature designs, from tactile tassels to embroidered botanicals – meaning you're sure to find the perfect fit. Shop the collection.
Whether you're looking for smoky charcoal cushions to complement your industrial decor or a tufted, tasselled number to bring texture to your tonal space, you'll find the ideal grey cushion covers in our collection. From small and square to round, rectangular and rare – we've got a generous selection of
cushions
for you to peruse. Choose from our durable polyester and plush duck feather fillings, or buy a cover separately and fill it yourself.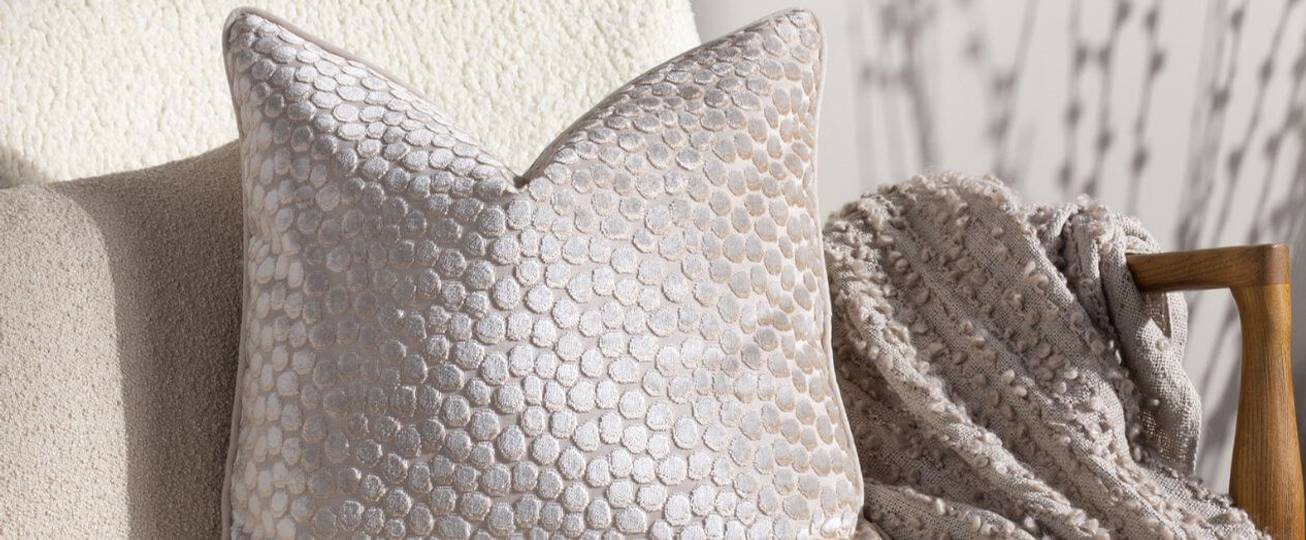 grey cushions at furn.com.
With hundreds of unique patterns and splendid signature designs to choose from, our selection of grey cushions has something for all manner of interior tastes. From simple square cushions in charcoal velvet to lustrous silver foil prints that ooze luxury – finding the ideal match for your bed, sofa or armchair couldn't be easier with our collection.
On a cushion-buying quest but not sure where to start? Make sure to check out the rest of our cushions for a smashing selection of styles, designs and colours. Get cosy in the garden with our weatherproof outdoor cushions, or keep the chill out while you chill-out with our heavy-duty draught excluders. From roaring animals to flourishing florals, plush velvet finishes and more – we've got thousands of stunning designs to give your space a sprucing.
Head over to our blog for a generous helping of expert cushion guides and style advice. Start with our handy cushion buying guide to make sense of the wide variety of cushions, pillows and shams available – and check out our wide range of cushion guides to learn the best filling for cushions, how to clean your cushions and more.
how to style grey cushions.
Grey is a hugely popular colour – it's calming, it's versatile and it's neutral, so it's really easy to use. The various shades and tones mean that there's a grey to go with every colour, style, and size of room.
When it comes to grey, the key to pairing colours is all down to undertones. Generally, if you've matched the undertones of your chosen colours, they will complement one another. Greys with green undertones will work wonderfully with greens and blues, for example, and a pinkish grey will pair beautifully with purples, pinks and even some reds.
For a dark and brooding living room look, combine sumptuous dark grey cushions and an emerald green sofa with light grey walls. Punctuate the look with a dramatic black cushion and industrial-style furniture for a tastefully moody aesthetic.
Going for something more soothing? Perfect for the bedroom, pale grey cushions paired with a dusty pink bedding set or wallpaper feels restful and calming. Add pops of mint green in your accents and accessories for a delightfully refreshing take on this colour combination.
Put greige centre-stage by coupling your light grey cushion covers with natural tones like beige, cream and ecru. The key for this very light tonal colour scheme is to introduce layers of textures, so feel free to get wrapped up in tufting, chunky knits, faux fur, woven fabric and more.
what colour cushions go with a grey sofa?
Determined for a showstopping living room but not sure if you're onto a winning colour combo? Luck for you, we've done our homework. We've already got a detailed guide on how to pick and style cushions for grey sofas, which takes you through just about every conceivable colour pairing. If you're working with a different colour sofa, check out our broader guide to finding what colour cushions go with your sofa colour.
The beauty of grey – and a big part of the reason why it's been an interior staple for years – is that it's so effortlessly versatile. This is great news if you're styling a grey sofa, as it means that the colour combo options are pretty much endless. If your sofa is a lighter grey shade, try bright cushions in soft summery hues like butter yellow, blush pink or eucalyptus green.
As a dark grey sofa tends to be warmer in colour, bright bursts of highly saturated hues will shine all the brighter alongside it. Think dazzling decorative cushions in rich jewel tones of emerald green, sapphire blue and crimson or ruby red.