Create an Instagram-worthy cushion arrangement.
---
When it comes to home decor, one of the easiest ways to update and refresh your living space is by switching up your cushion arrangements. But with so many options available, how do you make sure you get it right? Let's explore the ins and outs of cushion arrangement, from understanding the importance of balance to choosing the perfect mix of materials.
---
understanding the importance of cushion arrangement
Cushion arrangement is often overlooked, but it can make a huge difference in the overall feel of your living space. A good set of cushions enhances the aesthetic appeal of your space, and plays a key role in ensuring that you're comfier than a cherub on a cloud when you sit on your sofa.
The main reason why cushion arrangement is so important is that it can totally make or break the comfort level of your seating area. We've all sat on an odd cushion arrangement and felt awkward and uncomfortable as you try and find the sweet spot on your sofa.
---
balancing comfort and style
While comfort should be a top priority when arranging your cushions, there's no need to sacrifice style. Striking the right balance between the two is key, and there are plenty of creative ways to achieve this.
For example, mixing and matching textures can add visual interest while still ensuring maximum comfort. Consider pairing a soft, plush cushion with a textured, woven one to create a cosy and inviting seating area.
Playing with bold patterns is another way to add a touch of style to your cushion arrangement. Consider incorporating a few cushions with eye-catching prints or geometric designs to liven up your space.
"Too many cushions in one setting is easily done" our interiors expert Suzi advises. "It can be tricky to balance style and comfort, go for odd numbers and keep to two or three styles".
---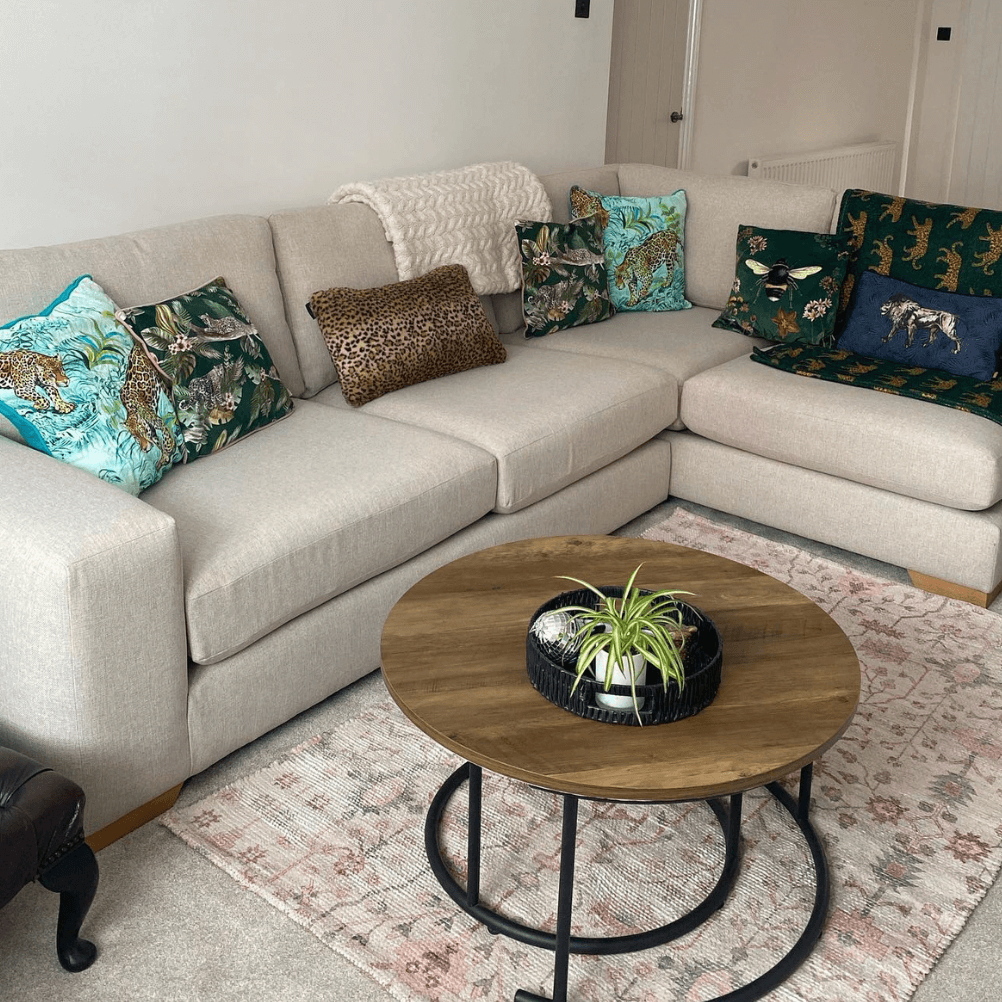 ---
enhancing your living space
But cushion arrangement isn't just about achieving comfort and style; it can also be key to enhancing your overall living space. By strategically placing cushions, you can create a cosy nook or capitalize on natural light to create a warm and inviting atmosphere.
For example, if you have a window seat, consider placing a few cushions along the back to create a comfortable and inviting reading nook. Or, if you have a large open living space, consider using cushions to divide the space into different seating areas.
Ultimately, the key to a successful cushion arrangement is to experiment and have fun with it. Don't be afraid to mix and match different textures, patterns, and colours to create a look that is both stylish and comfortable.
---
choosing the right cushions for your sofa
Now that we've explored why cushion arrangement is so important, let's dive into how to choose the right cushions for your sofa.
selecting the appropriate size
The size of your cushions will likely depend on the size of your sofa, but as a general rule of thumb, larger cushions tend to be more comfortable. For an arrangement that's pleasing to the eye, layer smaller cushions in front of larger cushions.
Experiment with different sizes to find the perfect fit for your living space.
picking the perfect material
From plush velvet to soft cotton, there are plenty of cushion materials to choose from. For a cosy winter sofa, opt for faux fur and knitted cushions, or if you want something light and airy for the warmer seasons, crinkle cotton cushions like our Lark ones are absolutely perfect.
Consider the look and feel you're going for, as well as any practical considerations such as spill resistance or durability.
coordinating colours and patterns
When it comes to coordinating colours and patterns, don't be afraid to mix and match! The key is to find a cohesive colour palette and stick to it. Think about your sofa's existing colour scheme and any accent colours you want to incorporate. If your sofa is the ever-popular colour of grey, take a look at our blog post on how to pick and style cushions for a grey sofa.
---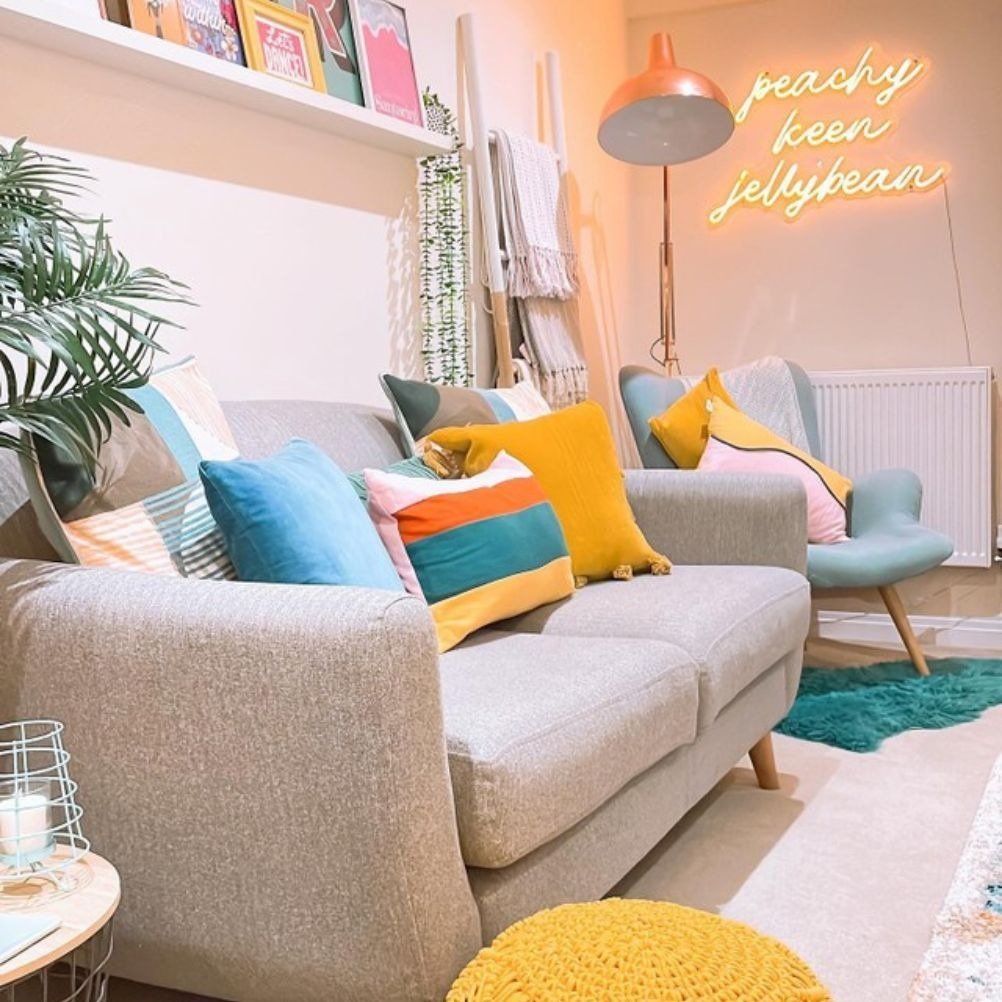 ---
cushion arrangements 101
Now that you've got the basics down, let's explore some basic cushion arrangement techniques to help you achieve maximum comfort and style.
symmetrical arrangements
As the name suggests, symmetrical arrangements involve placing an equal number of cushions on either side of your sofa. This can be a great option for achieving a clean, classic look.
Symmetry is a key design principle that has been used for centuries. It creates a sense of balance and harmony, making it a popular choice for cushion arrangements. A symmetrical arrangement can help to create a cohesive look in your living room, tying together different elements and creating a sense of order.
When creating a symmetrical cushion arrangement, choosing cushions that are similar in size, shape, and colour is important. This will help to create a sense of balance and order, and prevent the arrangement from looking too cluttered or chaotic.
"Symmetry is important for a sense of calm in your space. Create harmony with the same cushions on either side for a traditional feel, or go for a point of difference, choose three contrasting cushions for a playful feel. Grouping different textures but complementing colours can really create a focus" Suzi says.
asymmetrical arrangements
If you're looking for a more eclectic, bohemian-inspired vibe, consider experimenting with asymmetrical arrangements. This involves placing cushions in a more haphazard, organic way, for a look that's both playful and unique.
An asymmetrical cushion arrangement can be a great way to add a touch of personality to your living room. It allows you to play with different shapes, sizes, and colours, creating a look that's truly your own.
When creating an asymmetrical cushion arrangement, it's important to keep in mind the overall colour scheme of your living room. You want to choose cushions that complement each other, rather than clash.
layering cushions
Layering cushions involves stacking multiple cushions on top of each other for a comfortable, cosy and textured look. Layers of cushions create a sense of depth and dimension in your living room. It's a great way to add visual interest to your sofa.
When layering cushions, choosing cushions that are different in size, texture, and colour is important. This will help to prevent the arrangement from looking too flat or one-dimensional.
---
tips for maximizing comfort
While there's no one-size-fits-all approach to cushion arrangement, there are some general tips and tricks you can use to maximize comfort in your living space.
considering cushion fillings
The filling you choose can play a big role in how comfortable your cushions are. From polyester to feathers, think about your personal preferences when selecting the right cushion filling.
Polyester is perfect for a durable option, with no compromise on comfort. It doesn't sag or need much plumping (and it's a great allergy-free option!) However, feathers or down may be a better option if you prefer a softer cushion. They're known for their ability to conform to your body, providing a comfortable and cosy feel.
Most of our cushions are available as a cushion cover only, or pre-filled with your choice of either polyester or feather filling.
adjusting cushion placement
If you find that your cushions aren't quite as comfortable as you'd like, don't be afraid to experiment with their placement. Moving them around can make all the difference!
One strategy is to create a layered effect by placing larger cushions at the back and smaller ones at the front. This can help provide better support for your back while also creating a visually appealing look.
Another option is to try different arrangements until you find one that works for you. For example, you might try placing all the cushions on one side of the sofa or arranging them in a diagonal pattern.
mixing and matching textures
One easy way to achieve a comfortable, cosy look is by mixing and matching textures. From furry cushions to soft knits, consider using a variety of textures to make your living space welcoming and inviting.
For example, you might pair a smooth leather sofa with a fluffy faux fur cushion or mix a chunky knit cushion with a sleek silk one. The key is to experiment and find combinations that work for you.
Remember, comfort is all about creating a space that feels welcoming. By considering cushion fillings, adjusting placement, and mixing and matching textures, you can create a stylish and comfortable space.
"Texture is so important when it comes to your sofa. It's an easy way to make your sofa look stylish and inviting, as well as feeling soft and comfortable. Layering different textures is an interior stylists design tool. It can make a statement while keeping the subject subtle" Suzi says.
---
---
---