Back to top
Halloween Throws.
wrap yourself in a cloak of comfort with our toasty Halloween throws.
Irresistibly soft, effortlessly moveable and crammed with autumn cosiness – our
Halloween
throws are the ideal accessories for the spooky season. Creep your way through our snuggly selection of signature designs, from chunky knits and sumptuous tufted fabrics to wondrous woodland designs, available in a range of muted and bright hues. Shop the collection.
Give your home a warming
autumn
glow this season with our selection of Halloween throw blankets. Whether you're craving an irresistibly warm knitted weave, the toastiness of tufted cotton or a snuggle-worthy design – find your cuddle buddy for the cosy season in this comforting collection.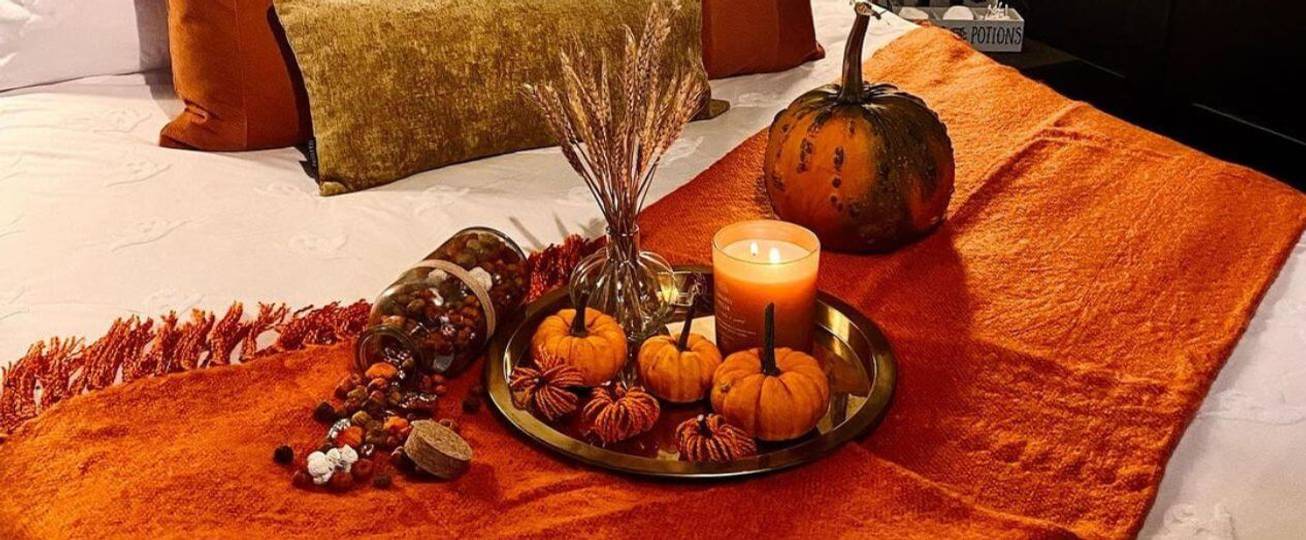 Halloween throws at furn.com.
From setting the mood for seasonal soirées to keeping you safely bundled up when the scary movies start – no spooky season is complete without its fair share of snuggly layers. Our Halloween throws are ideal for conjuring up whatever vibe you're going for this witching hour, with creepy jack-o-lantern hues of orange, gold and black, or rustic tones of auburn and moss green offering that cosy fireside feel.
Feeling fearsome? Don't forget to check out the rest of what our Halloween collection has in store. From blood-curdling cushions to blissful bedding that'll have you sleeping through every little bump in the night – we've got horrifying home furnishings that'll bring your cosy autumn fantasy to life.
If all this Halloween styling's got you spooked, head over to our inspiration blog for a powerful potion of how-to guides and seasonal tips. Figure out how to pick the right throw and learn five ways to style them with our simple guides, or give your home a haunted mansion makeover with our take on how to celebrate Halloween at home.
how to decorate with a Halloween throw blanket.
Got your heart set on a horrifying Halloween blanket, but not sure how to give it some suitably spooky style? You'll need to go a bit further if you want to petrify your party guests or send those trick-or-treaters turning on their heels. We've already shared Insta-worthy Halloween styling tips from some of our favourite eerie influencers, but there are tons of fresh ideas just waiting to be dug up.
If an all-out monster mash aesthetic is what you're after, you're not exactly short on options when it comes to styling for the spooky season. While our Halloween throws are known for offering otherworldly comfort, that doesn't mean you can't turn them into a dread-inspiring decoration once the festivities kick off. Draped over your sofa like a wondrous witch's cloak, covered in novelty cobwebs or surrounded by a string of twinkling lights – they're sure to add a spine-tingling touch to any Halloween home.
The spooky season doesn't have to be all jumps-scares and sugar highs, however, and we've got a cauldron-full of quieter options that'll take those cosy autumn evenings to nuzzle-worthy new heights. Our teddy and sherpa fleece blankets are the ideal fireside companions for those chilly autumn nights, equipped with insulating properties that'll keep even the chilliest of bones feeling seasonally snug. Couple your Halloween throw with a cosy chorus of accents in rich earthy hues, from rust orange and moss green cushions to sunset-toned throws and warm ambient lighting.