Back to top
Striped Bedding Sets.
 explore between the lines with striped bedding.


Whether you're looking to create illusions of space, splash on some extra colour, or simply introduce some drama to your space, stripes are always a great option. Our striped bedding sets are guaranteed to bring an instant surge of energy to any room, sparking a sense of movement and vitality that simply can't be imitated. Shop the collection today.


Looking for bedding that's versatile in style but sure to make a statement? Bring some vibrancy to your bedroom with the timeless effect of stripes. Go bold with a textured mélange stripe in vividly contrasting tones, or keep it subtle with a washed grey and white coordination. Whatever your taste, our striped bedding collection has patterns and colour schemes to catch the eye and demand attention.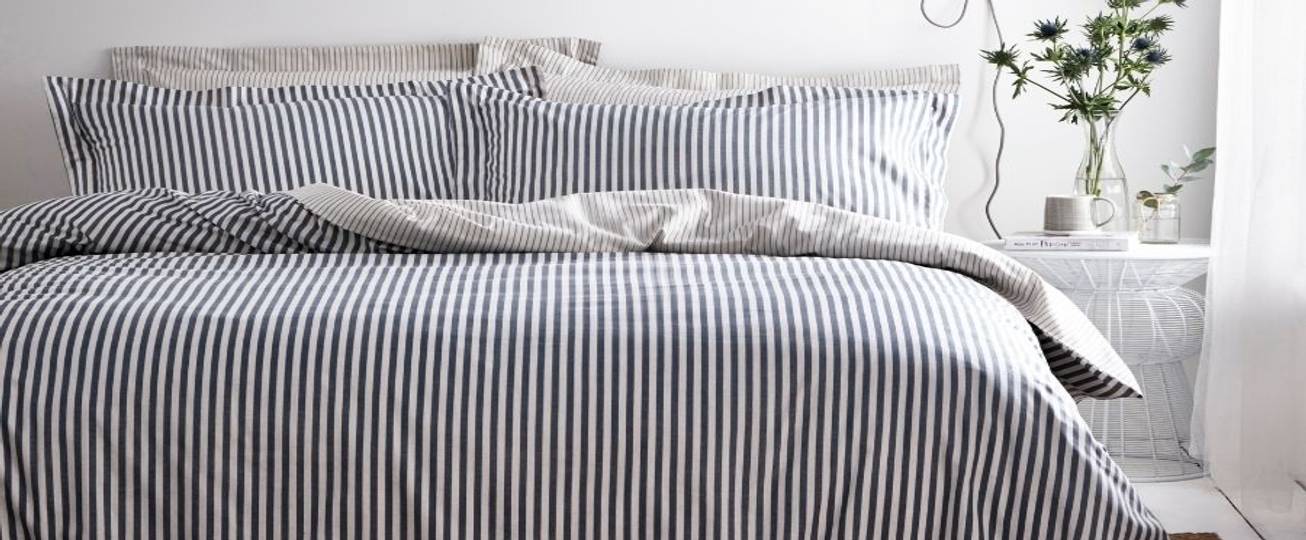 striped bedding sets at furn.com.
Having come a long way since the days of the old French Navy marinière (which was designed to make French sailors easily visible if they fell overboard) the striped pattern has established itself as an interior design statement that is here to stay. While trends have come and gone, stripes have stood the test of time, and their long-standing popularity makes them a classic, dynamic addition to any space.
From traditional woven cloth designs to contemporary pastel-hued pinstripe looks, our striped bedding collection covers every corner of the pattern's versatile style.
Trying to settle on some new bedding and not sure where to start? Our bedding buying guide covers everything from bedding basics to finishing touches.
how to style striped bedding
A trusty pattern style that's destined to never go out of fashion, stripes also bring the added benefit of being extraordinarily versatile in how you might choose to style them. While their status as a bold look might make you shy away, stripes can actually be made as subtle as you like. So, whether you're looking to go all out with intensely contrasting and layered patterns, or simply thinking about adding a subtle motif to your décor – our striped bedding collection has just what you're looking for.
Aside from their style, stripes serve the great function of creating the illusion of space. Vertical striped wallpaper makes walls look longer and ceilings higher, while horizontally striped duvet covers can lend a luxuriously spacious appearance to your bed. If you're partial to the boho look, try layering your subtly striped bedding with a striped throw and a striped cushion. This will add levels of texture to your design while introducing refreshing feelings of spaciousness.
how to layer with stripes
If you're keen to experiment with layering stripes but worried about your space appearing bloated, try pairing different sizes and patterns of stripes together. You'll be introducing the playfulness and spatial benefits of stripes while creating a look that's varied and easy on the eye. Depending on the patterns, layering different types of stripes can achieve a feeling of airiness and levity, fitting perfectly with French country and farmhouse styles.
For a heavily textured look that maintains strong feelings of effortlessness and sophistication, try pairing striped bedding with floral or graphic-patterned accents. Always a show-stealer, vividly striped bedding will work as your focal point here, and other patterns will work in harmony in the background. Accenting your striped bedding with some floral wallpaper and decorative printed animal cushions will give you a bold boho aesthetic while not feeling too over the top.