Back to top
New In Bedding.
tuck into the latest trends with our new in bedding.

From sheets to shams, duvets to pillowcases, bedding sets to bedspreads and more – we know the perfect sleep sanctuary is all about the details. Set the ideal tone with serene sunny florals, embrace a world of dreams with earthy abstract prints or keep it classic with sophisticated plain dye pieces. Shop the collection.

Our new bedding arrivals ride the cutting edge of interior trends while staying grounded in the very finest of quality fabrics. Whether it's premium Egyptian cotton pillowcases, luxury hotel quality quilts and mattress toppers, silky smooth sateen or crisp cotton percale covers – experience world-class comfort in a range of unique signature designs.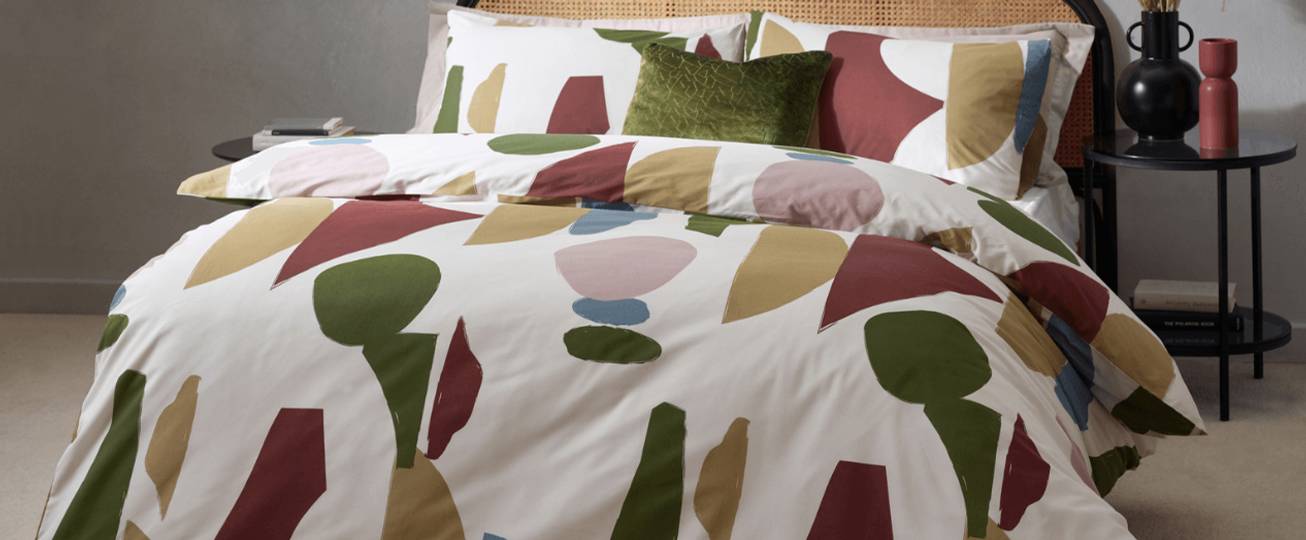 new in bedding at furn.com.
We spend far too much time in our beds to be lying on anything that feels (or looks) less than perfect. Whether you're looking for a full bedding makeover from the bottom up, or simply want to iron out some of the finer details, find the perfect blend of quality and style with our new in bedding collection.
Embrace the breathable bliss of soft 100% cotton bedding, launch a love affair with luxury linen bedding sets that are made to last, or opt for easy-care polycotton that's a perfect fit for the busy family home.
Not sure where to start? Our helpful bedding buying guide is brimming with handy tips and tidbits, sure to get you on the right track to achieving your ideal sleep sanctuary.
start with the basics.
Just like anything in life, a good bedding arrangement starts with a strong foundation. Investing in a solid bedframe and high-quality mattress will get you off to a winning start, providing a strong base for your bedding to reach its full comfy potential.
If you're not fully satisfied with your current mattress but can't get your hands on a new one right now, a mattress topper or mattress protector can be a quick and affordable fix. They up the comfort of your mattress significantly, and often come with anti-allergy or antibacterial properties as a hygienic bonus.
We all love that fresh bed sheet feeling, but with irresistibly soft 100% Egyptian cotton and luxury hotel quality cotton percale – fresh sheets have never felt so good. We've already broken down our 7 incredible benefits of 100% cotton bedding, so check it out if you'd like to explore the finer details of this fine quality fabric.
finishing touches.
No bed is complete without its fair share of frills, embellishments and comfort-enhancing details. Whether you want to max out your bed's cosiness levels with endless bundles of soft fabric, or you're in pursuit of a luxuriously layered look worthy of the finest boutique hotel – you'll find the perfect finishing touches with our new in bedding collection.
There's nothing quite as inviting as a bed that's made up with a mountain of pillows, cushions and shams. Whether you simply can't sleep without an unreasonable number of pillows and cushions beneath you, or you're just a fan of the rich, embellished look – we've got everything you need to make your bed a full-blown pillow paradise.
Known for their luxurious draping look, bedspreads are a must-have finishing touch for the five-star bed. Spread on top of your duvet cover for an elegantly layered look, and use it as an extra layer of insulation in the winter months. Bedspreads can also double as a lighter blanket on hotter nights, if you're a warm sleeper and often feel too stuffy under a quilt.