Back to top
Faux Fur Throws.
enjoy temptingly toasty comfort with our faux fur throws.

Indulge in the unique, irresistibly soft textures of synthetic animal coat with our stunning selection of faux fur throw blankets. Rich in warming heavyweight fibres and silky-smooth textures, our collection offers alpine inspired designs and micro mink finishes in a range of neutral, muted and jewel-toned colourways. Shop the collection.

The perfect winter warmers for cabin-style cosiness, our faux fur throws provide an irresistible mix of insulating toastiness and snuggly texture. Get the luxury look and feel of elegant faux fur, and find your perfect cosy companion for those chilly winter nights.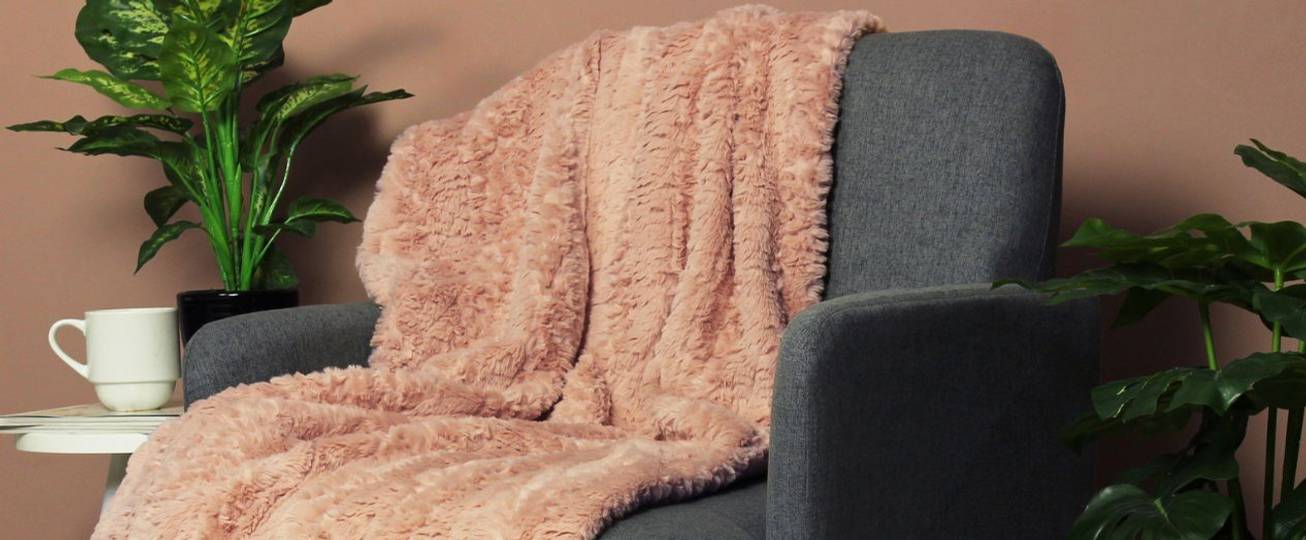 faux fur throws at furn.com.
Soft, fluffy and luxuriously heavyweight – discover your dream layer of cosiness with our stunning faux fur throws collection. Made with the finest of smooth synthetic fabrics, enjoy irresistible texture and heat-trapping warmth that'll keep you comfortably cosy in every season.
In need of a throw but not sure where to begin? Our Inspiration Blog is chock-full of expert tips and advice – from how to pick the right throw for you to 5 ways to style throws in your home.
what is faux fur?
Faux fur is a synthetic material that's manufactured to accurately copy the unique look and feel of an animal's fur. It's produced using manmade materials – usually plastic fibres, synthetic fabrics and synthetic colour dyes.
It's been used in clothing and textiles since the 1920's, and modern manufacturing developments have meant that today's faux fur feels softer, smoother and warmer than ever before. Our faux fur throws are made from the finest soft polyester fibres, making them a durable and snuggle-worthy option for lovers of fuzzy comfort.
is faux fur a good choice?
Faux fur has seen a massive growth in popularity over recent years. It's an extremely popular fabric in the world of soft furnishings, fashion and accessories, and it seems to be firmly on the rise. But what exactly is so great about faux fur, and what advantages does it have over similar fabrics?
Thanks to the wonders of modern manufacturing, today's faux fur has an irresistibly soft texture that has to be felt to be believed. Our faux fur throws are made with silky-smooth, high quality synthetic fibres – making them impossibly soft, smooth and warming.
One of the biggest upsides to using faux fur is its impressive durability. Hard-wearing synthetic fibres like polyester and acrylic means that faux fur absorbs wear-and-tear much better than many of its similar fabric counterparts.
Faux fur is also a great option when thinking about fabric maintenance and upkeep. Our faux fur throws are fully machine washable, saving you a lot of time and money in the long run when compared with more delicate fabrics like silk, suede or knits.
how to style a faux fur throw.
An instant pop of sumptuous texture that'll warm up the atmosphere in any space, our faux fur throws make a stunning addition to any bed or living room.
If your space is feeling a bit dry, clinical or over-organised, introducing faux fur throw blankets is a guaranteed way to dial up the cosy, casual vibes. Go for a warm, earth-toned throw and drape it naturally over the back of your sofa or bed for an effortlessly elegant look.
Strike up a fur-ocious coordination of snuggly textures by coordinating your faux fur throw with a few faux fur cushions. Your sofa or bed will be transformed into the ultimate haven of heavenly softness, and you'll be setting up a luxurious style motif.
Mixing textures is a great way to spark visual interest and give your space some depth, so don't be afraid to switch things up. Velvet and bouclé cushions will make for an eye-catching contrast with your faux fur throw, creating a layered sense of cosiness that you wont be able to resist snuggling up in.
Although our blankets and throws can be used in any room in the home, we do not recommend these products for young children. Please use responsibly.