Back to top
White Cushions.
sink into classic + contemporary comfort with our white cushions.

Add a pop of soft and stylish white to your interiors with white cushions. Available in a range of stunning designs, shapes and sizes, you'll find bold jungle prints, colourful embroidered patterns and uplifting slogans for you to kick back and relax into. Shop the collection now.There are many textures to choose from, including luxury linen blends for your sofa, water-resistant outdoor cushions for your patio area and faux fur in fun, novelty shapes for your little one's bedroom. Many of our white cushions are available to buy as cover only, deluxe feather-filled or polyester filled and all covers are removable with a hidden zip closure.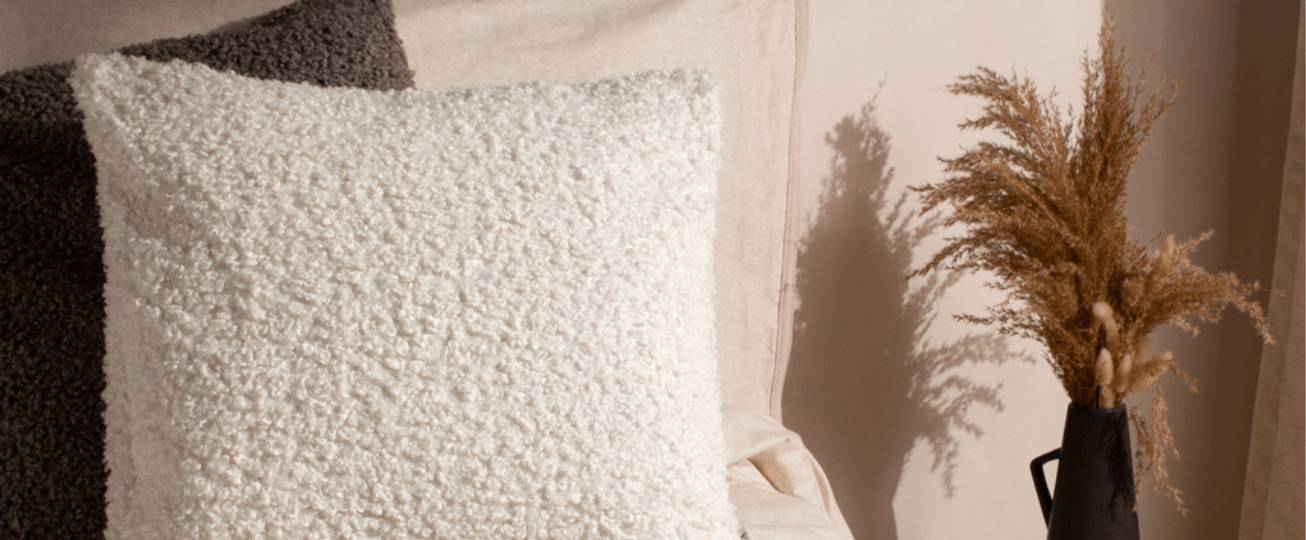 white cushions at furn.com
Although white is a neutral colour, it's certainly not boring. Introduce stylish white cushions into your home décor to brighten up any space and leave you feeling comfortable and content.
Whether your bed is feeling a little boring, your sofa needs some TLC, or your outdoor benches are lacking serious comfort – we've got a range of plain and patterned classic white cushions to suit your needs.
With funky florals, gorgeous hand painted designs and abstract patterns, there are loads to choose from. Discover different shapes and sizes – square, rectangle and novelty. Mix and match to create a sophisticated white sofa-scape that you can't wait to relax into!
If you have the cushion and just want to buy a cover, many of our cushions are available to purchase as cover only. But if you need both cushion and cover, you can choose between soft feather-filled or polyester-filled cushion pad inners.
Many of our white cushions are reversible, with one side patterned and the other side plain. So you'll have the option to easily change up your seating areas whenever you fancy. And if a cushion slips out of place, we've got you covered – it won't spoil the look!
If you're not sure on which cushions will be best suited to your home, check out our cushion buying guide for extra advice.
what colours go with white cushions?
White is a neutral colour, so you don't need to worry – it goes with everything!
However, if you're going for a specific look, there are certain colour combos that really work.
If it's a country-style living room you're going for, we recommend you keep the colour scheme neutral. Think cream, beige and taupe. Start with a plush cream or brown leather sofa and layer fluffy white cushions with hand-painted cushions in piped and linen fabrics on top. This will create a light and airy feeling and bring comfort to your living room. Add floral wallpaper with a light background for a fresh, rustic look.
White is the ultimate colour for a minimalist bedroom. Place black and white cushions on top of white, minimalist bedding for clean and uncluttered comfort. Add simple yet stylish black lighting and a round mirror to complete the sleek look.
For fresh outdoor seating with a boho theme, pile on white outdoor cushions in floral, fruit and jungle prints. The white background will provide pops of brightness as the sun goes down. Add fleecy throws to snuggle up in and garlands of fairy lights, too, for the perfect boho feel.
how to clean white cushions.
In a home where unexpected accidents can happen, white furnishings can easily get grubby. So, it's important your white cushions can be cleaned. Most of our cushions are either machine washable or can be dry cleaned - always follow the instructions on the care label.
Our faux fur cushions are spot clean only. This means you'll need to target the specific area that's dirty with a mild detergent like soap mixed with a little water. Then you'll need to use your fingers to gently rub the soap in until the stain's removed. Once it's gone, leave the cushion to air dry.
We recommend you wash your cushion covers once or twice per year to keep them fresh. To make sure your white cushion doesn't fade, wash your whites separate from your colours and blacks.
Carefully remove the cover from the cushion and zip it back up again before it goes in the wash, this way it won't get damaged or tangled in the machine.
Pop your white cushion cover on a cold, delicate cycle.
Once the cycle is done, gently remove the cover and hang it up to dry. Do not iron or tumble dry.