Back to top
Brushed Cotton Bedding Sets.
feel the difference with our brushed cotton bedding sets.
Just when you thought cotton was as cosy as it gets, we go and raise the bar. Introducing our brushed cotton
bedding
collection – packed with quality 100% cotton and mechanically brushed for a napped, unspeakably soft finish. Melt into minimalism with an understated Scandi design, or dial up the drama with deep coal greys and bright tones of wild berry. Shop the collection.
Combining the breathability of natural cotton with the thick warmth of a raised nap – our brushed cotton bedding brings a whole new level of bliss to the
bedroom
. Treated with a mechanical wire brush to create a raised fabric surface – think of it as cotton's fuzzier cousin. Gloriously soft, warm through winter and naturally airy in the warmer months, it's the ideal solution for a satisfying sleep in every season.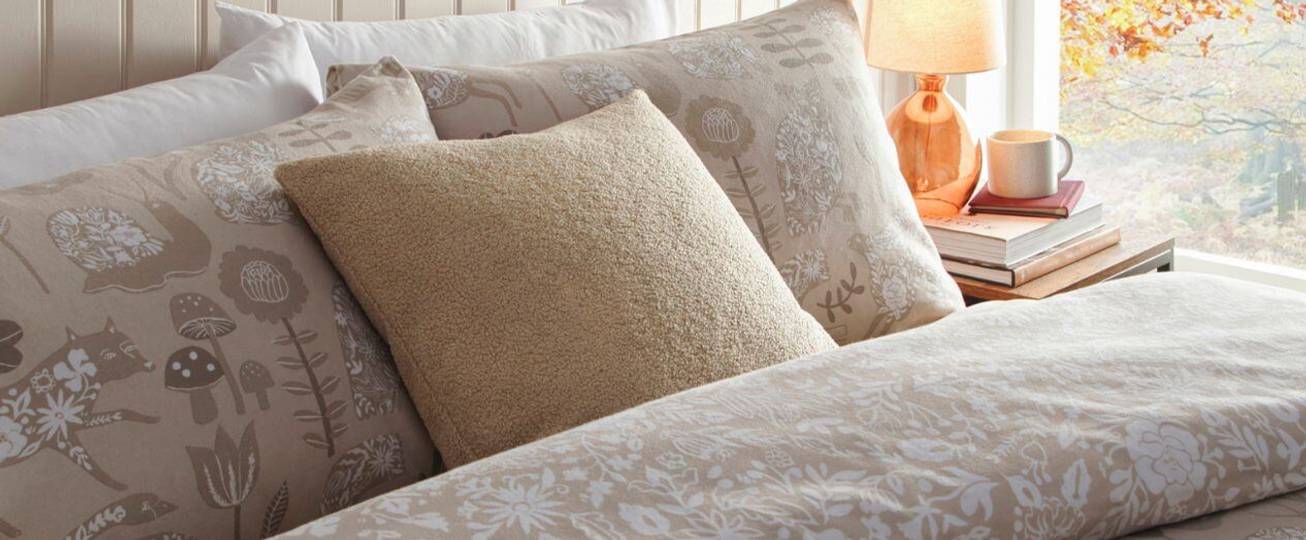 brushed cotton bedding at furn.com.
Thought you couldn't get comfier than cotton bedding? It's about time you brushed up on your knowledge. Our brushed cotton bedding sets take softness, warmth and sumptuous textures to the next level.
Made by mechanically rubbing cotton with fine metal brushes, the result is an irresistibly fuzzy and napped finish – so soft that it has to be felt to be believed. Make your Scandi minimalist fantasy a reality with tranquil woodland designs in soothing neutral tones, or opt for something a little more striking with rousing shades of black and wild berry red.
While our brushed cotton bedding will elevate any space's comfort, you'll need a few more details to realise your dream sleep sanctuary. Start with a sumptuously soft bed sheet, and pad things out with a chunky mattress topper if you feel like treating yourself. Roll through our plentiful selection of duvet covers, and find your ideal finishing touch with a bed cushion or a chic throw.
Hell-bent on elevating your bedroom but haven't the foggiest where to start? Not to worry – our inspiration blog is a goldmine of tips, tricks and specialist style advice. Get yourself off to a winning start with our beginner's guide to bedding, become a stain-removing master with our bedding washing tips, or learn how to arrange cushions on your bed and curate a carefully modelled masterpiece.
what is brushed cotton bedding?
Brushed cotton is the natural fibre fabric that you know and love, taken up a notch by a particular finishing technique known as brushing. A fine-tooth metal brush is rubbed over one or both sides of the cotton, fluffing up the fibres to create a textured, napped finish. It's luxuriously soft and warm, but because it's cotton, it's still breathable. This process makes brushed cotton bedding an ideal choice for year-round comfort, but especially in winter when the weather is cooler and you want a snugger feel.
It's used for casual clothes, baby blankets, and of course, bedding. Because it's so soft, it can be ideal for people with skin sensitivities like eczema, too.
how to wash brushed cotton bedding.
Brushed cotton bedding is at risk from bobbling or pilling, which is when the fibres in the fabric break apart and knot together. However, this is easily avoided with proper care and maintenance.
First, make sure you're spot cleaning stains as they happen, or pre-treating them before you pop your bedding in the washing machine. This will allow you to use a gentler washing cycle and protect the brushed cotton fibres.
Secondly, make sure you're washing your sheets on a regular basis. Your brushed cotton bedding will come into contact with dirt and oil naturally as it's used, which can lead to wear and damage over time. Run it through the wash fortnightly at least, and you'll be helping your brushed cotton stay shipshape for longer.
When you do wash your sheets, make sure that you're washing like with like – bunging your sheets in with clothes that have zips and other hardware can catch and rub on your brushed cotton bedding, which can cause it to bobble. Wash your bedding on a gentle cycle, and allow to air dry for best results.