Back to top
Fleece Throws.
experience the epitome of comfort with cosy fleece throws.

The chosen fabric for warming winter layers, fuzzy blanket lining and insulating athletic gear – you've never known comfort quite like a fleece throw. With stunning designs from winter woodland scenes to festive frolics and elegant jewel-toned plain dyes, our collection brings the very best of winter warmers in a rich palette of neutrals, pastels and bold bright tones. Shop the collection.

An instant touch of warmth, texture and style that'll take your space to new levels of cosiness – you won't find a better snuggle buddy than our fleece throw blankets. Expertly designed to replicate the texture and pile of natural wool, fleece brings all the toasty benefits of a sheep's coat without the environmental drawbacks.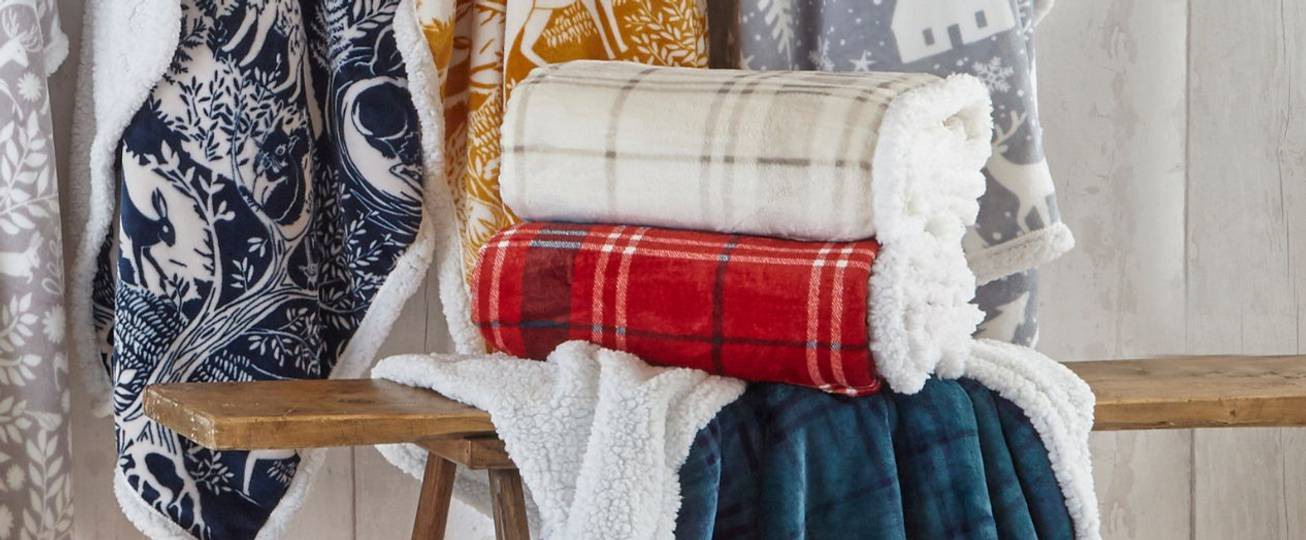 fleece throws at furn.com
Swathe yourself in the perfect layer of cuddle-worthy cosiness with our fuzzy fleece throws. Insulating, heavyweight and effortlessly easy-care – fleece offers all the upsides of toasty animal fur without the added work.
Need some throw-focused tips or guidance? Our Inspiration Blog is full of helpful advice, from how to pick the right throw for you to 5 ways to style throws in your home.
what is a fleece throw?
Fleece fabric is a synthetic material that's generally made from polyester. You've probably seen it in winter hats, insulating mittens or any other warm and woolly textile. Like velvet, corduroy and other fuzzy fabrics, the surface of fleece has a layer of cut fibres, giving it a gloriously soft and woolly feel.
Layer your bed for winter or cosy up on the sofa with the perfect fleece blanket to keep you warm and toasty. Our fleece throws are versatile, durable and machine washable – making them perfect for the family home. Discover bold and pastel plains, printed patterns and novelty Christmas designs with our snuggly selection of fleece throws.
how to keep a fleece blanket soft.
Although our fleece throw blankets are machine washable for those accidental spills and stains, we recommend washing your throw as little as possible to maintain its super soft look and feel. Because they're made from synthetic fibres, our fleece throws can create a static cling which attracts dust, pet hair and other allergens. A thorough lint roll, brush and a good shake-out should solve this, but there are some useful guidelines to follow if you do decide to machine wash.
Firstly, it's important to carefully read the care label on your fleece throw before cleaning. Every throw is different, and some may need specific cleaning methods that aren't mentioned here.
We recommend washing your fleece throw at 30 degrees on a gentle cycle, to prevent damage to the soft and fluffy fibres. Use a gentle detergent without harsh chemicals like bleach, and avoid using fabric conditioner altogether. It can cling to the loose fibres in fabrics like fleece, and cause them to get clogged up and matted.
Once the washing cycle is done, we recommend hanging your fleece throw out on a drying line. While a cool setting on the tumble dryer should be fine, strong heat can cause fleece to shrink or the fibres to melt.
Polyester fleece is also naturally stain resistant, so if you do happen to spill something onto it, a gentle spot wash should do the trick in most cases!
Although our blankets and throws can be used in any room in the home, we do not recommend these products for young children. Please use responsibly.