Back to top
Blue Curtains.
wind down your window spaces with soothing blue curtains.
Whether you're looking for something bright to refresh your space, or a touch of deep blue to enhance your dozy bedroom decor – discover your ideal match in our blue curtains collection. From majestic animals to multicoloured florals, hypnotic geometrics and simple plain designs, we've got a stylish spread of duck egg, teal and navy blue curtains to suit any interior. Shop the collection.
Struggling to find your size? Get a tailored fit down to the centimetre with our bespoke
made to measure
service. If you've got a standard window space or fancy something more affordable, we've got plenty of
ready made curtains
in a variety of standard sizes. Embrace a traditional look with our
pencil
and
pinch pleat
curtain headers, or opt for something modern with our sleek stainless steel
eyelets
.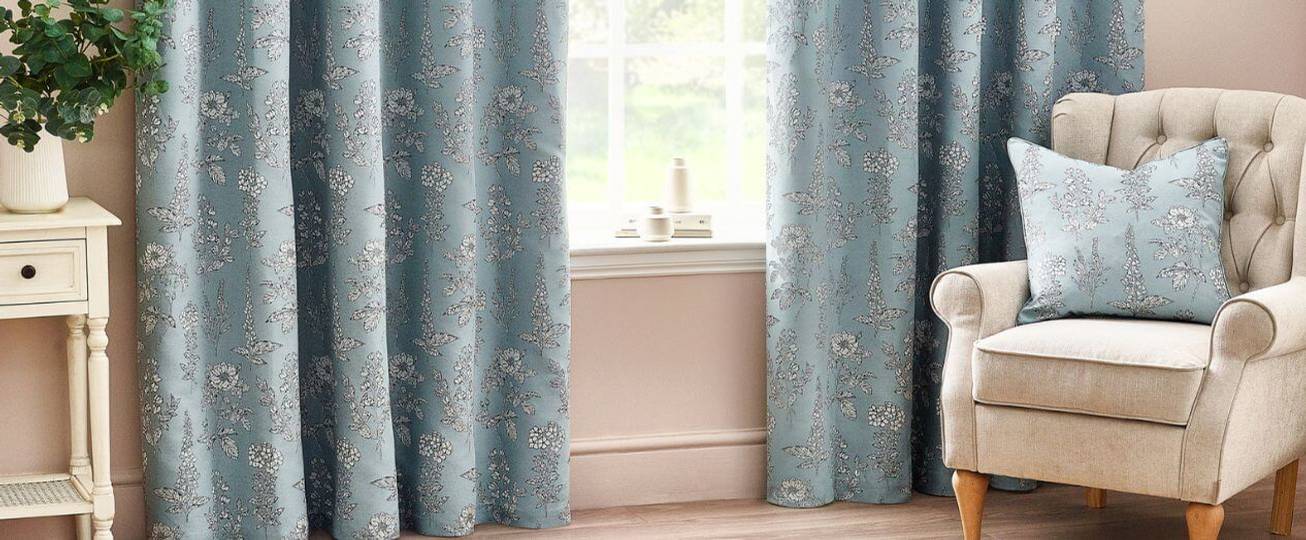 blue curtains at furn.com.
One of the most popular colours used in interiors across the globe, just about everyone loves a touch of blue in their home. Our guide to colour psychology tells us that blue is the universal hue of cooling, calm and soothing – so there's little wonder as to why it's a firm favourite in the world of interiors.
Our blue curtains collection offers a stylish celebration of all things blue, from pale duck egg tones to soothing teal and sky-blue shades. We've got plenty of royal and navy blue curtains if you're looking for something a bit more luxurious, with sumptuous crushed velvet and traditional jacquard designs that ooze chic opulence. Make the fitting process simple and swift with our blue ready made curtains, or go with our bespoke made to measure options if you're looking for a tailored fit.
Got a case of the blues, but for all the right reasons? Make sure to browse through the rest of our blue home furnishings, from blissfully blue wallpaper to slumberous blue bedding, to cushions and throws in dreamy sky shades. If you're craving new blue curtains but aren't sure where to begin, head over to our inspiration blog for a generous offering of expert guides and design advice. We've got a helpful curtain buying guide that provides the perfect starting point, as well as detailed curtain measuring guides that make fitting your new curtains a breeze.
You'll find a few different curtain header types in our collection, and the right option for you all depends on your style. Our pinch and pencil pleat curtains are ideal for more traditionally-styled spaces, while our stainless steel eyelet headers bring a relaxed contemporary feel.
what colours go with blue curtains?
Cool, relaxing and peaceful – blue is a colour that can be used in any space where you want to create a feeling of serenity. It's ideal for the bedroom, and can bring a cosy cocooning vibe to the living room, bathroom and just about anywhere else in the home. While the colours you should pair with blue will depend on your chosen shade, we've put together a list of our favourite combos that'll bring out the best in your blue curtains.
Probably the most iconic combination of all is that of blue and white. From the marine chic of navy and white sailor stripes to traditional porcelain pottery – blue and white is a versatile pairing that can be used to pull off a variety of looks. Surrounding navy blue curtains with white wallpaper will set the scene for an irresistibly fresh scheme, while remaining calming enough for the bedroom. Scatter some navy cushions on white bedding to continue the motif, and factor in some paler blue accents to soften the contrast.
Pairing pale blues, whites and sandy beige tones will give you a relaxed coastal vibe. You don't have to go full beach house with wispy white voiles and ornamental seashells, but simply pairing these three shades will give your space a breezy, nature-inspired feel. Go with beige or white wallpaper to set a serene backdrop, and use duck egg blue curtains or a similarly pale shade to keep things feeling light and airy.
If you don't want to limit yourself to just one shade, feel free to get creative and experiment with different tones of blue. Going tonal is always a great option when it comes to decorating with blue, and will lend an inviting sense of visual depth to your space. Embrace the power of sea shades with aquatic teal cushions, or bolster your blue curtains with a throw in light shades of mist and duck egg.