Back to top
Cream Throws.
indulge in rich simplicity with our classic cream throws.

A soothing blend of ivory, oat and otherwise off-white tones, discover your new favourite neutral with our collection of cream throws. Envelop yourself in the fuzziest faux fur and soft fleece fabrics, go off-beat with quirky boho geometrics, or think in textures with feathery tassel details – all grounded in sweet and mellow cream hues. Shop the collection.

Our cosy collection of cream throw blankets is made from the finest selection of fabrics, from breezy 100% cotton to fuzzy fleece and silky-soft faux fur. Whether you're after a light herringbone throw for a sunny picnic surface, or the insulating chunkiness of microfleece – you'll find your dream layer with our selection of cream throws.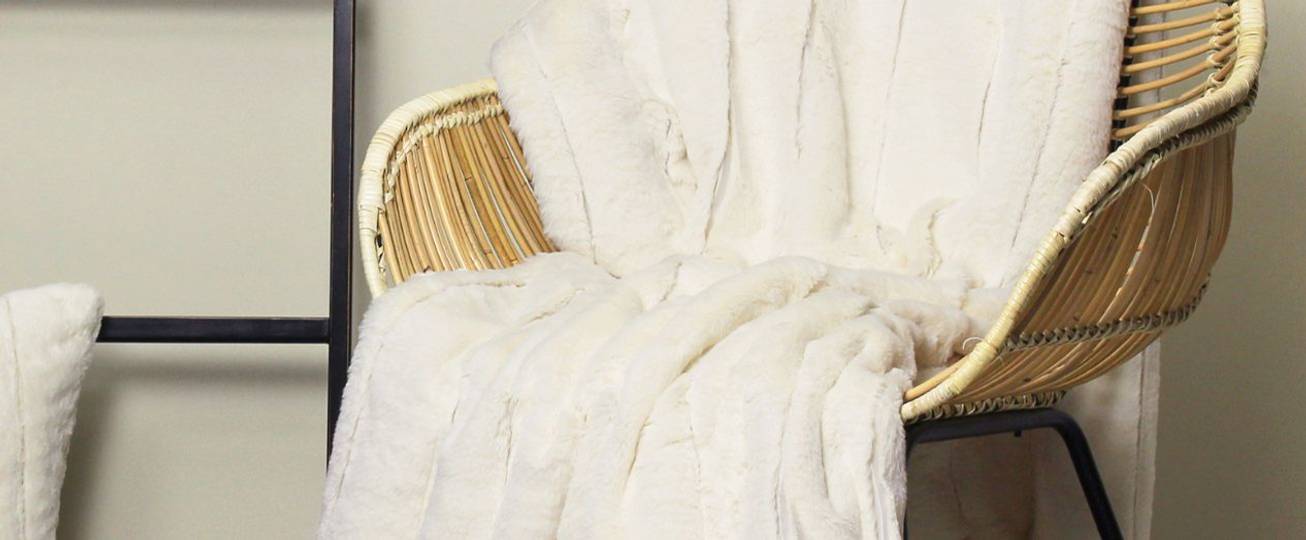 cream throws at furn.com
Just on the warmer side of white, cream carries subtle yellow undertones that give it a unique cosy-feeling quality. It's a great colour to bring character and warmth to stiff minimalist interiors, providing a tinge of sunny yellow that'll go a long way in lifting the energy of your space.
If you're curious about throws and want to know more, there's no shortage of info, tips and tricks over on our Inspiration Blog. We've covered everything from how to pick the right throw for you to 5 ways to style throws in your home.
Settled on a cream throw but not sure where to go from here? We've broken down all your different fabric options to make the process a little easier.
cream fleece throws.
A new level of toastiness that's guaranteed to impress – our fleece throws offer unrivalled warmth and comfort. They're specially designed to be ultra-insulating without making you overheat, meaning they're the ideal option for chiller climes. We've also got plenty of sherpa fleece options if the silky softness of sheepskin sounds tempting. Our synthetic fleece throws are super hard-wearing, stain-resistant and machine washable – for comfort and convenience all in one.
cream faux fur throws.
Looking for irresistible fluffiness and heavyweight warmth that'll have you wrapping up without a second thought? Our cream faux fur throws are the perfect choice for the softness-obsessed, offering an exact animal fur replica that you'll have to feel to believe. Let silky-smooth textures take centre stage in your home, bringing a regal and luxurious touch that no other fabric can match.
If that wasn't enough, our faux fur cream throws are extraordinarily low-maintenance and a dream to care for. Many of our faux fur options are machine washable, and just need a quick line dry to get back to looking their best.
cream cotton throws.
If you're seeking something a little more lightweight and summery, you can't go wrong with a woven cotton throw. Made with the finest 100% cotton fabric, our woven throws are lightweight and refreshingly breathable, providing a valuable cosy layer that never feels like too much. Cotton is airy, natural, hypoallergenic and highly durable – all while remaining one of the softest fabrics out there.
Our tufted, embroidered and tasseled cotton throws bring the ideal touch of playful boho vibes, boasting textured stripes and geometric line designs. They're the ideal option for a summery extra layer of style, and you can find out more about the benefits of cotton with our handy blog post.