Back to top
Blue Cushions.
capture the beauty of clear skies with our blue cushions collection.
Blue is consistently one of the most popular colours used in the home, and it's not hard to see why. Our brilliant blue cushions collection boasts a variety of shades ranging from dainty duck egg blue to rich teal, to dramatic shades of navy blue. Dive into our deep range of sumptuous textures, playful shapes and unique signature designs. Buy yours now.
Our range of blue cushion covers is swimming with signature prints and designs, from fierce exotic animals to bright feminine 
florals
, as well as dreamy abstract patterns that'll bring a touch of imagination. Our signature UK cushions are hand-designed at our studio in Yorkshire, and many are available as cover only, allowing you to change your look whenever the mood strikes. Our durable polyester and plush duck feather fillings are also a great option if you fancy a readymade refurbish.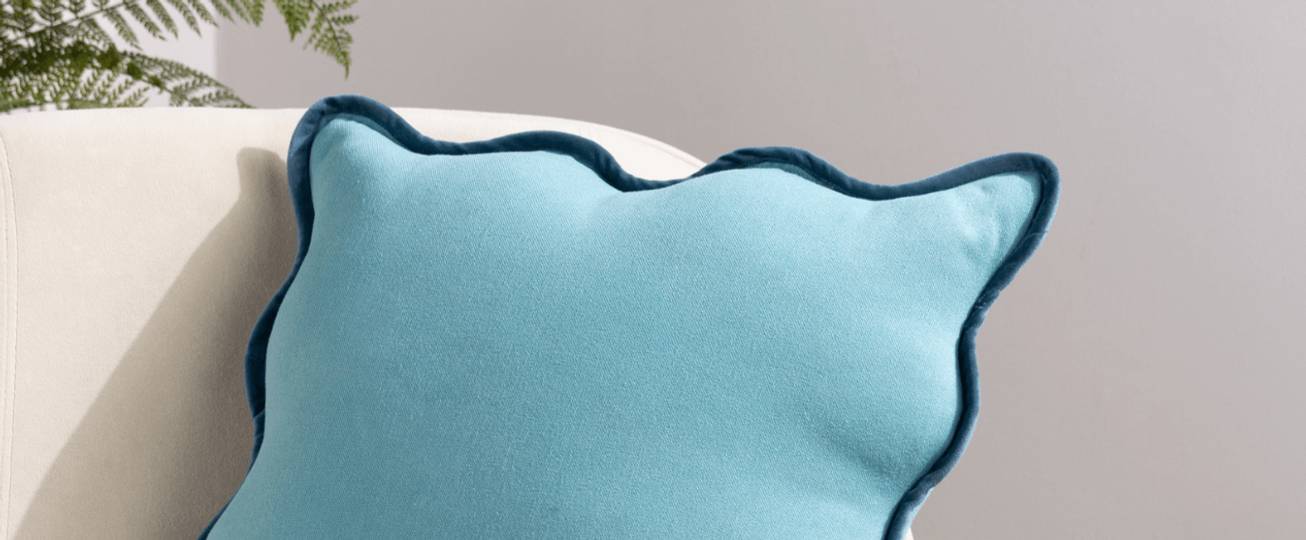 blue cushions at furn.com.
Soothing, serene and an ever-popular choice for all corners of the home – there's nothing quite like the beauty of blue home furnishings. Our selection of blue cushions celebrates shades from all ends of the blue spectrum, from marine tones of aqua and teal to rich royal and navy blue. Go for a softer take with calming sky and duck egg blue shades, or dial up the drama with a detailed embroidered design.
Got a burning passion for blue? Make sure to check out the rest of our blue home furnishings selection, from wallpaper to toasty throws and bedding you won't be able to resist bundling up in.
On a quest for cushions? We've got a whole host of hues and signature designs to sift through – from pretty pinks and cheery yellows to flourishing florals and luxurious velvet finishes. If you're in need of some ideas, why not head over to our inspiration blog? It's full of practical guides and expert design ideas, from how to clean your decorative cushions to how to choose the right cushions for your home.
what colours go with blue cushions?
Settled on blue cushions but not sure how to work them into your colour scheme? Not to worry. Blue is an incredibly versatile colour, and depending on which shade you choose, it'll sit beautifully alongside just about anything.
Wondering what colour cushions go with a blue sofa? Make sure to check out our blog post on what colour cushions go with your sofa colour for a full colour theory crash-course.
If you're going for a calming vibe, try pairing your blue cushion covers with warm earthy browns, leafy greens and natural beige tones. When we see blue alongside other colours from nature's palette, it sends a soothing signal to our brains that's great for promoting wellness and relaxation. Break up your pale duck egg blue cushions with a vibrant prop of lime or emerald green, and ground the look with a calming beige throw blanket.
If you want the same sense of ease without all the earthiness, blue and white is a classic combination. It gives a quintessentially calming feel that's refreshing at the same time, calling to mind the breezy beach house aesthetic of coastal design. Scatter some white cushions among your blue arrangement, and bring in a statement yellow or orange piece for a pop of summery colour.
Ground the look with a brown throw or raw wood furniture to crank up the coastal vibes, and you'll have a well-rounded blue-based colour scheme.
how to style blue cushions.
Different shades of blue can be used to create a whole host of styles and looks. Whether you're looking for something minimalist, maximalist, luxury or relaxed – we've got stylish and originally designed blue cushions that'll help you nail the look.
Keep it sleek and sophisticated by pairing your blue cushion covers with muted shades of grey, white and cream. As the heyday of all-grey minimalist interiors has seemingly come to an end, introducing a pop of smart colour like rich navy blue is a great way to keep things fresh and interesting without going overboard. A grey sofa or wallpaper provides a great foundation for subtle licks of blue, which you can balance with more neutral accents like white cushions or a cream throw.
If you're craving something a little brighter and bubblier, cheery summer tones sing in surprising harmony with all manner of blue shades. Gentle, dusty pinks look serenely soothing alongside pale duck egg blue shades, so consider supplementing your scheme with some pastel pink cushions. Hot fuchsia pinks make an equally eye-catching match with deep tones of royal blue and sapphire, so don't be afraid to venture into the more highly saturated side of things.