Back to top
100% Cotton Bedding Sets.
conk out on the clouds with 100% cotton bedding.

Breezy in the summer, toasty in the winter – get the best of both worlds with 100% cotton bedding. It's the fabric of choice in all the finest hotels, and our signature collection is here to show you why. Explore freshly bloomed florals, plush textured fabrics and signature tropical designs in a range of neutral, muted and bold bright colourways. Shop the collection.

Pure cotton bedding sets regulate your body temperature while you sleep, making them the ideal choice for comfort in every season. Whether you're after the five-star freshness of crisp cotton sheets, the sleek simplicity of geometric pattern duvets, or luxurious pillow shams stuffed with continental elegance – our 100% cotton bedding has something for you.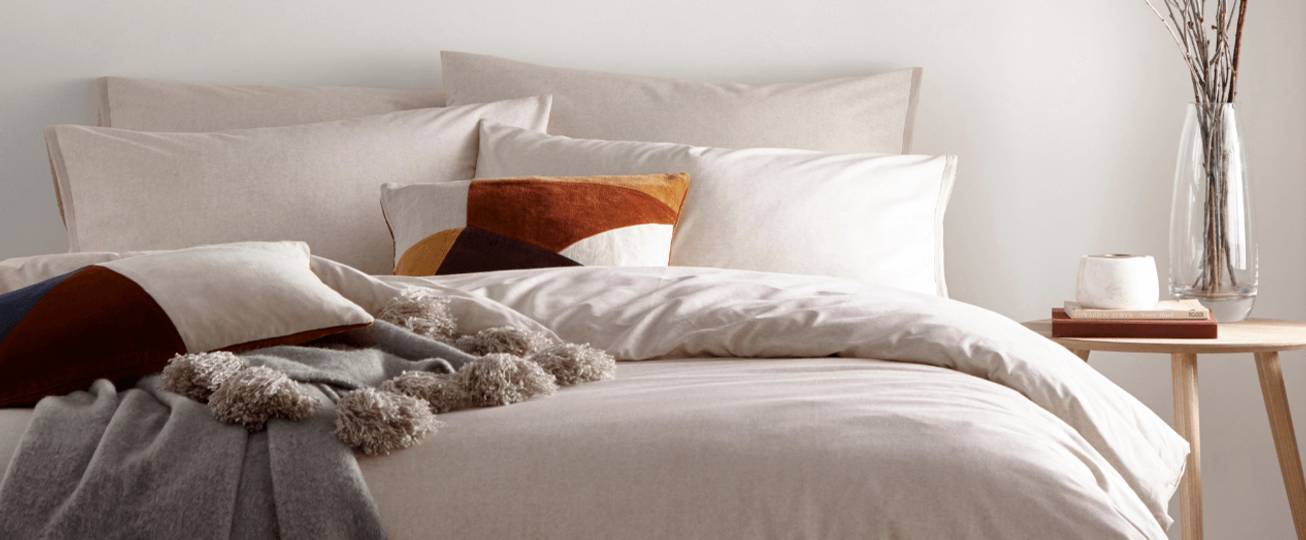 100% cotton bedding at furn.com.
Cotton is one of the world's most popular fabrics, and when you start looking at the benefits – it's not too hard to understand why. Not only does it make some of the comfiest bedding around, but it's also refreshingly breathable, impressively durable and a perfect hypoallergenic solution for the sleepy-time-sneezers.
Looking for some new bedding but not sure where to begin? Our helpful bedding buying guide is fully dressed with all the information you need – from bedding basics right through to finishing touches.
what are the benefits of 100% cotton bedding?
There's a reason cotton is considered the prized jewel in the crown of bedding fabrics – in fact, there are many. While your preferred bedding material will come down to your personal taste, there's plenty of evidence to support cotton's place on the throne.
We've already broken down our 7 incredible benefits of 100% cotton bedding, so check that out if you're craving a deep dive.
As its reputation for softness precedes it, there's no wonder cotton is the most widely used bedding material. Our 100% cotton bedding uses only the finest long fibres, which can then be treated to create Egyptian or brushed cotton fabrics with heightened softness. We've also got high thread count cotton bedding for those craving that premium boutique feel.
Although irresistibly cosy in the colder months, our 100% cotton bedding has the unique ability to double as the perfect airy summer option, too. It's highly absorbent and breathable, meaning that any sweat produced during sleep is quickly dried up and excess heat is allowed to escape through the fibres.
Due to their sturdy natural fibres, our cotton bedding sets are extremely durable. They won't wrinkle, wear or pill as much as many other fabrics – making them an ideal option for something you'll be sleeping on every night.
If you need one more reason to go with our 100% cotton bedding, how about the fact that it's fully hypoallergenic? This means that it's unlikely to cause a reaction in allergy-sufferers, and is a perfect fit if you've got sensitive skin.
finishing touches.
Our selection of 100% cotton bedding doesn't stop at duvet covers, and we've got plenty of options to fully dress your bed down to the finest detail.
Lay down the perfect foundation with a 100% cotton bed sheet. Durable, low-maintenance and the ideal soft surface for a dreamy night's sleep – you'll be floating away on a cloud of deep-fitted comfort.
From silky sateen to 200 thread counts with elegant oxford borders – introduce your weary head to the perfect resting place with our sumptuous 100% cotton pillowcases.
If you're in the mood for something a little more exotic, why not embrace a taste of the continent with our luxury cotton pillow shams. A slightly bigger size than regular bed cushions and pillowcases, shams are elegant decorative pieces designed to layer up your bed with tasteful European luxe.