Back to top
Green Throws.
give calmness the go-ahead with our cosy green throws

.
A fine flurry of snuggly textures and organic tones that'll dial up the comfort in any space – say hello to our garden-fresh selection of green throws. From the fuzziest of teddy fleece to woven yarn blends and funky fringed detailing, our green throws collection offers the finest soft-feel fabrics in a warming earthen pallet of emerald, sage + eucalyptus green shades. Shop the collection.
The universal hue of nature, vitality and life itself – we're celebrating the healing powers of green with this snuggly selection. From sage green throws with boho tufts and tassels, to opulent faux fur blankets in rich emerald tones, give comfort the green light with this cosy collection.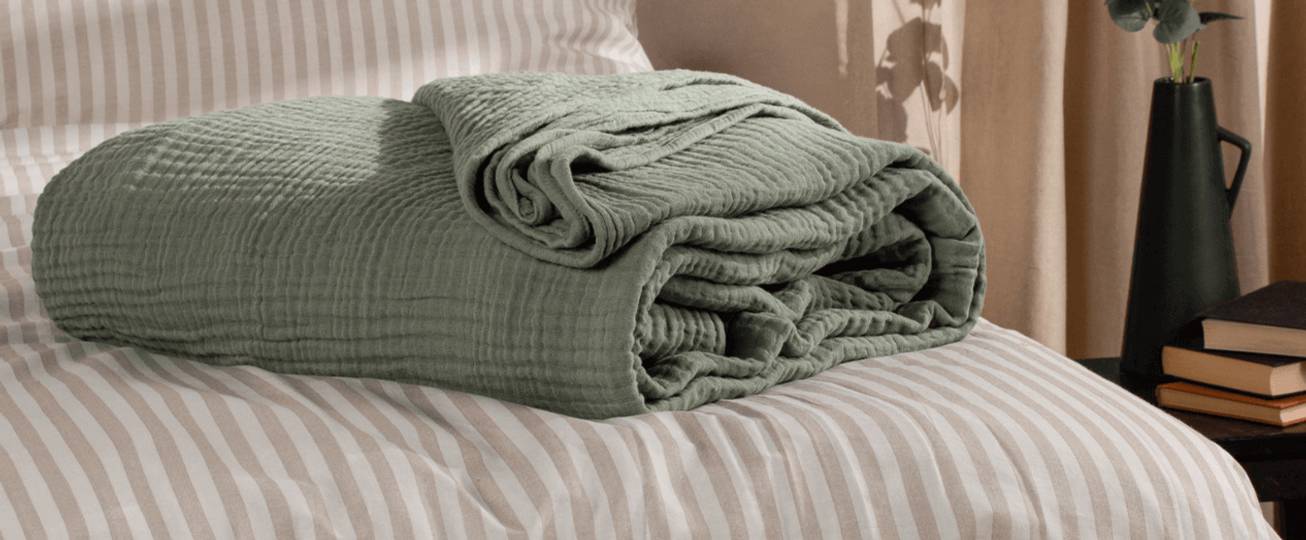 green throws at furn.com.
Whether you love the simplicity of sage, the opulence of rich emerald or the mellowing touch of mint and eucalyptus, there's a lot to be said for styling your space with a green throw blanket. With a treasure trove of cosy textures and styles to choose from, from breezy crinkle cotton to classic woven herringbone and sumptuous fleece fabric – you're spoiled for choice with this vibrant collection.
Enthralled by our green throws but not sure where to start? Head over to our Inspiration Blog for tons of helpful guides and style tips, from how to pick the right throw for you to 5 ways to style throws in your home.
If you're keen on green but not sure which shade would work best in your home, read on for a quick style walkthrough.
sage green throws.
Bring the soothing hues of pale leaves into your home with a sage green throw blanket. It's a playful light green that will brighten any room right up, while bringing just the slightest touch of sophistication. Soft, delicate, and effortlessly easy to coordinate in your colour scheme – it's the ideal crowd-pleasing shade for your cosy space.
Pair with white cushions, a grey sofa and pretty purple florals to bring out the soothing side of sage. If you're looking for something a little more moody and contemporary, try coupling your sage green throw with black cushions or blue bedding.
emerald green throws.
The perfect dark green throw shade to bring a touch of jewel-toned luxury to your home – say hello to elegant emerald. It's a great choice for classic and contemporary spaces alike, with a glisteningly rich character that's guaranteed to never go out of style.
It's quite a powerful shade, so using just small details like a throw or emerald green cushions can have a massive impact on your look. Emerald pairs beautifully with any sort of brown shade, but particularly shines next to rich traditional furniture and natural wood tones.
earthy green throws.
If you're after a more organic or understated style, we've got moss, olive and forest green throws that'll help you nail the look. The ideal warming shades to launch your earthy colour scheme – you simply won't be able to shake that cosy autumn feeling.
Pair your earthy green throw with organic neutral shades to get your nature-inspired scheme going. Brown cushions in warm shades like biscuit or taupe, sandy yellow bedding and textured beige curtains are just some of the accents that'll bring out the cosier side of your green throw.
how to style a throw.
Head over to our Inspiration Blog for a full rundown on the finer details of styling throws in your home. We've got no-nonsense, detailed guides on everything from how to dress a sofa through to how to create a timeless decor scheme.