Back to top
Waffle Bedding Sets.
irresistibly soft, 100% cotton – it's worth waffling on about.

Gloriously soft, thickly textured and made from breathable 100% cotton, our waffle bedding is the ideal solution for comfortable year-round sleeping. Explore full-bodied three-dimensional texture that guarantees a cloud-like experience, in a range of cool white, sleek silver and soft pastel colourways. Shop the collection.

Our waffle bedding sets are specially woven to create a three-dimensional grid effect on the fabric surface. The unique weaving pattern reinforces the fabric with impressive durability, while also creating a thermal effect that keeps you toasty through the colder months. The breathable cotton also keeps things light and airy in summer – making our waffle bedding the perfect option for every season.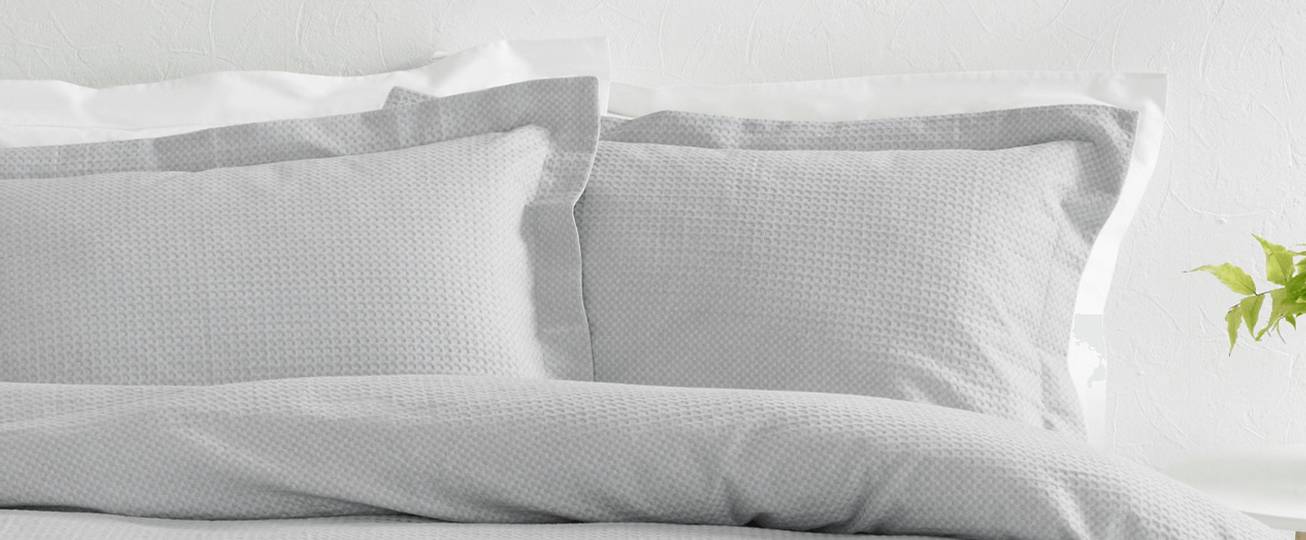 waffle bedding at furn.com
Experience ultimate comfort with our irresistibly soft 100% cotton waffle bedding. The unique waffle (or 'honeycomb') weave creates a sumptuous three-dimensional effect on the fabric surface, while giving a refreshingly relaxed look that's ideal for a chilled-out bedroom vibe.
Our waffle bedding sets come with matching pillowcases that feature elegant oxford border edges. The 5cm to 10cm-thick border gives your pillow an enlarged appearance that's an ideal fit with luxury interior styles. Our single-sized bedding comes with one matching pillowcase, while double sizes and up come with two.
Not sure where to start? Check out our bedding buying guide for a full walkthrough of all things bedding, from the basics right through to finishing touches.
what is waffle bedding?
Waffle fabric, also known as 'honeycomb', features a unique three-dimensional grid texture. The relaxed look and feel is the result of a special weaving process, whereby warp and weft floats of different lengths make raised ridges – forming a grid or 'waffle' appearance.
The waffle design gives the bedding thermal properties, creating a thin layer of warm air that stays trapped between the duvet and your skin. This means our waffle bedding is extremely effective at keeping you warm if you often find yourself feeling chilly between the sheets.
The loose waffle weave and breathable cotton fabric also make sure you keep refreshingly cool in warmer weather. Both the fabric and weave allow for good airflow, ensuring you won't overheat on those sweltering summer nights.
why go for cotton waffle bedding?
While there are many different types of waffle bedding, from microfibre to polyester, our entire collection is made from 100% ultra-soft cotton. We've already broken down our 7 incredible benefits of 100% cotton bedding, but what are the advantages of going for a waffle texture?
The grid-shaped texture on our waffle bedding sets reinforces the fabric's strength, giving them incredible durability that will last for years if taken care of properly. The 100% cotton fabric also makes for impressive absorption – ensuring you stay fresh, dry and comfortable even on the steamiest of nights.
The textured waffle pattern is also great for disguising any creases that may appear on your duvet set as a result of washing. However, like with all cotton bedding, if you do have any stubborn creases, we recommend using a warm iron to smooth them out. Luckily, ironing your cotton bedding can actually improve the quality of the fabric, enhancing the fibre's structure and making for a softer and smoother feel over time.