Back to top
Green Cushions.
introduce nature's tones with green cushions.

From calming pale mint and vibrant apple to luxurious emerald and muted moss, green has many beautiful shades to use in your home décor. Our collection of gorgeous green cushions features patterns, prints and plains, in a range of sizes and fabrics, so whatever your style, finding the right cushion for you is a dream. Whether you're looking for emerald green cushions in velvet to complete your sumptuous sofa, a bright lime green outdoor cushion or a bold tropical print for your jungle themed bedroom – you'll find just the thing with us. Don't need an inner? The vast majority of our cushions are available as cover only, or with a polyester or feather filling.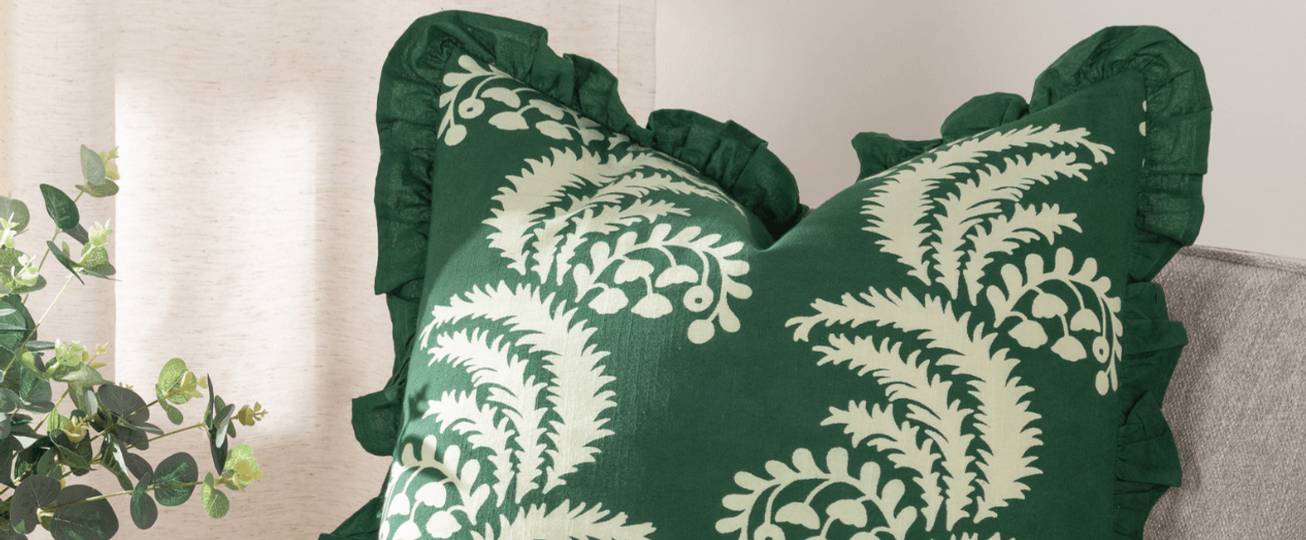 green cushions at furn.com.
We have a wide range of green cushions, ranging from subtle sage and moss to vibrant lime and citrine to rich emerald and teal. You can choose from beautiful art deco style graphic cushions, leafy tropical prints, and elegant Japanese designs as well as much, much more. Not looking for pattern? We have a huge variety of plain cushions too, in velvet, sateen, corduroy and others.
Read our cushion buying guide to help you make sense of the wide variety of cushions, pillows and shams available.
how to style green cushions.
You can use shades of green to create a wide range of different styles and looks, whether you're going for minimalism, luxury or nature-inspired.
If it's a calming atmosphere you're looking to build, try pale green cushions with grey. Perfect for a bedroom sanctuary, especially if you pair with clean lines and subtle, unfussy patterns.
Indulge the senses with green velvet cushions in jewel tones like emerald. The colour is rich, the fabric is sumptuous, and the feel you've created is opulent. Combine with complimentary tones, like berry, sapphire and teal along with heavy fabrics and expensive hard furnishings like marble and glass for a luxurious feeling room.
Add in a shock of bright green against a modern black and white base for a fun contemporary look.
what colours go with green cushions?
Green is incredibly versatile – you can pair the right green with a wide range of colours, allowing you to create classic colour schemes as well as surprising ones that delight the senses.
Love green? Don't break the habit of a lifetime – just go with more green! Use green shades as your accent colour on a black and white base, and you can go wild with the green tones.
Expand your tones and go for green's neighbours on the colour wheel – blue and yellow cushions. As long as you keep the colours tonal, you'll create a beautifully subtle yet striking pairing.
Combining pink with green is hugely on-trend right now. They're opposites on the colour wheel, giving you a high impact colour scheme. You see green and pink in nature, with plants and flowers, so if you're into botanicals or tropical themes, this might be the option for you.
Feeling brave? Why not try putting green with red? Just don't go for those vibrant tones associated with Christmas!