Whether you've got your cushion cover sorted and you need an inner or it's the other way around, our handy guide will help you decide what size you need for beautifully plump cushions.
---
Looking to refresh your sofa or transform your bed? You've chosen the fabric, style and shape of your cushions, but what about the correct sizing? Choosing the right cushion cover and inner pad size can make all the difference – you don't want baggy edges or pads so big you can't use them.
Luckily, our handy guide will tell you everything you need to know. From pairing the right sizes together to the best method of filling your cushion, you'll be armed with the right knowledge to guarantee magnificently plush and comfortable cushions every time.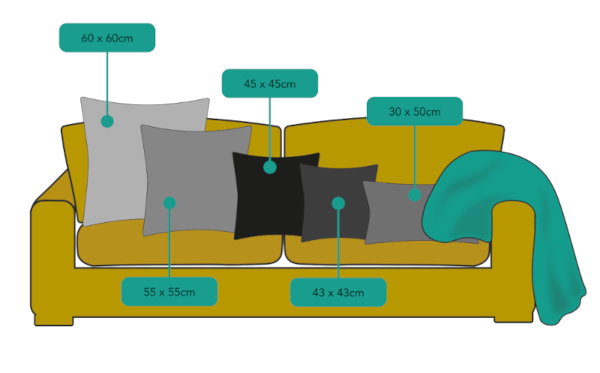 what size cushion cover do I need?
Cushions come in a range of different sizes, from large 60 x 60cm down to rectangular 30 x 50cm. These measurements refer to the cushion cover lying flat and unstuffed. Once filled, it may be a touch smaller.
Start by measuring your cushion pad's length and width and look for a cushion cover that's slightly smaller. It should be at least two centimetres smaller for a well-filled cushion – check out the table below for exact measurements.
what size cushion pad do I need?
If you've got your cushion cover sorted and you just need to know what size cushion pad you need, you're in the right place.
First step, measure your cushion cover. Simply lay your cushion cover on a flat surface and measure the side and the top of your cushion cover. If it's a round cushion cover, just measure the diameter (straight across the middle).
The pad should be a size up from your cover, making sure you get that luxuriously plump, filled effect without a baggy edge in sight.
cushion covers + pad sizes
cushion cover size
cushion pad size
30 x 50cm
35 x 60cm
38 x 38cm
40 x 40cm
40 x 40cm
45 x 45cm
43 x 43cm
45 x 45cm
50 x 50cm
50 x 50cm
55 x 55cm
58 x 58cm
58 x 58cm
60 x 60cm
how to fill your cushion like a pro.
Our cushions are available to buy just as a cushion cover, or with a feather-filled or polyester-filled pad. When you buy with an inner, it'll be pre-filled. This is how we fill our cushions (and how you can do it too):
Fold your pad in half.
Place it inside your cover, making sure that the top of your folded cushion reaches the top far corner.
Let the pad unfold into the bottom far corner.
Tuck the remaining pad corners into the cover.
Grab the corners and shake it out.
Zip it up, give a plump and pop it on your sofa or bed. Voila!
---
---
---
---