Back to top
Pink Throws.
pink throws to make you blush.

From soft, warm and delicate shades of blush and pale pink to bright and bold fuchsia, our range of pink throws are the perfect accessory for your room.  For cosy evenings, you can choose from a variety of designs and materials to suit your unique home style.Pink is a gentle and charming hue that can introduce a romantic feel to your interiors. Why not add small sweet doses to your home with a stunning pink throw blanket?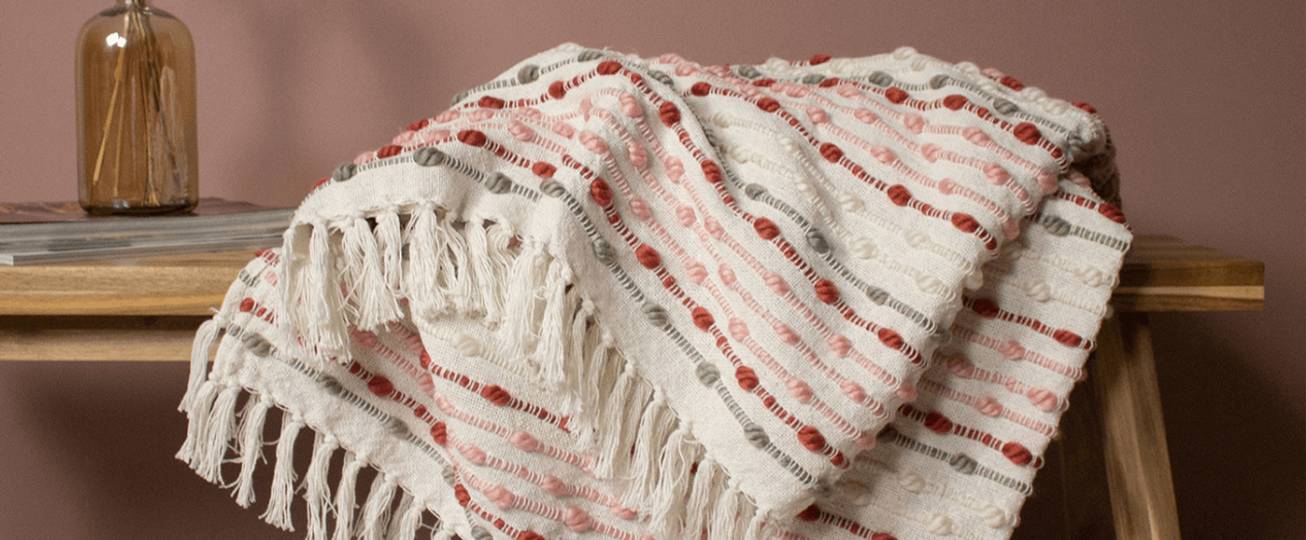 pink throws at furn.com
You've decided to dress your interiors with a romantic pink throw but have you considered the type of texture or composition you want to snuggle up in? In our pink throw collection, there is a variety of fabrics and materials so you can find the perfect one to suit your home style needs. Discover our range of pink throws...
pink fleece throws.
Delve into ultimate comfort with pink teddy fleece throws. These blankets are the perfect choice to snuggle up in when the temperature starts to drop. As they are machine washable, they are ideal for busy households and the whole family will love them!
pink knitted throws.
Whether you prefer a classic woven herringbone blanket to spread across your bed, or a voluminous pink chunky knit throw to wrap up with in the cooler months, you're bound to find the perfect one for your needs in our large collection of knitted throws!
pink faux fur throws.
If you're someone who feels the cold easily, you will fall in love with our luxuriously soft pink faux fur throws. Opposed to real fur, these heavy-weight blankets are made from synthetic materials and mimic the softness of an animal's coat. Once you experience the extreme comfort and warmth they provide, you will never want to unwrap yourself! Be rest assured when snuggled up that no animals were harmed during the manufacturing process.
how to style your pink throw.
If you're in need of some home inspiration when it comes to styling your pink throws then look no further… read our guides on how to dress your sofa and how to use throws around your home. You will become an interior whizz in no time!
Although our blankets and throws can be used in any room in the home, we do not recommend these products for young children. Please use responsibly.