Back to top
Pink Cushions.
go playful with pops of pink on your sofa, bed or chair.

From romantic blush tones to fun injections of colour, pink is everything! Perfect for adding a little bit of prettiness to your bedroom or living room, our pink cushion collection has something for everyone. Whether you're going all out in pink or using it as an accent colour, there's no denying the power of pink. Shop the collection.

With loads of different shapes, sizes and patterns to choose from, you're spoilt for choice. Browse pink velvet cushions, crisp cotton and textural tufts. Most of our collection is available as a cushion cover only, with deluxe feather filled or polyester filled available as a ready-filled option.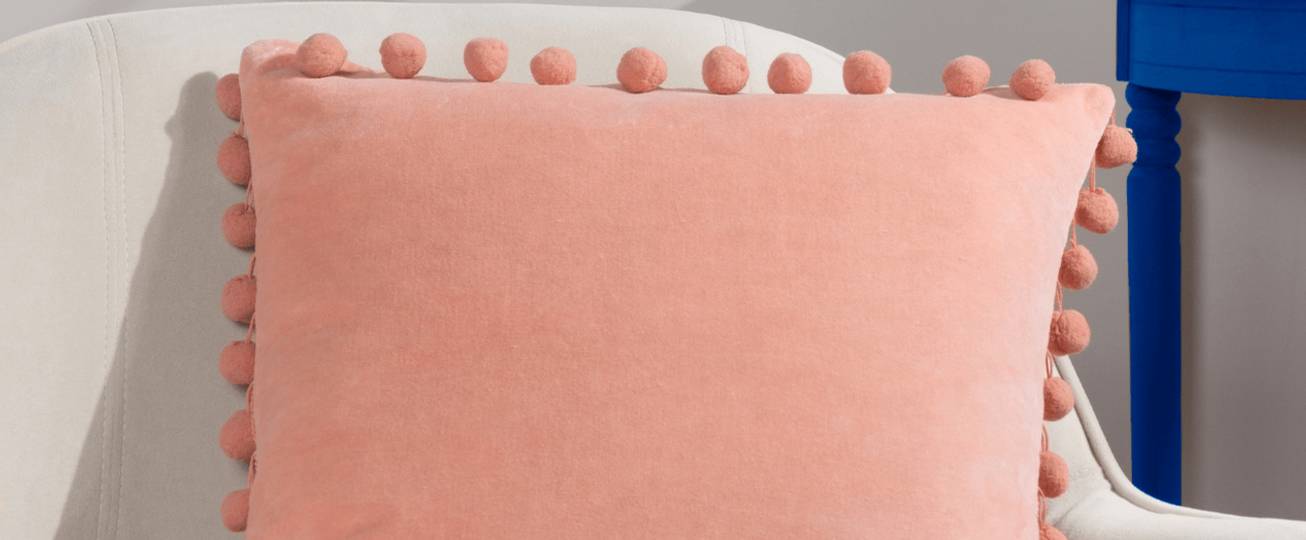 pink cushions at furn.com
Discover our collection of pink cushions and cushion covers. With over 200 different styles, finding the right one for you is a breeze. Whether you're looking for a hot pink, soft velvet number with a contrast trim, or a tropical scene with a sunset pink background, you're in the right place.
Seen as warm, kind and romantic, pink is no longer just for girls. While traditionally feminine, it can be neutral, bold and everything in between! It's the ideal colour for little girls' rooms and sophisticated living rooms alike – and we have pink cushions to suit both.
Plain or patterned? If you're using a pale pink as a neutral, then you can't go wrong with a plain pink cushion. Ideal for monochrome or minimalist themes with a warm neutral pink, plain cushions work beautifully both by themselves as well as for providing contrast to patterns. Speaking of which, a patterned pink cushion is perfect for injecting fun, playful colour into your room – especially if it's a hot pink or fuchsia colour!
When it comes to fabrics and textures, we've got loads to choose from. Whether you're on the hunt for soft velvet or relaxed linen look, textured tufts or smooth sateen, you'll find it in our collection. Creating the look you want is easy, from maximalist to minimalist, contemporary to traditional.
In our pink cushion collection, you'll find cushions ideal for your sofa and your bed! You could even swap them between rooms to freshen up your look.
The vast majority of our cushions are available as cover only, with the option of having it ready filled with either feather or polyester. Need help deciding between the two options? Our handy cushion filling guide is here to help. If you're just buying a pink cushion cover, and you need help figuring out which size you need, our blog post covers all things concerning size.
What colours go with pink cushions?
Pink is a super versatile shade, so it can go with a range of different colours and interior styles. Any colour you can think of, there's a pink hue to perfectly pair with it.
Pink and green is a classic combination. They're opposite each other on the colour wheel, making them balanced and harmonious when put together in a room. We see this combination in nature with flowers and plants, so it feels calm and comforting as a scheme. Pair your pink cushions with a green sofa or green cushions.
Pink and red is a trendy colour combination. It's an analogous combination (they're next to each other on the colour wheel) so it's a strong colour clash that looks simply delicious together. Go bright for a fun contemporary look or go more tonal with earthy Himalayan salt pinks and terracotta clay reds.
Black is a colour that will ground playful pink and make it feel full of drama. And the pink will brighten the black and stop it from feeling too dark – a perfect combination. You could pop black cushions on your pink sofa, or opt for a curated set of pink and black cushions atop your bed.
Don't forget to layer up your sofa or bed with pink throws to create a comfy cosy feel.