Back to top
Cream Curtains.
explore the sweeter side of neutrals with cream curtains.
Rich, elegant and thoroughly timeless – a quick dash of cream will sweeten up any interior. Our cream curtains collection is swimming with stunning designs, from intricate jacquard patterns to sumptuous brushed weaves, to dazzling multicolour florals. Stay neutral with off-white ivory, or embrace earthiness with warm oatmeal and champagne shades. Shop the collection.
Don't see your size? Enjoy tailored fitting down to the centimetre with our bespoke
made to measure
service. We've got a bunch of
ready made
options too, if you've got a standard-size window or want something more affordable. Keep it classic with traditional
pinch
and
pencil pleat curtains,
or opt for a contemporary twist with stainless steel
eyelet headers
.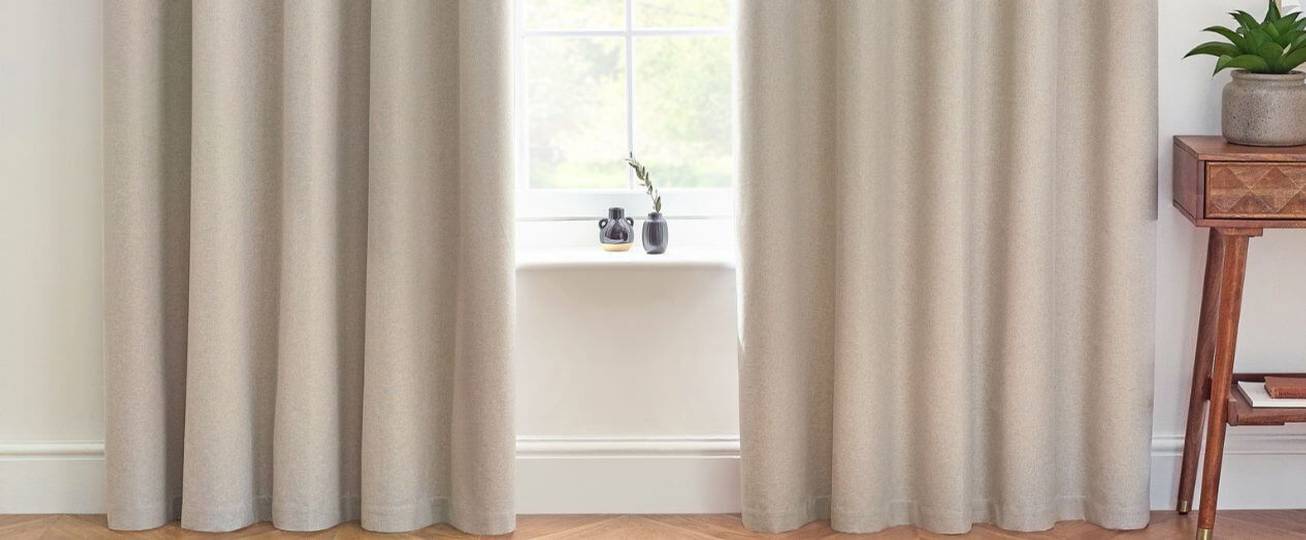 cream curtains at furn.com.
Whether you're looking to mellow out your maximalist living room or bring some sweetness to your pared-back bedroom, our cream curtains are the ideal enriching option. Sitting somewhere between yellow, white and beige – cream is a unique shade that blends all the versatility of neutrals with the cosy warmth of earth tones.
You'll find a design to suit every style in our stunning selection of cream curtains. Lean into a minimalist dream with elegant monochrome moments, or choose cream patterned curtains with rich jacquard weaves and bustling floral prints. Breeze through the fitting process with our cream ready made curtains – an ideal fit for most window spaces – or get bespoke sizing to the nearest centimetre with our tailored made to measure options.
Swept away in a cream curtain dream? Make sure to check out our matching furnishings, from creamy cushions to rich cosy throws, to beautiful beige wallpaper that makes the perfect cream complement. If you're on a curtain-buying quest but aren't sure where to begin, head over to our inspiration blog. It's bursting with expert guides and handy design tips – from our simple curtain buying guide to step-by-step curtain measuring guides, to our advice on finding your interior design style.
what colours go with cream curtains?
While its sweet, cosy warmth might have you thinking otherwise, cream is technically a neutral colour. This is good news for you and your cream curtains, as it opens the styling possibilities right up. Whether you're planning on a pared-back all neutral colour scheme, or using cream as a calming backdrop to your brighter accents – you'll find the perfect solution in our rich collection.
Looking to keep things bright, fresh and unfussy? Pair your cream curtains with a healthy mix of whites, light greys and earthy beige shades. If you've already got white or grey walls, introducing cream curtains will launch a stunning, subtle contrast. Scatter some decorative cushions around in earthy beige, brown and cream shades to create some depth, and layer up with a statement tufted throw in a darker hue.
If you're enamoured with the earthy side of cream, lean into the aesthetic by introducing a full spread of natural shades. Opt for cream patterned curtains with a leafy floral design, and continue the motif with a scattering of floral cushions in earthy shades of brown, cream and green. Natural textures like jute, raw wood and organic weaves are your best friends when orchestrating an earthy interior, and will provide layers of depth without going crazy on colour. Pop some jute cushions on your sofa or bed, unroll a woven floor runner and round off the look with some natural wood furniture.
For something a little bolder, try using your cream curtains as a soothing backdrop for brighter shades. As cream sits directly across from blue on the colour wheel, introducing blue cushions in a variety of shades will make for an eye-catching contrast. Go with navy cushions for a luxury feel, and balance the look with a generous mix of pale duck egg and baby blue shades. Add in a butter yellow throw to make your cream curtains shine all the brighter, and finish with a neutral area rug.