Back to top
Yellow Throws.
say hello to yellow throws.

Welcome the sunshine into your interiors with our collection of yellow throws. A throw is the perfect accessory for draping, layering and cosying up in. Adding warmth and texture, it won't fail to deliver the cosy vibes. With everything from ochre, honey and mustard hues, you're sure to find your favourite sunny shade. Shop the collection. Delve into the range and discover irresistible softness with fluffy faux fur, chunky knits and woolly mohair, all in a gorgeous yellow shade. Whether your style is modern, minimalist or boho, we're sure to have the ideal yellow blanket to add warmth and decoration into your home.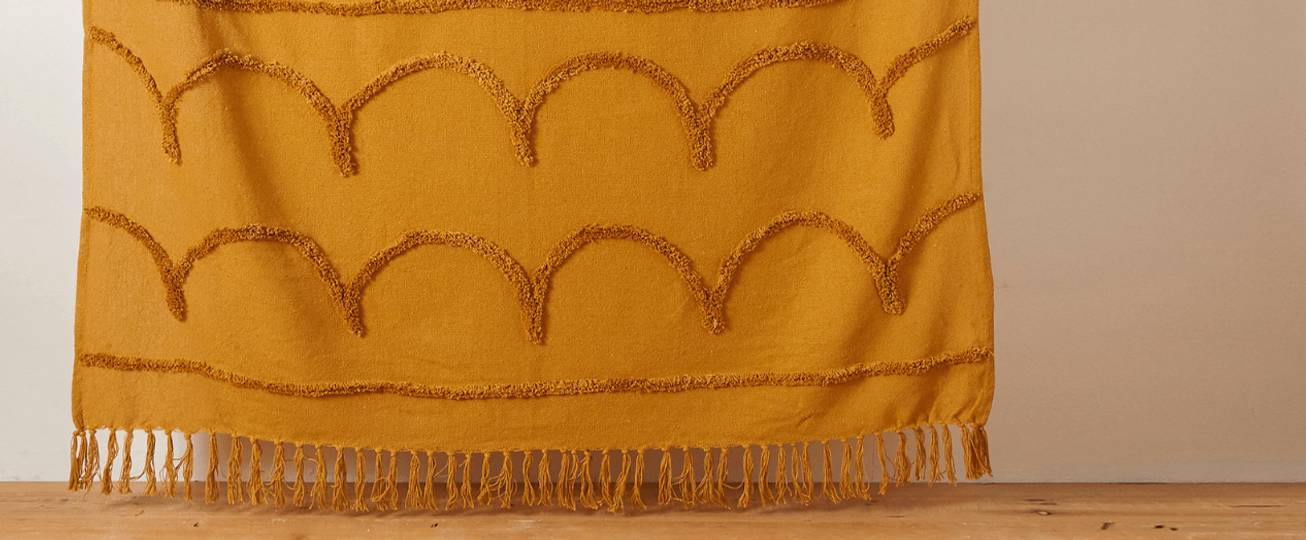 yellow throws at furn.com
There's nothing like a little yellow to brighten up the home. A real mood booster – yellow is a warm, inviting colour that adds a feeling of positivity and sunshine to any space.
Comfort and cosiness are key in making a house a home! At furn. we believe it's the finishing touches that add unique style to our interiors. What better way to express your personality than with a yellow throw?
Welcoming in a throw is a quick, easy and affordable way to accessorise your home. So, whether you're wanting to spice up your sofa-scape, snuggle up in bed or add a decorative touch to your chair, you're bound to find the perfect yellow throw to suit your décor. Browse the collection and discover an array of warm yellow shades including ochre, honey and mustard.
Our yellow throw blankets are sumptuously soft and come in a variety of luxurious textures for you to snuggle up in. Find fluffy faux fur and chunky knits for the cooler months. And discover woven waffle and 100% cotton if you fancy a lighter option.
No matter your décor tastes, we're bound to have a yellow throw to suit your style. With boho tassels, traditional checks and modern geometric designs, there's something for everyone.
Looking to layer up with other throws? Take a look at the whole collection. And if you need some interior tips on how to use throws around the home, we have a handy throw styling guide.
how to style yellow throws.
Yellow can be a tricky colour to style but don't worry, it goes with loads of different colour combos! Blue and purple are yellow's official complementary shades, but that doesn't mean you have to stick to the rules.
For a bedroom brimming with warmth, style a yellow throw with colours like orange and red. No matter the shades, this colour combination will create a room that feels sunny and bright. Go for mustard hues with burnt orange. Or experiment with opulent ochre and deep red. To make a statement, introduce a yellow feature wall with yellow wallpaper. Add orange bedding and scatter red cushions over your throw for a gorgeous layered effect and copious amounts of comfort.
Opt for cooler, contrasting shades like green and blue for a lively and balanced look. A honey yellow and mint green colour palette will look great in a modern living room décor. Start with a white sofa and drape your yellow throw casually over the back. Let it cascade down for a laid-back aesthetic or fold it neatly if you prefer it more organised. Place green cushions in different textures on top and incorporate plenty of house plants!