Back to top
Gold Cushions.
embrace all that glistens with our gold cushions.

Precious amulets, regal crowns and the colour of sunrise – gold brings feelings of glamour, warmth and attraction wherever it appears. Featuring a refined selection of geometric, botanical and geometric designs in a range of jacquard and embroidered finishes – our gold cushions bring a new standard to any interior space. Shop the collection today.

Boasting a collection of the finest velvet, viscose and polyester fabrics, our shimmering cushions are designed and made with love at our UK factory in Staffordshire. Choose from our hard-wearing polyester or luxurious duck feather pre-filled pads, or buy your gold cushion covers separately.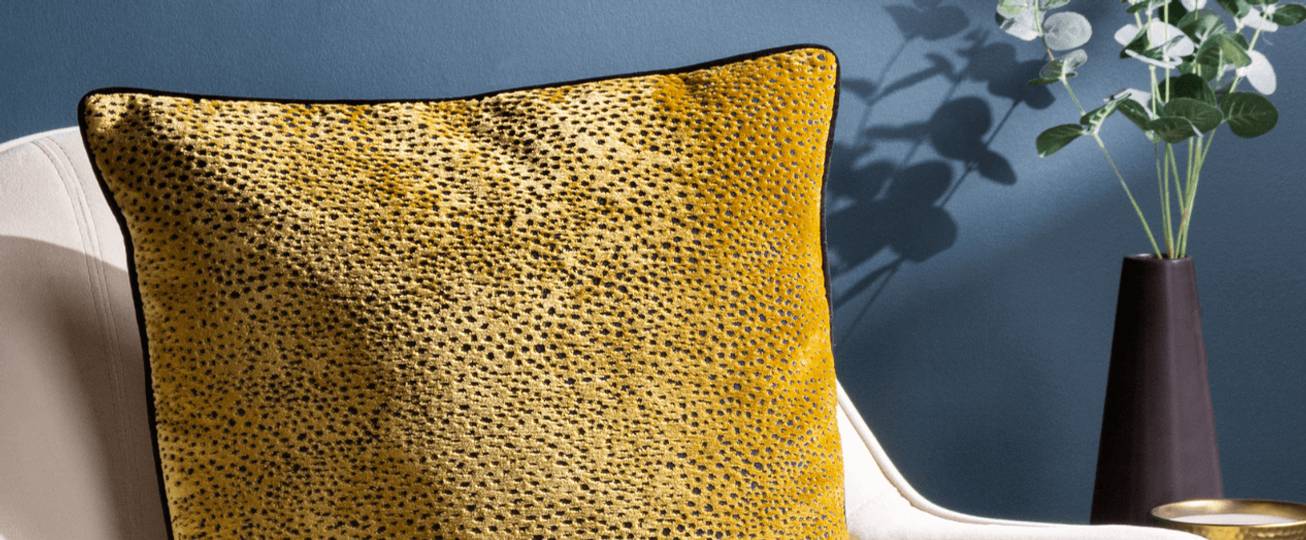 gold cushions at furn.com.
Embrace the refining effects of regal tones and soothing honey shades with our gold cushions collection. It's the perfect colour to bring a touch of glowing glamour and sunny warmth to your décor, and our quality materials won't let you down on comfort or longevity either.
Our durable 100% polyester filling has no problem holding its shape over time, ensuring your gold cushions keep a freshly-plumped look and feel far into the future. Polyester's synthetic properties also make it the ideal choice for allergy sufferers, and it's the perfect hard-wearing option for busy spaces like the family home.
If it's plush comfort and bliss you're after, our 100% washed duck feather filling is the option for you. Packed full of heavenly-soft down feathers that'll have you sinking into serenity, these cushions bring a luxurious feel that simply can't be imitated.
Want to know more? Our helpful cushion filling guide takes you through all the ins-and-outs of finding the right inner pads for you.
how to style gold cushions.
While the sight of gold might immediately take your mind to royal courts and opulent Hollywood parties, it's actually a well-rounded shade that comes with a whole host of functional benefits. Powerfully reflecting light to create a natural brightening and space-expanding effect, as well as warming up any space with its toasty sunshine hues – gold is a multi-purpose colour that deserves a place in any interior style.
You don't have to be a glam-loving maximalist to introduce some gold touches to your décor. Gold shades pair stunningly with earthy colour schemes, and will give you an understated natural look that doesn't overdo the luxe factor. Layer your gold cushions with neutral brown and forest green cushions to create a grounded effect with interspersed flashes of opulence.
If you want to capture the ornate and sophisticated side of gold in your décor, a French country interior style might be what you're looking for. Go for muted gold cushions with a strong geometric pattern, and pair with warm-coloured accents like soft yellow or blush pink cushions. Quaint, organic-material furniture like antique-style cabinetwork or console tables fit like a glove in the French country aesthetic, and will make your glistening gold cushions pop all the more.
Go all-out Hollywood glam by coupling gold cushions with dramatic black-and-white patterns, bold hot pink shades and animal cushions. Ornate metal lights like gold pendant ceiling fixtures are a great way to dial up the luxe, and introducing velvet cushions or curtains will have your space looking like the scene of a glamourous roaring-'20s ball.