Back to top
Black Cushions.
dial up the drama with breathtaking black cushion covers.

Classy, versatile and timelessly chic – nothing will ground your space in dramatic style quite like our black cushions. We've got a whole host of fascinating and unique signature designs, from fierce safari animals to humble buzzing bees, to plush plain velvet + summer florals that really pop. Keep it sleek with simple black, or go bright and bold with our multicolour options. Shop the collection.

Lots of our patterns are drawn and painted by our talented design team at our UK studio in Yorkshire. With rich designs of smooth velvet, intricate jacquard weaves and tastefully textured fabrics – the dark side of soft furnishings has never looked so good. Choose from our hard-wearing polyester and plush duck feather fillings, or order your cushion cover separately and fill it yourself.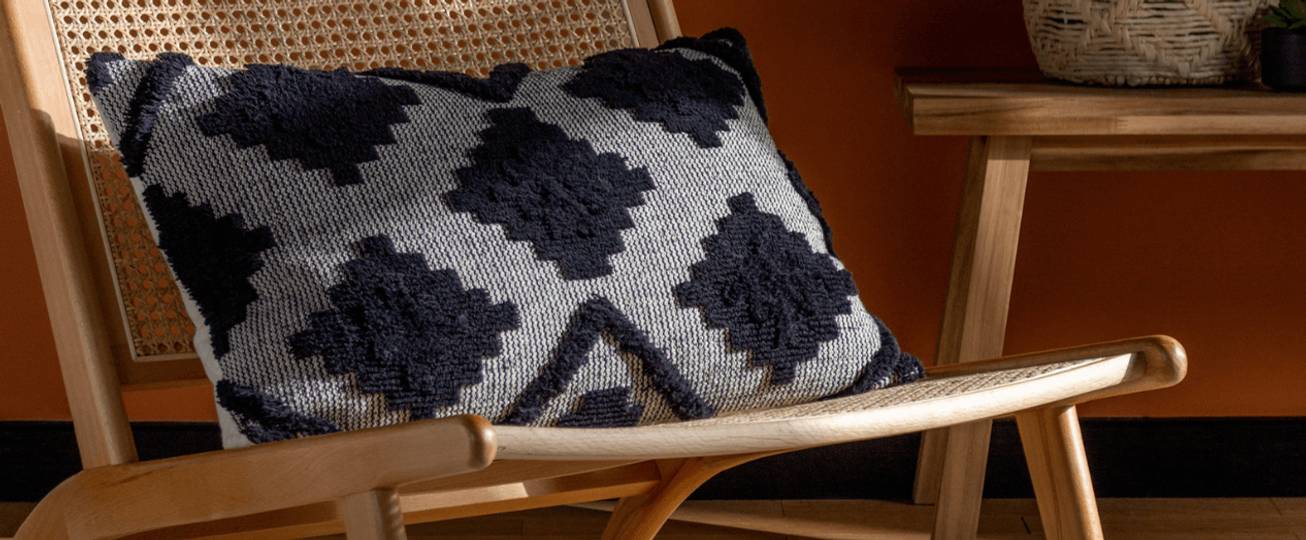 black cushions at furn.com.
Nothing makes a style statement quite like black. Not only has it endured as a leading interior colour since the dawn of design, but it's proved itself to be a valuably versatile addition to the contemporary home, too. Black cushions can be bold or sophisticated, classic or contemporary, all depending on how they're styled in your space. Go for drama and impact with plain black designs on sumptuous velvet, or up the energy with bright splashes of vivid pink and blue.
Feeling uninspired? Head over to our blog for an array of handy guides and expert style advice – from tips on cleaning cushions to finding your interior design style.
what colours go with black cushions?
You've probably heard that black goes with everything, and we're happy to confirm the absolute truth in those rumours. Like our guide to colour psychology says, black is a shade that's edgy, grounding and dramatic – and we're not sure about you, but that's exactly the energy we want for our interiors this season.
You can pair pretty much any colour with black cushions and it'll end up looking great. Because of its intensity, black creates a high-contrast effect alongside most shades that's broodingly chic and dripping with drama. The most natural pairing has to be black and white, creating a beautifully balanced harmony of light and dark that's ideal for spaces both classic and contemporary. Dotting in some white cushions among your black arrangement will keep things feeling light and airy, while not sacrificing any of that precious drama.
Coupling black with brown and grey will create a sleek tonal look that's elegantly contemporary. Go with warmer shades of grey like charcoal for a crisp gradient of dark tones, and pop in a brown accessory or two to add an earthy edge. If bright hues and bold contrasts are more your thing, vivid splashes of highly saturated tones will bring a cheery and uplifting touch. Sunshine yellow, crimson red and zesty shades of orange all make for winning combinations alongside black decor.
how to style black cushions.
If you're thinking of introducing black cushion covers to your home, odds are you're not exactly a shrinking violet when it comes to interior style. Black isn't for the faint of heart, and can be intimidating for even the most colour-conscious of seasoned decorators. However, there's really nothing to be afraid of (and a whole lot to be gained) when using black in the home.
Although it's a famously dramatic colour, there's definitely room for a more minimalist approach when it comes to decorating with black. Monochrome black and white schemes are a classic choice, and although they're bold, they can be sophisticated and soothing when done right. Start off with white wallpaper for the ultimate clean and serene backdrop. Save the splashes of black for accents you want to really pop, like statement bedding or black-painted furniture. Look for black cushions with white patterns, and contrast them against white cushions with black patterning or details.
If you'd class yourself as more of a maximalist, there's plenty of ways you can lean into the more dramatic side of black. Glistening jewel tones sit beautifully alongside rich shades of black, and are perfect for giving your space a luxury touch. An emerald green cushion or throw will have a gorgeously grounding effect on black, and will lend your space a premium feel while ensuring it remains inviting. Bring in metallic furniture with lustrous gold fittings to cement the look, while making sure your space still feels energetic and bright.