Back to top
Beige Bedding Sets.
sink into calming natural comfort with our beige bedding.

Luxuriant cocoa butter, airy dollops of whipped cream and mounds of fluffy sand – the restful hue of beige is found all around us. Our selection of beige bedding explores every avenue of this neutral, from earthy stone and ivory shades to rich cream and marble hues. Discover a new side of beige with our signature floral and geometric designs. Shop the collection today.

Our beige bedding is made in the UK from the finest quality fabrics. We've got super-soft 100% cotton, polyester and polycotton blends that are luxuriously comfy and durable to boot. Get lost in cloud-like sheets that are ultra-hard-wearing and a dream to clean. Most of our sets are machine washable, but make sure to check individual product pages for specific cleaning instructions. Toddler and single sized duvet sets come with one matching pillowcase, while double sizes and upwards come with two.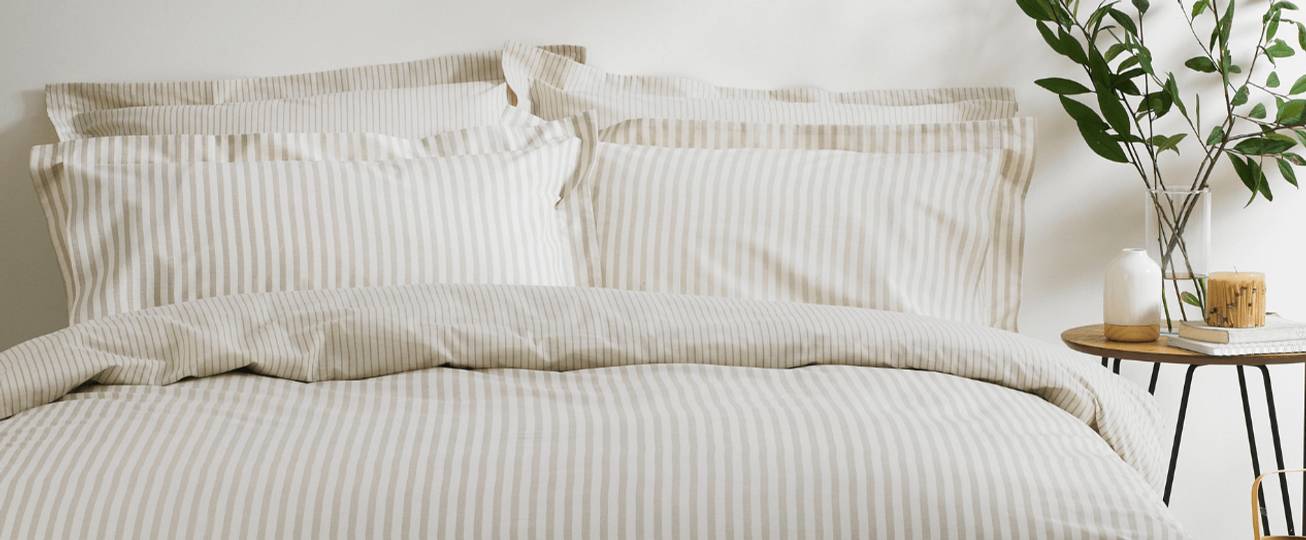 beige bedding at furn.com.
Effortlessly elegant and sumptuously soothing, there's no wonder beige is such a popular colour choice for the bedroom. It's known for its calming effect, and brings a warm and inviting quality that's difficult to achieve with other neutral hues.
Some of our beige bedding options feature covers with reversible designs – perfect for easily-bored decorators who love a spur of the moment style change.
Our super soft and breathable 100% cotton fabric is always a great option, and our 7 incredible benefits of 100% cotton bedding blog post breaks down the ins and outs of why. Our high-quality polyester and polycotton blends are a dreamily light and comfortable option too, bringing great durability as well as superb ease in washing, drying and maintenance.
Want to know more? Our helpful bedding buying guide is bursting with handy information, sifting through the finer details to make sure you find the perfect beige bedding set for you.
how to style beige bedding.
Gone are the days when beige was seen as a bland or boring shade. Grounded in the organic tones of the natural world, beige brings together subtle touches of brown, grey and yellow to form a unique neutral that's full of character.
As with all neutrals, beige is a natural fit in understated minimalist designs that centre a calm and uncluttered aesthetic. Frame your beige bedding in cooler neutrals like off-white or grey wallpaper to highlight the warming effect that beige can have. Introduce subtle patterns with a few neutral geometric cushions to create some visual interest, and layer in some texture with a knitted throw. You'll end up with a cosy and inviting look that exudes minimalist sophistication.
For a rustic look that embraces the organic palette, pair your beige bedding with deep green shades like juniper, emerald and olive. Go for natural bedding with a wildlife-inspired or botanical pattern, and layer up with dark green cushions. Use furniture made from organic materials, like rattan, bamboo, raw wood and metallics. A wooden mirror and some brass lights will add a grounding natural touch, forming a tasteful rustic style with hints of cottagecore.
Determined to bring out the wild side of beige? It's an incredibly versatile hue, and there's no rule against bringing it into a bold and colourful room décor. It pairs beautifully with gentle blues, blush pinks and deep red, so layer up the colours for an eclectic look that oozes character. To complement the brighter colours, go for cream bedding that's either plain or adorned with a subtle pattern. This will create the perfect blank canvas to splash some colour on, so feel free to go-all out in your choice of accessories. Think blue velvet and pink geometric cushions, layered over with a striking red throw.