Back to top
Purple Cushions.
add stylish pops of purple to your home with purple cushions.

Purple is an elegant colour that will provide any room with a feeling of energy and luxury. Available in a range of shades from gentle lilac and vibrant violet to soft lavender and opulent amethyst. Discover a selection of designs including floral, geometric, and animal print – and if you prefer a plain purple cushion, we have plenty of those, too. Shop the collection now. Our purple cushions come in many different textures and fabrics, shapes and sizes. Choose from super-soft velvets and printed polyester blends in square, rectangle and novelty shapes. Whether it's for your sofa, chairs, bed or outdoor seating areas, we're sure to have the perfect purple cushion for your home. Many of our purple cushions are available to buy as cover only, or for a ready-filled cushion you can choose between deluxe feather or classic polyester filled.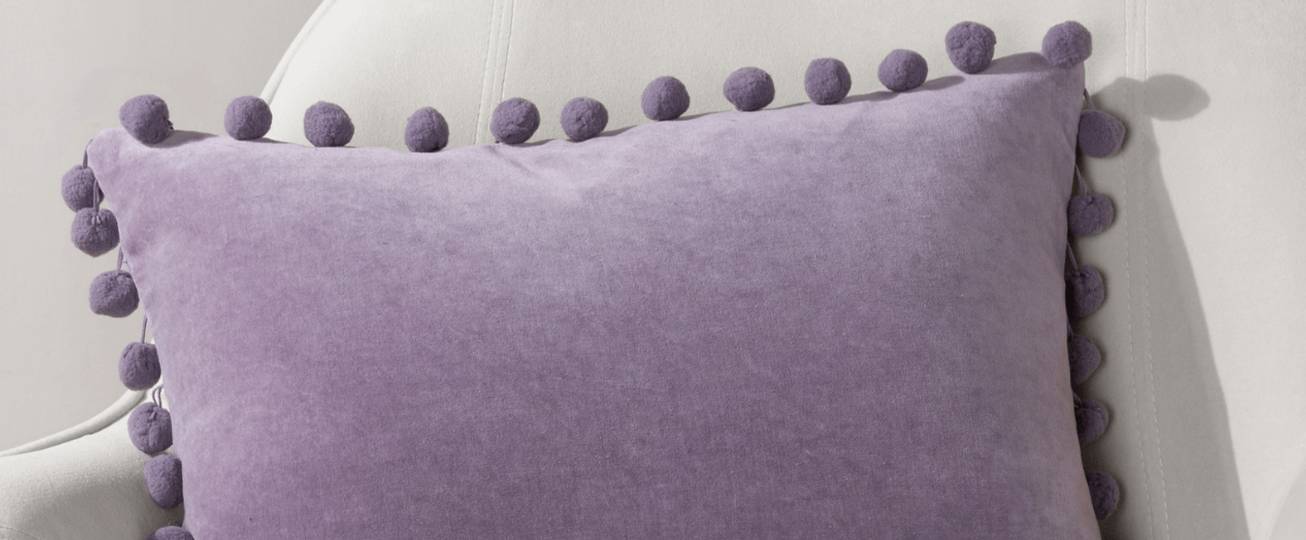 purple cushions at furn.com
Pile on the purple! This gorgeous colour represents luxury, power, and creativity. Feel empowered and add elegance into your home with our purple cushions.
All our cushions are super-soft and durable, providing you with not only bright pops of purple, but an abundance of comfort when you sit down.
You'll find purple cushion covers in an array of patterns, including funky florals, quilted designs, and attractive animal prints to revamp your interiors into a purple paradise. There are many textures and finishes to browse, from woven styles and pom-pom trims to beautiful embroidery and faux fur. So, whether it's for your bedroom, living room or garden, you're sure to find purple cushions aplenty to suit your unique interior tastes.
If you've already got a cushion pad and simply want a new cover, we've got you. Loads of our purple cushions are available to buy as a cover only option. And if you need both cushion and cover, you can choose between deluxe feather-filled and classic-polyester filled cushion pads.
Many of our purple cushion covers have a stylish reverse – one side patterned and the other side textured or plain. This means you'll always have the option to easily change up your seating areas, with just the flip of a pillow. And if a cushion slips out of place, you won't need to worry about spoiling your punchy purple look.
Our cushions are complete with hidden zip closures. This gives them a sleek and seamless appearance and means you can take the cover off and pop it in the wash as you need. Always follow the instructions on the care label before cleaning your purple cushions.
If you're not 100% sure and need extra advice on which cushions will best suit your requirements, take a look at our cushion buying guide for more info.
what colours go with purple cushions?
Purple can often feel like a difficult shade to incorporate into the home. But don't be put off, it's more versatile than you think – it complements many different colours and décors.
Opposites attract! Partner purple and yellow together for an interior full of harmony. If you're going for a maximalist home, purple works wonders because it adds bold and decadent depth whilst yellow works to brighten. For a living room, start with a lemon-yellow velvet sofa and layer on purple cushions in lavender and aubergine hues. Don't be shy here, maximalism means more. Cover your walls with yellow wallpaper and all your favourite art for extra splendour.
On the other end of the scale, pair pale purple shades with white for a fresh take on a minimalist interior. For a bedroom in this style, begin with a classic white bedding set and arrange one or two purple cushions on top for a clean and uncluttered look. To add depth whilst still keeping your bedroom light and airy, think about creating a subtle feature wall by painting one wall purple and keeping the rest white.