Back to top
White Bedding Sets.
craft your dream soothing hideaway with white bedding.
Timeless, fresh and totally serene – nothing brings calm to a space like white bedding. The perfect blank canvas for any
bedroom style
, our collection offers textured tufts, floral prints and luxurious Egyptian cotton for the most soothing of sleep sanctuaries. Choose pure pearly white, or opt for a richer touch with shades of ivory and cream. Shop the collection.
A lack of colour doesn't have to mean a lack of character, and our white
bedding
sets are the perfect example of why. From caressing tufted cotton to captivating abstract prints, to bright floral designs that bloom off the fabric – we're putting notions that white is boring to bed. Choose from one of our UK made signature designs, or bring that boutique hotel feeling home with plain 100% cotton.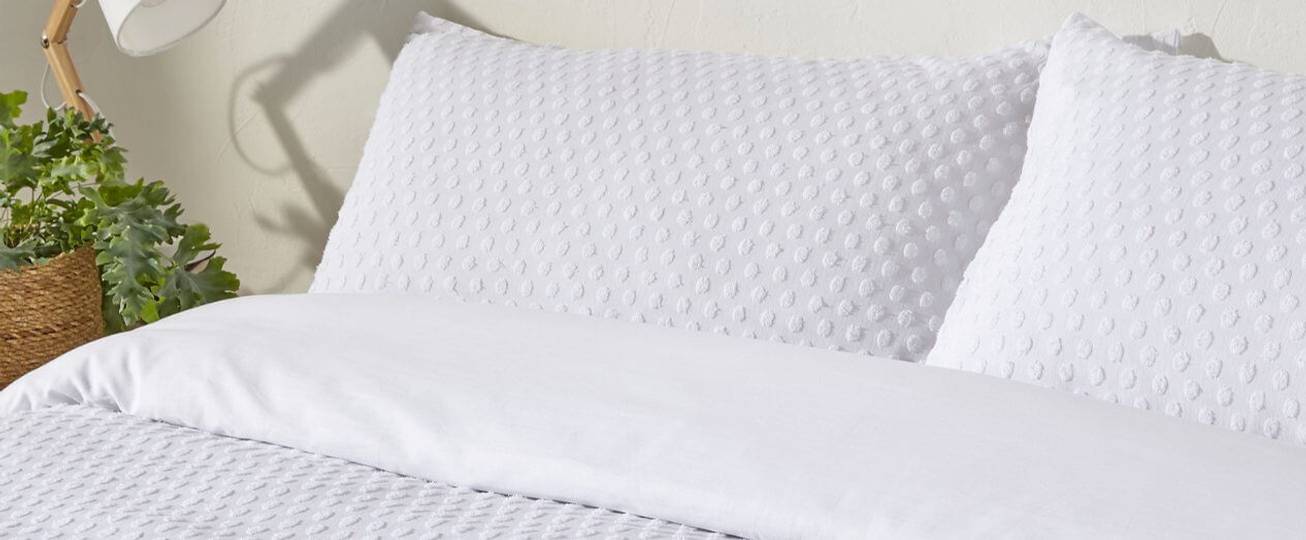 white bedding at furn.com.
Our wispy white bedding collection boasts a range of different styles – perfect for updating your bedroom exactly the way you've been imagining. Whether you're chasing the hotel bedding luxury of 200 thread count percale and Egyptian cotton, the elegance of oxford bordered pillowcases or the chic touch of a tufted cotton design, we've got just the thing to elevate your sleep sanctuary's style.
Craving a crisp, all-white wonderland? Make sure to check out the rest of our white home furnishings, from wispy white wallpaper to the pearliest of curtains, to crisp throws and ivory cushions that guarantee a clean aesthetic.
Swing by our inspiration blog for a blizzard of bedding guides and expert design tips. Our beginner's guide to bedding gets you off to a winning start, while our bedding buying guide breaks down the finer details. Learn how to wash your bedding, or get the clean and pristine look with our minimalist interior design guide.
how to keep white bedding white.
We know – white bedding can be a little intimidating. What if you spill your cup of coffee, or the dog gets their grubby paws on it, or the kids do what kids do best? Don't worry, we've got you.
The best way to keep white bedding white is by not letting it get stained in the first place. First, you might have to consider giving up your tea-in-bed morning routine. Avoid the chance that you'll get stains on your fresh white sheets, and keeping them whiter than white will be much easier. However, if you do end up getting a stain, clean it up as soon as it happens – that way it won't end up a permanent addition to your sheets.
Try to get your white bedding in the washing machine at least every two weeks. This keeps stains, body oils and other impurities from settling into the fabric. Separate your whites from colours – even if they're not new, dyed clothing items like your favourite red socks can still transfer colour, so make sure to double check your washing machine for any stragglers. Ideally, don't add anything else to the drum, giving your bedding plenty of wiggle room.
Don't use bleach – however tempting it might be. Over time, it can cause protein stains (like sweat) to go yellow and make your sheets feel crispy. Instead, try an oxygen bleach, which uses oxygen to keep your whites sparkling. Or, if you'd prefer an eco-friendlier approach, use lemon juice or baking soda with white vinegar to naturally brighten your white bedding sets.
Airdry your white bed sheets if you can, outside being the optimum place. Not only will your sheets have that delightful outdoor scent to them, but the sun acts as a natural bleach too. Only tumble dry if you absolutely must (airdrying is better for your sheets and the planet!).
For your furry friends? Pop a stylish throw over their favourite spot to stop paw-on-bedding contact and you'll prevent staining. Bonus – our stunning collection of throws is an excellent finishing touch for any style of bedroom.