Back to top
Christmas Cushions.
snuggle into the holiday season with our charming Christmas cushions.
Instantly transform your
living room
or
sleep sanctuary
into a seasonal Santa's grotto with our collection of Christmas
cushions
. Whether you've got woolly winter animals on your wish list, you're craving some intricate embroidery or you just love a good old-fashioned
festive
print – you'll find stunning designs in a range of neutral, muted and bright hues. Shop the collection.
From magical nutcrackers to novelty designs and cosy winter woodland scenes, we've got Christmas cushion covers to suit all manner of festive tastes. Available to order as cover only, simply slip them over your current cushion inners for a speedy seasonal switch-up. If you're looking for a full cushion, choose between our durable polyester and luxurious duck feather inner pads.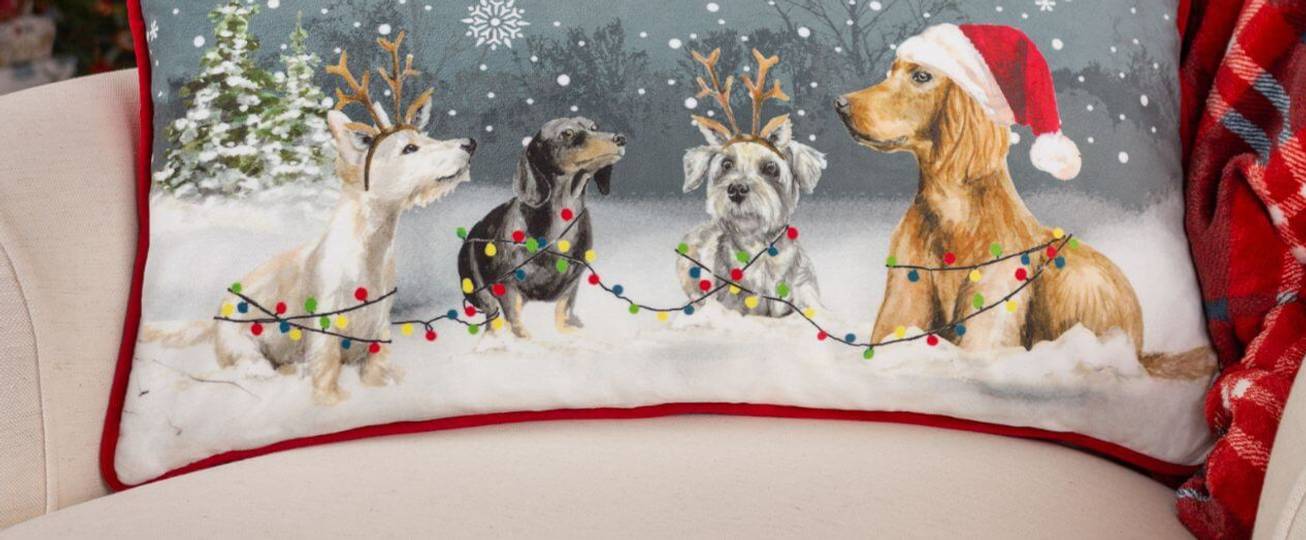 christmas cushions at furn.com.
Whether you're going for an all-bells-jingling theme that's rich in festive merriment, or a more subtle celebration of the holiday season – discover the perfect present for yourself in our collection of Christmas cushions. From watercolour designs of winter robins, penguins and polar bears to vibrant novelty designs and majestic snow-covered scenes – every corner of the holiday season is celebrated in this stunning collection.
Finding the Christmas spirit a little contagious? Make your home a hub of festive cheer this year with our full Christmas collection. Bundle up in the cosiest of Christmas bedding, layer up your sofa or bed with a thick Christmas throw or seek out the ideal stocking filler with our selection of Christmas gifts.
If you're keen to get started on some Christmas decorating but aren't sure where to start, our blog is stuffed with helpful guides and expert advice for seasonal decorating. Learn how to style your home for Christmas with our handy guide, and get all the top tips for buying cushion covers and fillings with our easy-to-follow breakdowns.
how to choose Christmas cushions.
The quickest and easiest way to take a festive theme beyond your tree – our Christmas cushions are a seasonal staple for lovers of the holiday period. The simple addition of two or three festive cushions is all you need for a sleigh-worthy sofa or bed arrangement, but how do you settle on just a few designs?
When organising your interiors for Christmas, the most important thing to keep in mind is your theme. While Christmas decor might sound like it's all the same thing, a quick look through our collection is all you need to see that there's a wealth of different designs and styles out there. A classically festive interior might use traditional Christmas colours and motifs that repeat throughout. Think glistening emerald greens, bright berry reds, and timeless symbols like nutcrackers and gingerbread men.
If you fancy trying your hand at a more subtle, contemporary take on festive decorating, we've got tons of muted Christmas cushions that bring the magic without all the jingling bells and whistles. Look for neutral cushions that don't go overboard on colour, and stick with softer designs that aren't stacked with festive imagery. Many of our Christmas cushions feature animal designs, and are subtle enough for use in your decor outside of the festive period.
how to style Christmas cushions.
We've all been blown away by skillfully curated Christmas decorations at some point in our lives. Whether it's neon bulbs blazing on a rooftop, an especially enchanting Christmas tree or the understated beauty of carefully-placed winter foliage – a well-balanced festive display never fails to mesmerise. The lengths you go to are entirely up to you – a pared-back Christmas interior can be just as impressive as an extravagant one – but there are some tricks to making the whole look work.
If you're looking to go the traditionally festive route, you're probably already familiar with what to look out for. Strong, saturated shades of red, green and gold are all hallmarks of the holiday aesthetic, and will go a long way in creating that cosy yule log fireside feel. Couple bright Christmas cushions with warming red, green and gold options that you can keep in your decor year-round. A toasty throw is a must-have through the chillier months, and we've got tons of festive designs that'll keep you snug whilst waiting for Santa.