Back to top
Christmas Bedding.
discover the gift of sumptuous comfort with our Christmas bedding.


Nothing makes those frosty winter mornings feel magical quite like our selection of Christmas bedding. Sleigh your way through everything from merry snow-covered scenes to iconic motifs of gingerbread men and nutcrackers, or keep things subtly seasonal with a tasteful tufted design – all available in neutral, muted and bright Christmas shades. Shop the collection.


If you're ready to transform your bedroom into a sumptuous sanctuary of festive spirit, we've got plenty of Christmas bedding sets that are sure to make your list. Make it a merrily-matching Christmas with bedding for the whole family – from toddler and single-sized options right up to double, king and super king sets.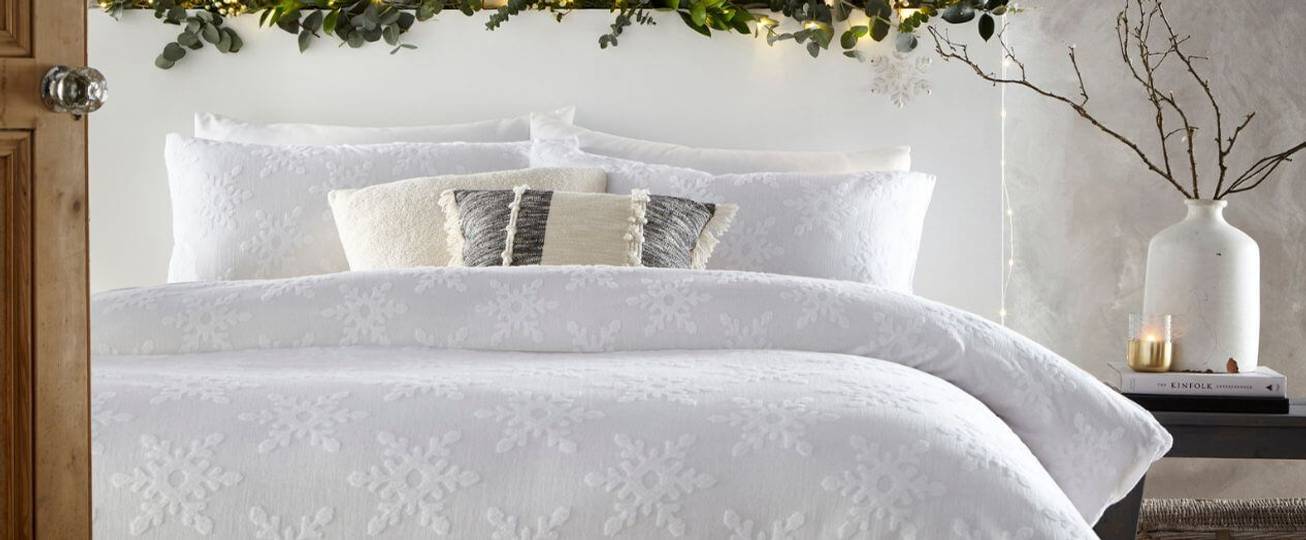 christmas bedding sets at furn.com.
From the months-long anticipation to the excitement of the weeks leading up, to the heartwarming merriment of the day itself – there's magic to be found in every phase of the festive season. At furn., we believe that nothing gets the Christmas vibes going quite like some spirited festive decor. From traditional prints to subtle motifs stuffed with seasonal spirit – our Christmas bedding offers everything you need to transform your bedroom into a gleeful grotto of Christmassy cheer. Snuggle into snow-covered scenes of festive towns and a playful North pole, or embrace a more subdued seasonal interior with tufted trees and snuggle-worthy snowflakes.
Got our Christmas bedding sets on your list this year? Why not deck the halls, living room and everywhere else out with our full Christmas collection. We've got everything from cracking Christmas cushions to blankets you won't be able to resist bundling up in, to stylish Christmas gifts that make the perfect stocking fillers. Head over to our inspiration blog if you're running low on Christmas decorating creativity – we've got a full guide on styling your home for Christmas, as well as an insider account of the furn. team's favourite Christmas decor.
how to decorate a bedroom for Christmas.
While just about everyone loves Christmas, we'd be lying if we said it didn't come with its fair share of seasonal stress. From planning festive functions to sorting out those Secret Santa gifts, it's easy to feel overwhelmed around Christmastime, and a festively furnished bed can offer the ultimate safe haven.
Bedding is the beating heart of any festive bedroom decor, and a quick swap to seasonal sheets is an absolute must if you're looking to cash in on those cosy Christmas vibes. Go with a North Pole palette of bright berry reds and rich emerald greens if you're after a classic Christmassy look, and embrace traditional emblems like nutcrackers and gingerbread men. If you're after a more muted celebration of the festivities, we've got plenty of pared-back designs that you won't have to immediately strip off once January comes. From natural winter woodland scenes to 100% cotton tufted trees and snowflakes – we've got Christmas bedding for all flavours of festive interior.
As the big day draws nearer, the nights get chillier, giving you an ideal opportunity to layer up your bedroom with a sleigh-load of fabrics, accessories and more. Our Christmas throws bring a magical flurry of festivity, while providing toasty warmth that's a godsend through the winter season. If cushions are more your thing, we've got plenty of options that'll sing in perfect seasonal harmony with your Christmas bedding set. Look out for matching sets that'll make a chorus of Christmas cheer, or switch things up with an eye-catching statement design.