Back to top
Red Cushions.
revamp, refresh + get ready to relax with our red cushions.

Add radiance and warmth to your home with our gorgeous red cushions. Available in a range of shades from beautiful burgundy and classic coral to magnetic magenta and punchy pomegranate. You'll find an array of designs including global geometrics, funky florals, and attractive animal prints. And if you prefer a plain cushion, we have plenty of those, too! Shop the collection now. Choose from a variety of fabrics – tufted textures, soft velvets and printed polyesters – all in a rich red hue. Whatever your style, we're sure to have the perfect red cushion to suit your décor. Many of our red cushions are available to buy as cushion cover only or you have the option of deluxe feather-filled or classic polyester-filled cushion pad inner. All covers are removable with a hidden zip closure.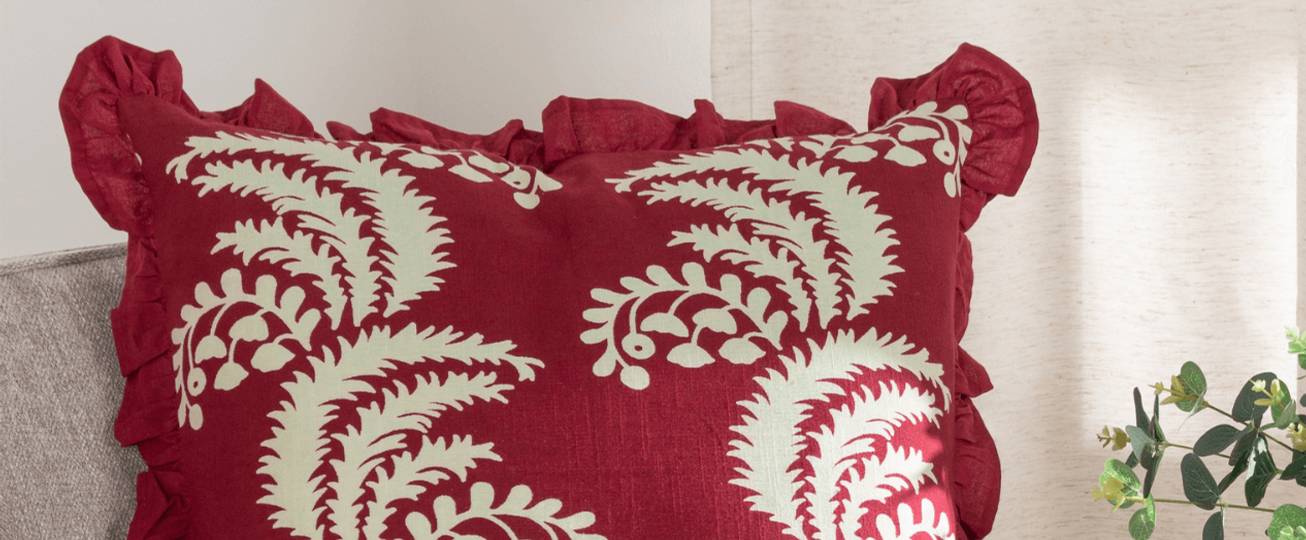 red cushions at furn.com
Red is the colour of love, energy and passion. Re-energise your seating areas and create a sofa-scape you'll fall for with our red cushions.
All our red cushions are super soft and ultra-durable, providing you with not only rich pops of colour but luxurious comfort when you sit down.
Discover red cushions in a huge array of designs including traditional jacquard, modern abstract and bold stripes. With many fabrics and features to browse, from classic 100% cotton and woollen blends to pom-pom trim and tasselled fringe, you're sure to find the perfect red cushions to transform your home.
Many of our red cushions are available to buy as cover only, so if you've already got a cushion pad that you just want a new cover for, we've got you. And if you need the works – cushion and cover – you can choose between luxurious feather-filled or classic polyester-filled cushions.
With loads of our red cushions coming with a stylish reverse (one feature side and one plain side), you'll always have the option to easily switch up your décor. And if a cushion slips out of place, you don't need to worry about spoiling the look, it'll still look great.
Our cushions are complete with hidden zip closures, giving them a sleek and seamless look that you can pop off before you wash – always follow the instructions on the care label when washing your cushions.
So, whether you're looking to update your sofa, bed or outdoor seating areas, we have red cushions aplenty to suit your needs.
If you're not 100% sure on which cushion is the best fit for you, take a look at our cushion buying guide for extra info.
what colours go with red cushions?
Red is one of those warm colours that tends to look good with anything and everything. In other words, it's totally versatile! However, depending on the look you're going for there are certain colour combos that really pop.
Red and grey is a classic combination. A grey sofa is the perfect base for red cushions – because it's a neutral colour, it's soothing and creates a feeling of balance. The red adds energy and complements the grey to provide a unique and modern look. Start with a grey sofa and arrange bold cushions in various red hues. Include a vibrant red feature wall with a red wallpaper and paint the rest a pale grey. Hang red curtains up at the windows for added drama.
For a bright and feminine fuelled bedroom, match reds with pinks and oranges. Start with a pink bedding set and pile on red cushions in different shapes, sizes and fabrics for style, texture and comfort. Go the extra step and complete the funky look by painting the skirting boards and doorframes a bright shade of orange.