Back to top
Red Curtains.
bring out your bold side with striking red curtains.
Oozing with energy, adventure, and passion – it's fair to say a more striking hue than red is hard to imagine. Our red curtains collection celebrates the versatility of this powerful shade, with everything from berry red florals to traditional jacquard designs in burgundy, to plain velvet and woven curtains in shades of scarlet and wine. Shop the collection.
Struggling to find your size in our
ready made
range? Enjoy tailored sizing down to the nearest centimetre with our bespoke
made to measure
selection. If you're a light or chilly sleeper, our
100% blackout curtains
are ideal for blocking glares and cold while reducing noise. Go with
pinch
or
pencil pleat curtains
for a smart traditional look, or keep it sleek and modern with our stainless steel
eyelet
headers.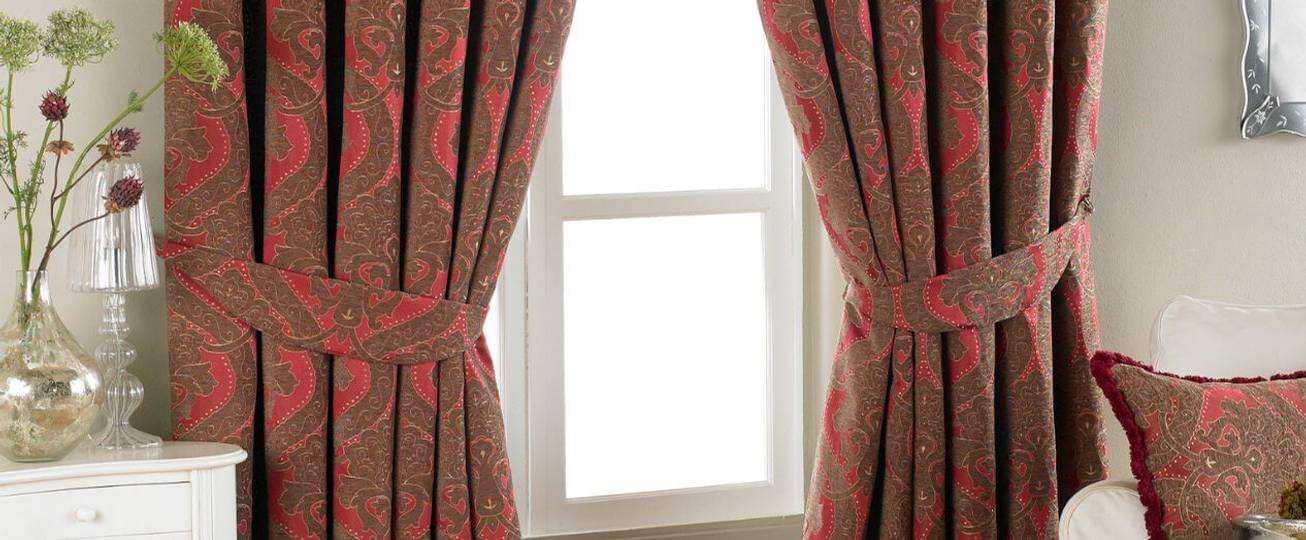 red curtains at furn.com.
Whether you're planning on a dramatic colour-drenched scheme, or a subtle touch of red to dial up your space's energy – you'll find your perfect match in our stunning selection of red curtains. Keep it sweet and simple with a subdued or plain-dye design, lean into luxury with embroidered and jacquard motifs, or go all-out with red patterned curtains in juicy berry shades.
Kiss the stress of sizing goodbye with our red ready made curtains – a perfect fit for most window spaces – or get a precisely tailored fit with our bespoke made to measure options.
Wishing for a rose-tinted world? Make sure to check out our full range of matching red interiors, from cherry-red cushions and throws, to wallpaper and bedding that'll bring buckets of impact. If you're running low on inspiration, our blog is a treasure trove of expert guides and design advice. We've got a curtain buying guide that'll arm you with all the basic knowledge, as well as detailed curtain measuring guides that take care of all your sizing queries.
what colours go with red curtains?
Fiery and energetic, balanced and soothing, or deep, elegant and cosy – our red curtains can be used to create a variety of moods and feelings throughout the home. Create an immersive, fireside feel with a wall-to-wall red scheme, or keep the spectacle subtle with rustic red trims and muted motifs.
We all know that red is a powerful shade, but that doesn't mean you should feel intimidated about using it in your home. Like any colour, red can be as subtle or as striking as you like, and a touch of clever decorating is all that's needed to make it slot neatly in any interior.
If you're after something classic and clean, try using red as an accent shade to bring bright pops of energy to more neutral spaces. White, grey or beige wallpaper will sit serenely behind red curtains, creating a perfect balance of peace and passion. Go with a deep wine or russet shade if you're after something luxurious and sophisticated, or choose strong tones of scarlet and berry to make the contrast all the more striking.
Beige and brown shades make a refined pairing with deep red tones like burgundy, and will bring endless depth to more minimalist schemes. If you've already got raw wood flooring, skirting or furniture – you're off to a winning start, and this colour combination will work all the better. Look for high-grain, dark wood furnishings if you're after a luxury look, and balance the richness of your red curtains with breezy white cushions or a cream throw.
If bold, bright and brilliant is more your style, you're certainly not short of options when decorating with red. Red sits right across from green on the colour wheel, and can make for a majestic contrast if curated carefully. Flowery rose red shades sing in perfect harmony with soft green tones of jade and eucalyptus, bringing a fresh burst of earthy energy to any space. Complement your red curtains with jade green wallpaper if you're looking to make a statement, and balance the look with a healthy spread of earthy accents. Use a mix of beige, brown and green cushions to bolster the look on your sofa or bed, and top it off with a striking red throw that brings everything full circle.