Back to top
Pink Bedding Sets.
add a rosy hue to your room with statement pink bedding. 

Add a gentle softness to your home with pink hues. Often deemed romantic and feminine, pink within your interior can also add a character and warmth that is considered gender neutral. Explore soft blushes, gentle pastels and hot pinks amongst our large collection of stunning pink bedding sets.Discover an array of materials and compositions to suit your personal needs in this collection. Whether you prefer luxurious brushed cotton, durable polyester or quilted plush velvet, there is a pink bedding set for every home!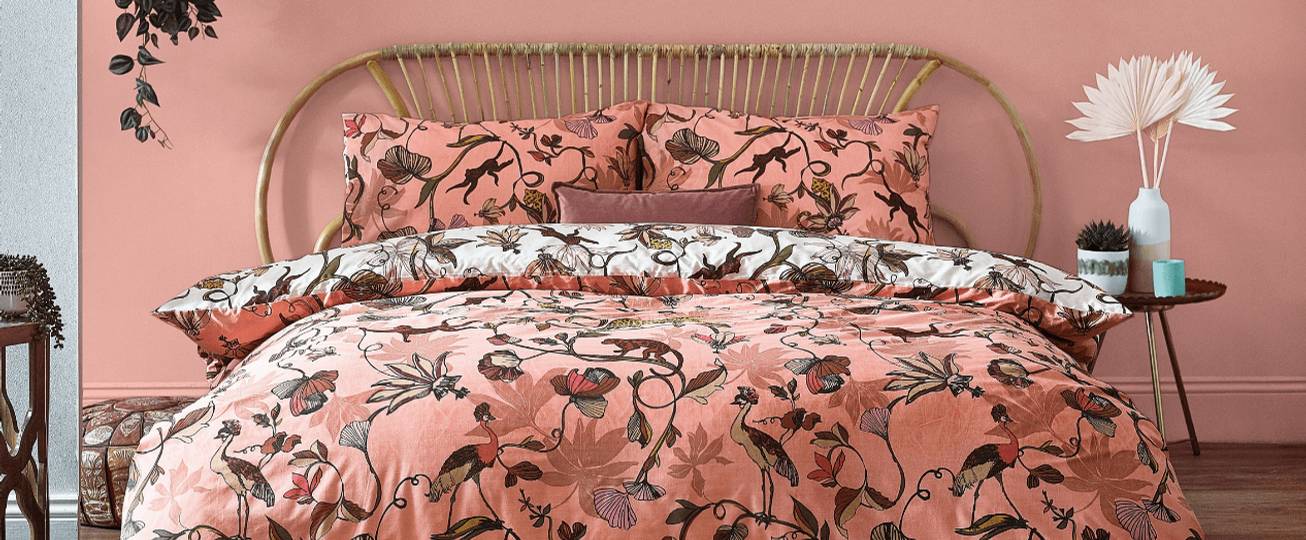 pink bedding at furn.com
Pink within the home has been popular for many years. The delicate colour brings a softness and elegance to the home and is versatile as you can dial the colour scheme up or down to suit your preference. So, if you're searching for bright hot pink, plain pastel blush or light pink bedding, you are bound to find the perfect one for your home in our large collection of pink bedding sets!
what colour goes with blush pink bedding?
Pink and grey – Grey and pink go together romantically, especially in bedrooms. Adding some grey cushions or accessories to pretty, pink floral bedding will creating a calm and relaxing space.
Pink and green – When it comes to pink and green colourways, we believe opposites attract! These contrasting colours have become a popular interior trend during recent years as the colours bounce off one another perfectly. Green wallpaper paired with a blush pink duvet cover set will create a stunning feature space in your bedroom.
Pink and white – Adding bright whites to your home will enhance the power behind colourful soft furnishings. Create an impactful space in your room by pairing pure white cushions with hot pink bedding to make your bed pop!
how to style pink bedding.
A pink duvet cover can completely transform the overall look of your bedroom for a fraction of the cost. Choose from a variety of statement patterns to create a focal point in your room.
A pink blanket or bed throw will complete the look of your room. Introduce colour and texture into your home whilst adding extra comfort and warmth for those chilly nights ahead. Our pink throws can be paired easily with a variety of duvet cover sets including the ones found in our pink bedding collection.
The bigger the better! If a throw doesn't quite cut it, why not add a large luxurious pink bedspread. Not only will it add a pop of colour to your bedroom, but you will be unbelievable snug when tucked in at night!