Back to top
Kids Curtains.
make your little ones' windows a place of wonder with magical kids curtains.

Bedtime can be troublesome at the best of times, but a smooth night's sleep starts with the right environment. Our kids curtains are designed to capture the imagination and promote a positive relationship with sleep – with magical designs of robots, unicorns, furry friends and more paving the way for a fuss-free bedtime. Shop the collection.

Whether you're shopping for a unicorn princess, jungle adventurer, robot-loving rascal or a loyal friend to fuzzy woodland creatures – you'll find the window dressing of your little one's dreams in our kids curtains collection. Designed with room darkening, high-quality lining, our kids' bedroom curtains nurture the imagination while helping it drift off to a soothing slumber.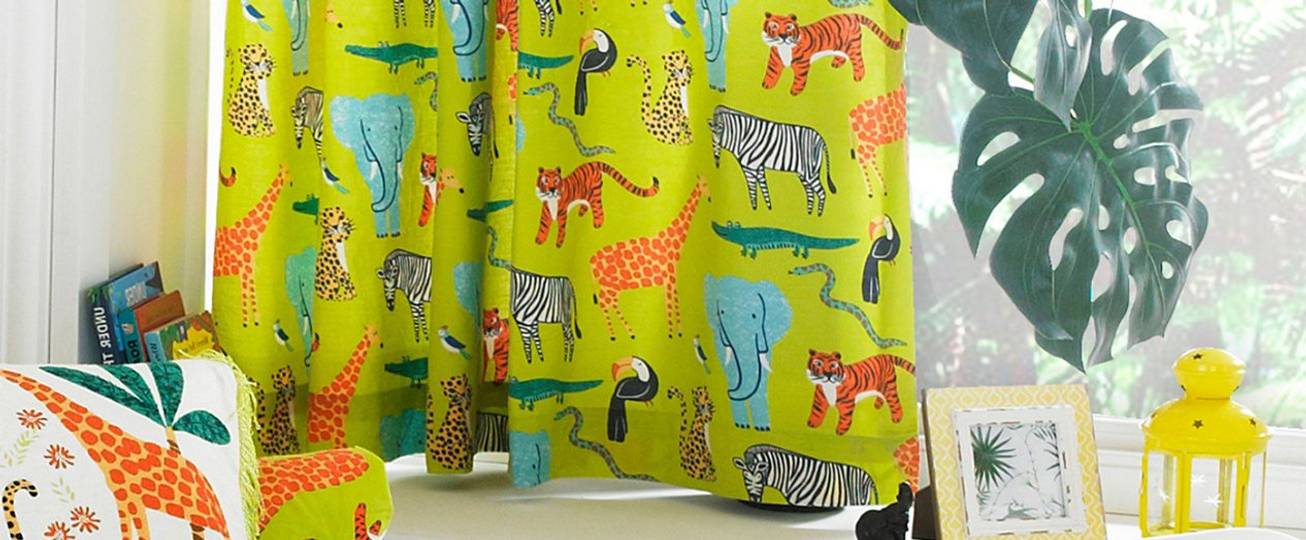 kids curtains at furn.com.
Transform your child's space (and their attitude to bedtime) with our enchanting range of kids' bedroom curtains. Available in a range of imagination-capturing designs, from youthful unicorns to funky robots, jungle animals, woodland friends and more – you're sure to find curtains that'll make the little ones' bedtime a breeze.
Kids tend not to do things by halves, which is why we've got matching kids bedding and wallpaper to complete your little ones' look. Our kids cushions and soft plush toys are fantastic for nailing the finer details – sure to charm even the most passionate of anti-bedtime activists. Go with eyelet kids curtains if you've already got a curtain pole installed, or choose pencil pleat headings for an elegant option that'll fit on either a pole or track.
how to hang children's bedroom curtains.
Our captivating kids curtains are designed for a simple and stress-free fitting process, so your little ones won't have to wait too long before their room is totally transformed. All available in a standard size of 168x183cm that'll slot smoothly in most window spaces, we've taken the stress out of curtain sizing so you can get right down to enjoying the finished product.
Eyelet or 'ring-top' curtains are designed to be hung exclusively on poles, so make sure you've got a curtain pole fitted (not a curtain track) before you decide on an eyelet heading. When hanging our eyelet kids curtains, simply thread your curtain pole through the stainless-steel eyelet holes, and adjust until you're happy with the fit.
Our pencil pleat kids curtains can be hung from either a pole or a track. However, you'll need to get your hands on some curtain rings if you plan on using a pole. Space out your curtain rings (or hooks, if you're using a track) evenly across the width of the curtains as you hang, adjusting to correct any gaps, drooping or other imperfections as you go.
We've got a full list of detailed curtain measuring guides for every heading type over on our blog, so check that out if you need help with measuring, fitting a curtain pole, or just about anything else.
how to keep kids cool at night.
We all know kids aren't exactly the most enthusiastic about settling down once bedtime comes, and this is why genuine factors that might be affecting their sleep often get overlooked. The temperature of your child's bedroom, for example, is central to them getting a good night's rest. Toddlers and young kids are especially sensitive to temperature, so keeping their rooms at the right levels of warm and cool year-round can be a tricky task.
A massive benefit of our kids curtains is that they're all thermally lined, meaning they'll naturally regulate the temperature to stay at a comfortable level. Equipped with an extra layer of fabric that's designed to block the transfer of heat, our kids curtains keep heat in when it's needed, and keep it safely outside through the chillier seasons.
This lining in our kids curtains also has room-darkening properties, meaning pesky car headlights, street lamps and even the dazzling summer sun won't be disturbing their well-needed slumber. Take a look at our full range of 100% blackout curtains if you're after a more heavy-duty option that's perfect for kids' rooms, designed with thermal and noise-reducing properties to boot.