Back to top
Fleece Bedding.
wake up in a woolly wonderland with fleece bedding.

Cosy, chunky and insulating while still being lightweight – our fleece bedding is the perfect winter warmer that'll keep you comfy year-round. Whether you're after temptingly toasty blankets to keep you snug through the snowy seasons, or lively Christmas designs that bring the festive spirit in spades – you'll find just the thing with our selection of fleece bedding sets. Shop the collection.

Made from woven polyester that's brushed out for a fluffy wool texture – our fleece bedding is sensuously soft, seriously durable and a dream to care for. The synthetic weave makes this bedding a perfect fit for allergy-sufferers, and its thermal properties promise irresistible toastiness without any added weight. Enjoy the convenience of super-soft fabric that's decidedly durable, machine washable and totally shrink resistant.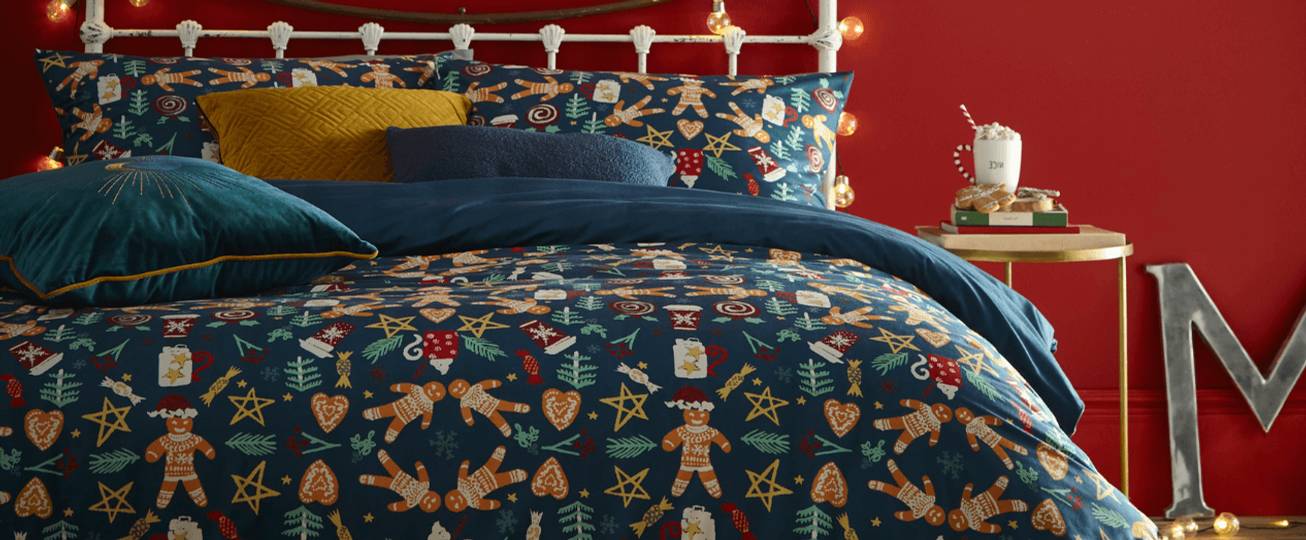 fleece bedding at furn.com.
If you've ever wondered what it would feel like to cosy up on a cloud, our selection of fleece bedding might just be the closest thing you'll find.
A wonderful winter warmer that'll transport you back to days of snuggling up with your favourite childhood teddy bear – our fleece bedding sets are the newest frontier of fuzzy comfort. Discover soft chunky texture, insulating woolly warmth and convenient easy-care upkeep, promising a sublime sleep experience that hits the mark on every level.
On the hunt for new bedding but not sure where to begin? Our helpful bedding buying guide is the perfect place to start, covering every step of the bedding-buying process from the basics right through to the finishing touches.
what is fleece fabric?
Despite being named after the natural woolly coat of a sheep, our fleece bedding is made from 100% synthetic polyester fabric.
While synthetic fabrics sometimes get a bad name, polyester fleece bedding offers several benefits that make it a more popular choice than traditional wool. The unique fibre structure means fleece provides impressive warmth while also allowing air to pass through. So, while it's typically more of a winter option, our fleece bedding can keep you perfectly comfortable in every season.
Fleece is used for everything from mountaineering thermals to athletic garments, and offers plenty of practical advantages that make it a fan-favourite in the fabric world. It's much lighter in weight than regular wool and is actually a softer option when it comes to brushing against skin.
Its lightweight quality makes fleece an ideal bedding fabric, combining with the warming thermal properties to create a perfectly balanced temperature effect that's comfy year-round.
Natural wool can cause itchiness in some people, particularly in those who suffer from animal or other allergies. Fleece's synthetic weave gets rid of this problem entirely, offering a completely hypoallergenic solution that carries zero risk of sneezing, itching or other flare-ups.
how to wash fleece bedding.
If you're still not convinced about introducing a fleece bedding set to your decor, their impressive easy-care properties might just win you over.
All our fleece bedding is completely machine washable and cleans particularly well in a cold machine wash. As it's made from synthetic fibres, our fleece bedding can create static cling, which attracts pet hair and other allergen debris. Because of this, it's best to go over the fabric with a lint roller before placing it in a machine wash. You'll be keeping potentially damaging dust and dirt out of your washing machine, while making sure your fleece bedding gets the best cleaning possible.
While it's an intensely durable fabric, we recommend washing fleece on a gentle cycle at a cold temperature setting. This will make sure you don't lose any of the valuable fluffy softness that fleece fabric is renowned for.
Use a gentle laundry detergent that avoids harsh chemicals, and skip the fabric conditioner. Conditioner can cause fleece's fluffy fibres to become stuck and weigh them down, spoiling the light fuzzy texture over time.