Back to top
Ready Made Eyelet Curtains.
pull a stylish, modern look together with ready made eyelet curtains.
Effortlessly on-trend, impressively affordable and entirely fuss-free – our ready made eyelet
curtains
make a splendid addition to any window space. Our stunning signature designs range from intricate florals and geometric prints to sophisticated plain-dyes and luxe velvet finishes. Keep it clean with a sleek neutral, or drape your space in drama with brilliantly bright tones. Shop the collection.
The ideal way to elevate your window space without breaking the bank, our ready made
eyelet curtains
offer everything you need for a stress-free spruce. Available in a range of standard sizes based on the most popular UK window measurements, our
ready made
designs fit like a glove in most standard window spaces. Complete with sleek eyelet headings for a chic, modern look – open yourself up to new levels of shade-bringing style.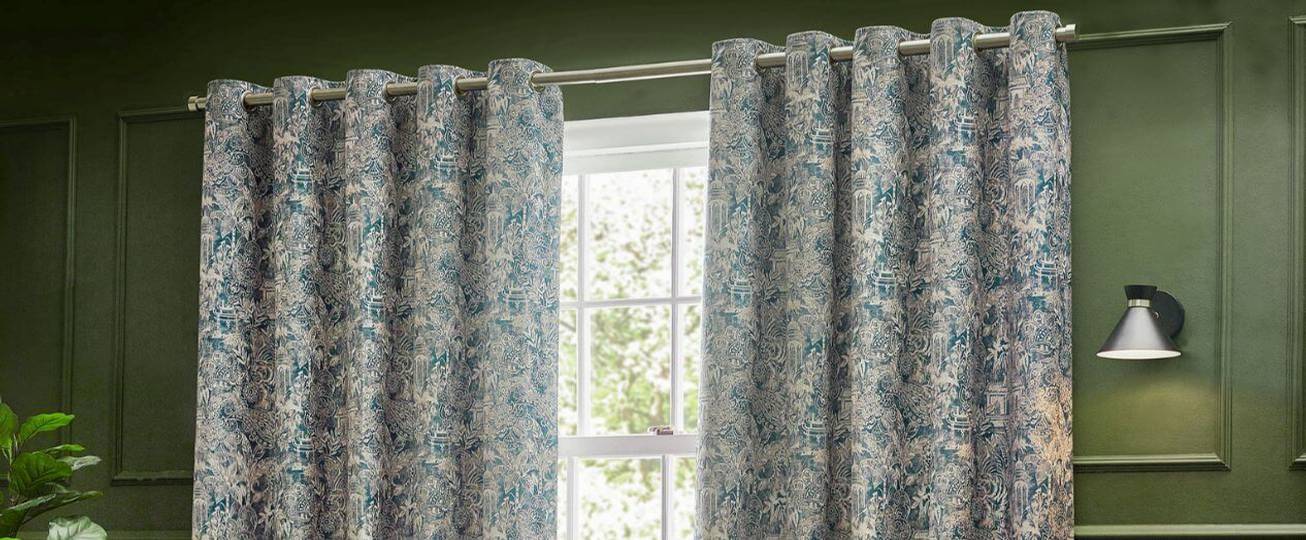 ready made eyelet curtains at furn.com.
Pulling together sleek contemporary style, amazing affordability and the stress-busting powers of standard sizing – you won't find a more well-rounded collection than our ready made eyelet curtains. Whether it's the relaxed look of stainless steel eyelets, the convenience of ready made measurements or the showstopping style of our signature designs that's caught your eye, we're sure you'll find your dream drapes in our extensive selection.
Struggling to settle on a single design? Don't forget to check out the rest of our curtains for a full spread of sizes, heading styles and statement signature designs. We've got sizes to suit every window space, from standard ready made options to our bespoke made to measure designs. Keep things contemporary with easy-going eyelets, or embrace a more formal touch with classic pencil pleat and pinch pleat headings.
If you're running short on style ideas, our inspiration blog is a treasure trove of simple guides and specialist style advice. Open yourself up to a wealth of knowledge with our catch-all curtain buying guide, covering all you need to know about fabrics, headings, linings and more. We've got detailed curtain measuring guides for all designs and heading types, including step-by-step advice on how to measure for ready made eyelet curtains.
how to measure for ready made eyelet curtains.
While our ready made eyelet curtains are simple and fuss-free to set up, spot on measurements are still essential. All you'll need is a measuring tape, curtain pole, and possibly a step ladder if you've got taller windows or just need that extra boost.
Our ready made eyelet curtains can only be hung on curtain poles with a diameter of up to 28mm, so make sure to measure the diameter of your pole before placing an order. If you're fitting a new curtain pole, make sure it's placed at least 15cm above your window, and extends the same length on either side. This will ensure your curtains look just right, while giving them plenty of space to fully open and close.
To find the width of your ready made eyelet curtains, measure your curtain pole from end to end, making sure to exclude any finials (decorative ends). Don't make the mistake of measuring the width of your window space, as this will leave you with curtains that are too narrow and don't fully cover your window. Once you've measured the pole, choose the closest matching ready made width. If you're stuck between two widths, it's always best to go with the larger one.
To find the curtain length or 'drop' you need, measure downwards from the top of your curtain pole. Shorter length curtains should drop anywhere from 1cm above to 15cm below the window sill, while a standard floor-length look ends 1cm above the floor. For a luxurious pooled look with fabric gathered on the floor, add 10-20cm to the floor length of your curtains.
And just like that, you're all set for ready made eyelet curtains that fit like a dream. If you're working with a tricky bay window or just can't find your size, we've got plenty of made to measure options that offer a fully customizable fit.