Back to top
Sherpa Fleece Throws.
discover the true meaning of comfort with sherpa fleece throws.

Insulating, absorbent and offering the sumptuous softness of sheepskin – our sherpa fleece throws bring comfort like you've never experienced before. Sheening velvet-feel microfleece flips to reveal a wooly sherpa sheepskin reverse, available in a stunning range of neutral, bright and cosy earth tones. Shop the collection.

The warmest and softest of all fleece fabrics, sherpa fleece is commonly used to create the fluffy inner lining of winter warmers like hats, coats and blankets. Luxuriously plush, thick and luxurious – our selection of sherpa fleece throws is the ideal option for keeping warm in chiller seasons, or for those who simply can't resist a luxe layer of cosiness.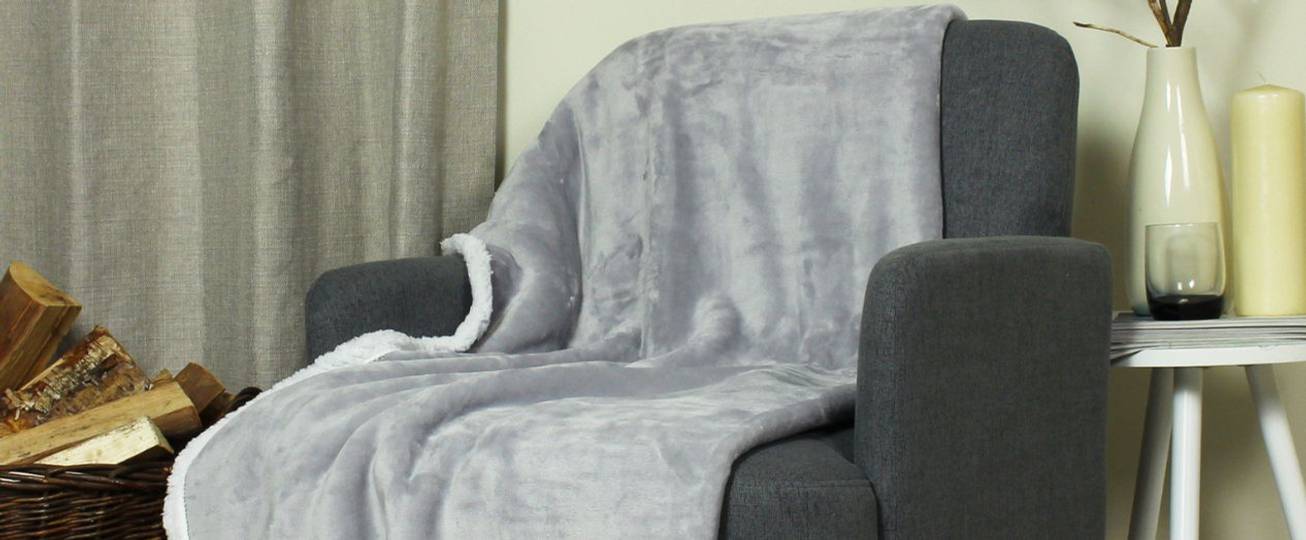 sherpa fleece throws at furn.com.
Our sherpa fleece throw blankets are made from the finest synthetic materials, for unmatched comfort and durability that'll keep you toasty for many chilly nights to come. They're expertly designed to preserve heat and keep in warmth, bringing all the best qualities of microfleece and kicking them up a notch.
The hard-wearing synthetic fabrics mean that your sherpa fleece throw will be looking and feeling its best for a long time, with natural wrinkle and stain-resistant qualities making it an ideal fit for busy spaces like the family home.
Want to know more about our cosy selection of throws? Our Inspiration Blog is full of handy guides and style ideas, from how to pick the right throw for you to 5 ways to style throws in your home.
what is a sherpa fleece throw?
So, what exactly is the difference between our regular fleece throws and our sherpa fleece options? In simple terms, sherpa fleece is regular microfleece taken up a notch. One side of the blanket is made with smooth, velvet-feel microfleece, while the inner layer is made with woolly sherpa fleece that's sumptuously soft and toasty against skin.
The fabrics used in sherpa fleece are softer and cosier than regular fleece, with our collection boasting impressive 220 GSM (grams per square metre) velvet-feel microfleece, and a 250 GSM sherpa sheepskin reverse.
Our sherpa fleece throws are slightly lighter than our regular fleece options, offering higher levels of insulation without adding any unnecessary weight. The lighter weight and loose woolly fibres mean that sherpa fleece is highly breathable, ensuring you stay comfortable in optimum levels of cosiness without ever overheating.
If you're prone to overheating or sweating in bed, sherpa fleece throws bring the added benefit of being extremely absorbent. Like natural sheepskin, sherpa fleece wicks away moisture with ease, making sure you wake up fresh, dry and perfectly rested each morning.
how to clean a sherpa fleece throw blanket.
One of the many benefits of sherpa fleece is its durability and low maintenance. It's naturally stain, tear and chemical-resistant, meaning it'll be a trusty layer of warmth for years to come if cared for properly. However, accidents happen, and we all know the heartbreak that a spilled cup of tea or rogue chocolate stain on a fresh blanket can bring.
The good news is that sherpa fleece's stain-repelling qualities mean it's a dream to clean when splashes or stains arise. While many of our sherpa fleece blankets are machine washable, if it's a smaller stain, we always recommend spot cleaning by hand to keep your sherpa fleece throw as fresh and soft as possible.
To spot clean sherpa fleece, fill a bathtub, sink or basin with cold water. Using a few drops of gentle stain remover or washing up liquid, gently rub at the stain with a clean cloth or paper towel. Add a small amount of gentle detergent to the water, submerge the section of the blanket that's stained, and gently stir the water around with clean hands.
After a few minutes of stirring, drain the soapy water and refill with more cold water. Repeating this process – drain, fill and reagitate until your water is clear and totally free of detergent. Once the water is completely clear, drain it, remove your blanket and gently wring out any water. We always recommend line-drying outside when it comes to sherpa fleece and other soft fabrics.