Back to top
Shelving Units.
discover top-tier storage style with our shelving units.

A marvellous merging of function and style, our selection of freestanding shelves is fighting off notions that storage can't be chic. Explore our top-shelf range of sleek and stalwart options, from timelessly toned-town industrial looks to classy contemporary designs. Shop the collection.

Our sleek selection of shelving units offers the ultimate solution to keeping your space spick, span and effortlessly stylish all at once. From strapping five-shelf units that'll free up acres of floorspace, to slight and slender options that'll slot in any corner – your dream storage system is just a click away.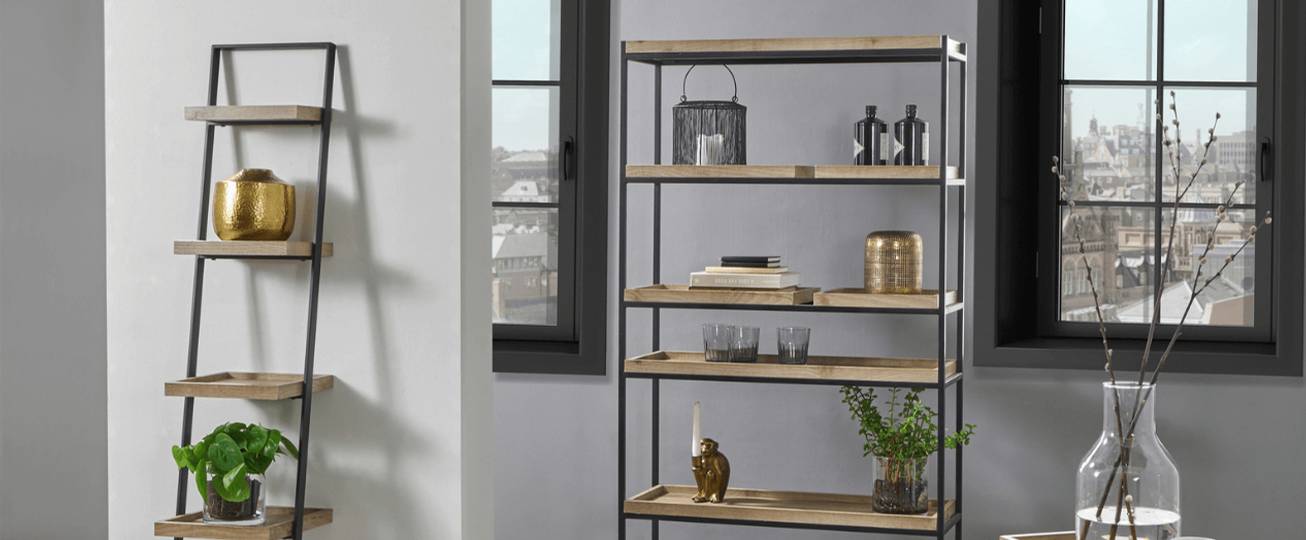 shelving units at furn.com.
Make showing off your bits and bobs a breeze with our strappingly chic shelving units. From leaning fixtures to freestanding shelves, our collection boasts a bunch of structural styles – perfect for parading books, general knick-knacks or your prized selection of indoor plants. Elegantly display your cherished heirlooms, favourite family photos, or load them up with boxes and baskets for effortless organisation – our shelving units make a versatile and sophisticated style addition to any space.
Diving into a full decor overhaul? Take a look at our full furniture collection for a sweeping spread of fine functional pieces, from on-trend tables to chic chest of drawers, as well as an ample assortment of outdoor furniture.
Missing a muse or coming up short on style ideas? Our Inspiration Blog is full of helpful guides and expert design tips that are sure to get the creative juices flowing. We've got a full outdoor furniture buying guide, as well as general style pieces like our guide to colour psychology.
how to choose a shelving unit.
Introducing a new shelving unit to your home is a big undertaking, so making sure you find the right one is important. Lucky for you, our shelf-selecting skills are freshly sharpened, and we've put together a fool-proof set of tips to make the whole process run smoothly.
Firstly, you'll need to think about your reasons for buying a new unit and what you want to use it for. If you've got a bunch of books you'd like to display, our bookcases might be a better option. If you want an airy, uncluttered look for your shelves, make sure you're choosing a shelving unit with ample storage space. Decide what you want the end-product to look like, and pick a unit that'll meet all your requirements.
Next, you've got to decide which room your new freestanding shelf will call home. Are you spicing up your living room with a functional, industrial edge? Or are you looking for a unit that'll slot seamlessly into your sophisticated home office? Make sure your chosen shelving unit matches the decor and colour scheme of the room it's going in.
Finally, you'll need to grab your measuring tape and get familiar with the width, depth and height of the space you want your shelving unit to live in. Once you've found a unit you like, mark out its measurements on the floor to get a better idea of how it will fit.
how to style a shelf.
Once you've got all the planning and measuring out of the way, it's time to move onto the fun stuff – styling. Transforming a shelving unit from a bare frame into a rich and eye-catching gallery of ornaments is unspeakably satisfying, and there's certainly more than one way to go about it.
Depending on where your shelf is going to live and what you'll be using it for, you'll need to use a particular approach to decorating. For example, if you plan on popping shelves in your home office to hold papers and supplies, you might want to prioritise practicality and keep decorations to a minimum.
If it's going in your living room or bedroom, on the other hand, you've got a great opportunity to inject some personality. Our Linen House plush toys make the ideal cuddly characters for your shelf display, or pop one of our cute novelty doorstops on once they've been relieved of their porter duties for the day.