Back to top
Jungle Wallpaper.
bring the rainforest into your home with jungle wallpaper.

Transform your space into a leafy paradise with our range of jungle theme wallpaper.  Whether you're going for an all-out tropical bedroom or just one with subtle hints of swaying palm trees, there's something to suit you in our collection. Great for creating wild scenes in hallways, dining rooms and bedrooms alike. Shop the collection today.  

Our jungle wallpaper is paste-the-wall, which means that transforming your wall is quick and easy. No more faffing! Can't decide on your wallpaper? Grab a sample of your favourites for just £1 each, and you can see your wallpaper at home. You can then use our handy wallpaper calculator to figure out how much you need.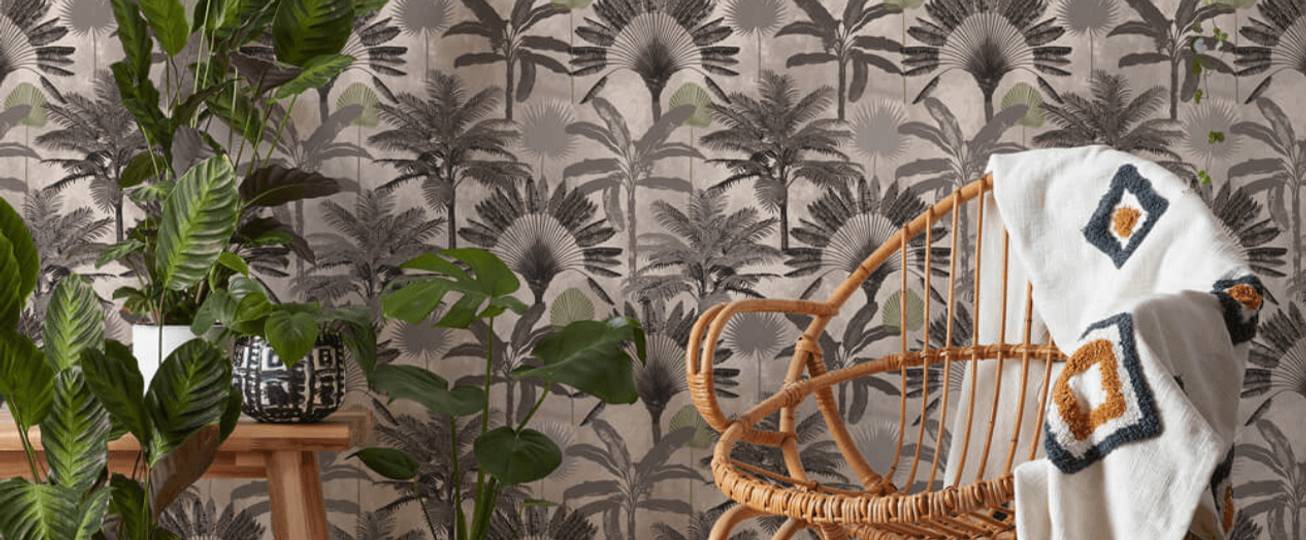 jungle wallpaper at furn.com
If you're feeling wild, then jungle wallpaper can help you channel that energy into your interiors. We have a wide range of leafy prints in a variety of colours. So whether you're looking to transform your home into a tropical paradise, a lush rainforest or the safari plains, you'll find something to suit your style in our jungle wallpaper collection.
Looking for a stress-free wallpaper application process? You've found it. Our wallpaper is paste-the-wall, which means that you apply wallpaper paste to the wall, rather than the wallpaper. This method is quicker, easier and gives you more room for error, making it ideal for first-time wallpaper-ers.
Not sure which jungle wallpaper is the right one for you? Take a look at our handy wallpaper buying guide. It takes you through everything from types and designs to application types and pattern matching.
how to style jungle wallpaper.
Jungle wallpaper has been a non-stop juggernaut of a trend. It's so versatile! Whether it's because we want to create a relaxed, holiday feel at home or we want a brighter, bolder take on florals, there's a jungle wallpaper to suit you.
Want to go all in with a jungle theme? Choose a wallpaper that sends your pulse racing and then pick out your colour scheme from there. You could use your wallpaper on a feature wall, or dive into the theme and hang that lush design on all the walls. Pair with exotic animal prints, natural materials like rattan and linen, and of course, you can't forget about the tropical plants.
There's lots you can do with tropical wallpaper, and it doesn't have to be a full-on jungle theme. Choose a pattern that has less contrast between colours for a subtler look, or a print that's less obviously tropical. The way you style it has an impact too - you can make it glam with gold mirrors and ornate accessories, or take it down a notch and combine your leafy jungle theme wallpaper with panelled walls and neutral colours.
Use as a feature wall to draw the eye, perfect for behind the bed in the bedroom or behind the sofa in the living room. Big, leafy palms will have a huge impact on the space, setting the tone for the room. Where you take it from there is up to you. Pair with white or natural hues for a relaxed, easy-going space or moody jewel tones for something infinitely more dramatic.
For a small space, wallpapering the entire space with a jungle print wallpaper can make it feel bigger, and packed with style! You could even use it on the ceiling to make the room feel like a jewellery box – small but full of treasures. It's perfect for the downstairs loo or small bedrooms.
Discover more on how to create a jungle theme room by checking out our blog post, 5 ways to create a tropical paradise at home.