Back to top
Kids Cushions.
cute, fun + huggable cushions for kids.

Is your nursery or kids bedroom lacking character and comfort? Look no further than our adorable range of kids cushions. Not only are our cushions for kids sumptuously soft, but they also double up as a trusty playmate and cuddle companion. With hearts, stars, and clouds, you'll find a variety of shapes to spark their imagination. Shop the collection. Whether their favourite colour is pink, purple, yellow or green, in our range of kids cushions, you'll find an assortment of hues. Add texture and snuggly comfort to their bed with 100% cotton, faux fur, and velvet fabrics. Many of our kids cushions are available to buy as a cover only option, or choose between a polyester or feather inner for a ready filled option.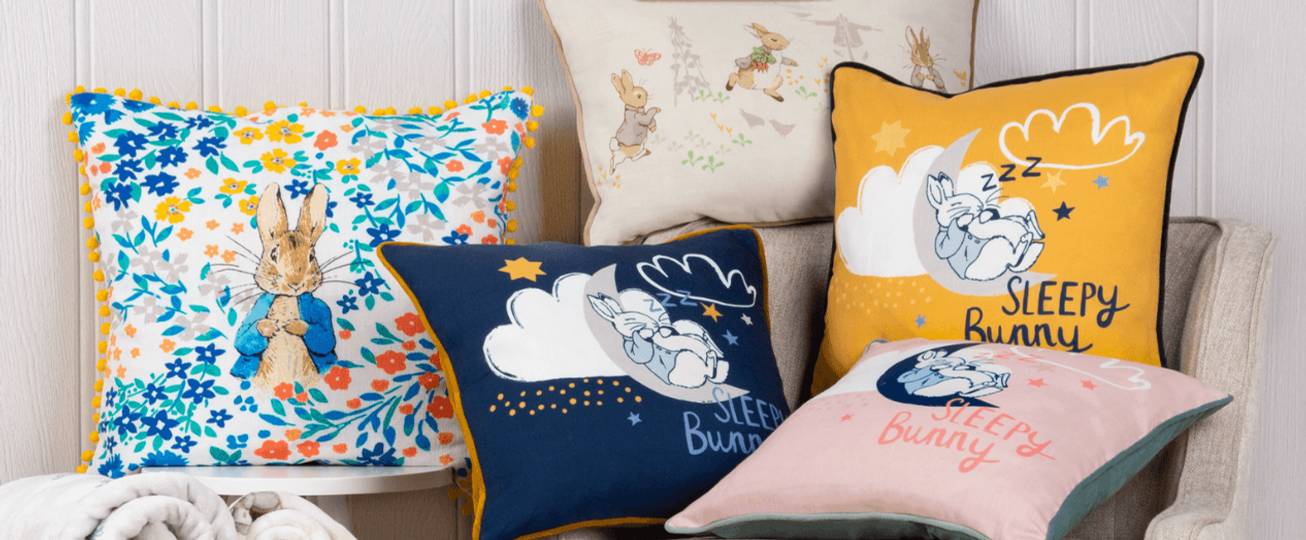 kids cushions at furn.com
Infuse your kids' rooms with character, comfort, and loads of cuteness with our cushions for kids. From tiny tots to children well into primary school, we have a myriad of stunning designs to transform your kid's space. They're all things playful, whimsical, and straight up adorable.
Cushions make all the difference to how a room feels – offering you colour, texture, and shape, as well as a good dose of style. With our kids cushions, you're sure to express their personality through bright shades, pattern, and tactile features.
In our unbearably cute kids cushions range you'll find a variety of novelty shapes and sizes to upgrade their bed or seat-scape. Browse stars, hearts, clouds, and teardrops, as well as your classic square and rectangular numbers. If the kids in your life have more than enough toys, a cushion makes the perfect gift.
colour + pattern.
No matter their favourite colour, we have a myriad of shades to brighten up your kids' room. For the lovers of pink, we have all manner of pretty hues – we're talking candyfloss pink, hot pink, and blush pink to sweeten up their space. For a bold and vibrant addition, we have sunny ochre and brilliant blue. Or if you have a nursery on the neutral side, we've got you covered with warm beige and grey tones.
When it comes to kids cushions, it's all about the pattern! Explore our range and you'll find enchanting scenes from the world of Beatrix Potter, with Peter Rabbit hopping about in Mr McGregor's garden and sleeping in the comfy curve of a crescent moon. You'll also find pretty polka dots, under the sea scenes, and charming animal prints. Whatever they're into, we're sure to have a cushion to match it and put their interests on full display.
the softest of fabrics.
Up the comfort at bedtime. Our kids cushion collection features a variety of sumptuous and durable fabrics to keep them feeling as cosy and comfortable as can be. With smooth velvets that are irresistible to the touch, faux fur as soft as a teddy bear, and ultra-soft 100% cotton that's super gentle against the skin, they'll be cuddling up with our cushions all night long. If you're lucky enough to be experiencing the terrible twos, a polyester cushion may be your best friend – easy to care for and machine washable, you won't need to worry about crayon marks and sticky fingers.
Looking for soft and squishy, tactile features to aid in their sensory learning? Our range of kids cushions features a plethora of stunning details. Whether you're looking for a pom-pom trim, soft velvet reverse, piped edging, or embroidered design, look no further.
Many of our charming cushions for kids are available to buy as a cover only option. So, if you already have a cushion pad but your kids are begging you for a brand-new cover, you don't need to worry. For a ready-filled cushion, you can choose between luxurious feather or snug polyester inners. For extra info on deciding on which filling is ideal for your little one, have a read of our cushion inner pads buying guide.
Stuck on which cushion is your best bet for their bedroom? Check out our cushion buying guide for more advice.
how to style kids cushions.
If they're ready to start making their beds in the morning, why not give them free reign and get them on their own little interior design journey? Whether you're layering up large and small cushions, matching them to a toy, or going all out clashing patterns, there are loads of ways to style up your kids cushions and update their bedroom.
Opting for a mix of different shapes and sizes of cushions gives you the opportunity to layer up your look. Starting with the biggest cushion at the back and propping them up behind one another until you reach the smallest is the most obvious option that always looks fabulous. We recommend sticking to maximum four cushions here, otherwise things can start to look a little chaotic. A smaller novelty cushion or kids' soft toy will look great placed at the front and will always be easy to find before bedtime! You can either stick to a colour scheme, or go if you're feeling brave, go wild with clashing colours and patterns – whatever your little one's heart desires.
Looking for more inspiration for doing up your children's room without breaking the bank? Never fear, we have a blog post on how to style your kids' room on a budget.