Back to top
Linen Bedding Sets.
give your bedroom a relaxed yet luxurious feel with linen bedding.        

There's nothing like the iconic texture of linen bedding to transform your bedroom. Its soft, crumpled texture makes for a laid-back, relaxed feel. A natural fabric that's breathable and durable, linen bedding is perfect for sleeping during the summer months. Our collection of linen and linen-look bedding sets are available in a range of gorgeous colours. Linen bedding is made from the flax plant, making it an eco-friendly option. It has a loose weave, which means that it's great for keeping you warm in winter and cool in summer. Our collection includes linen-look bedding too, made from 100% cotton, but the fabric has been treated to give it that iconic linen look.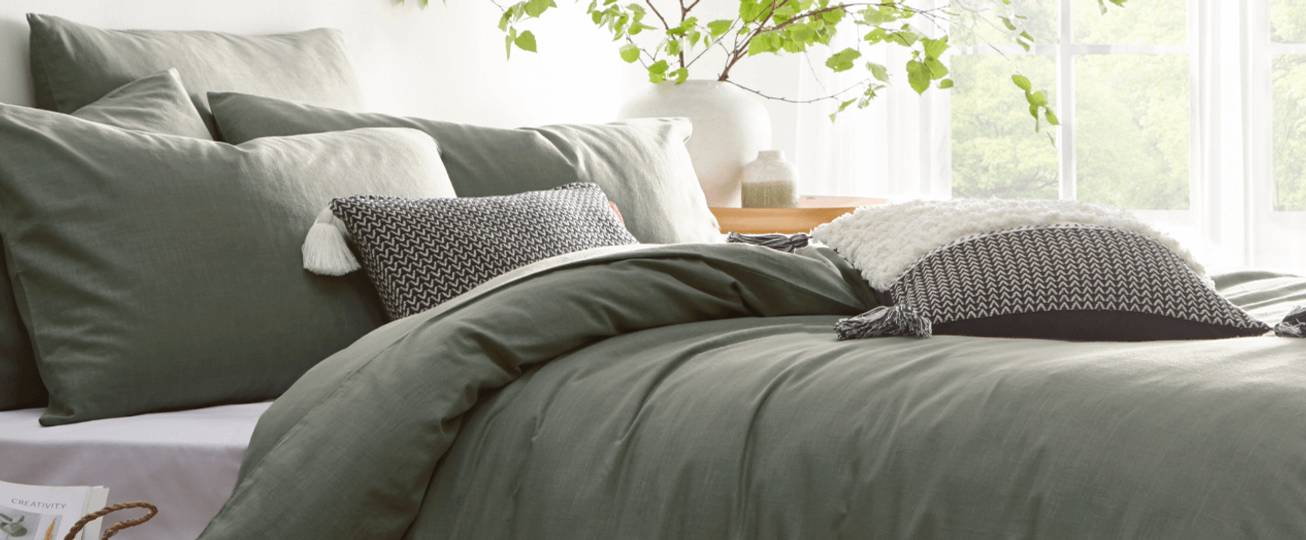 linen and linen-look bedding at furn.com.
Our collection of linen and linen-look bedding sets are available in a range of beautiful colours, ranging from striking ochre yellow to soft blush pink and calming eucalyptus green. Each bedding set is available in a range of sizes, so whether it's a single bed or a super king size bed, you'll find the perfect bedding set to help update your bedroom with us.
why choose linen bedding.
Linen has been around for thousands of years – it was even used by the ancient Egyptians! So you know it's been tried and tested. It's strong, durable and can last up to fifty years if it's looked after properly. It feels heavy, in comparison to cotton, but it's breathable, making linen ideal for bedding.
You don't have to worry about thread count when it comes to linen. It comparison to cotton, it would have a very low thread count, but that doesn't mean that it's not high quality. The threads that are used for linen are thicker than cotton (hence why it's heavier).
Linen is really versatile. It can compliment any number of home décor styles, from industrial and masculine to more traditional country styles. Pick grey for a moody feel or a blush pink for a light and airy, more feminine feel.
how to look after linen bedding.
100% linen bedding is easy to look after. While it might be tempting to stick it in the machine at 95 degrees to kill bacteria, this might shrink your linen. Instead, look after your linen with a cooler wash – 40 degrees will do it (and it's better for the environment).
Keep it soft by drying it on gentle tumble (though you should always double check the label) or line-drying it outside for that fresh outdoorsy scent.
The best bit about linen bedding is that you don't have to iron it. Its rumpled look is all part of its charm. However, if you do want to iron it for a smarter, smoother look, have at it!
what is linen-look bedding?
Linen-look is an affordable alternative to 100% linen. It still has that relaxed look, achieved through a special treatment. It's washed with an enzyme wash, and then dried. Our linen-look bedding will even get softer as you wash it, just like real linen.