Back to top
Mirrors.
introduce light and beauty with mirrors.

Mirrors are not only great for looking at your own reflection (oh hi!) but they bounce light around a room, making it feel bigger and brighter. They're a decorative item too, adding style and interest to your space. Our mirror collection has a range of styles, from sleek and simple round mirrors to extravagant statement frames. Shop the collection today. You can find a wide range of mirrors in our collection. Whether you're going for boho with rattan designs, something modern and organically shaped or a timeless, glamorous style with a gold frame, you'll find exactly what you're looking for with us.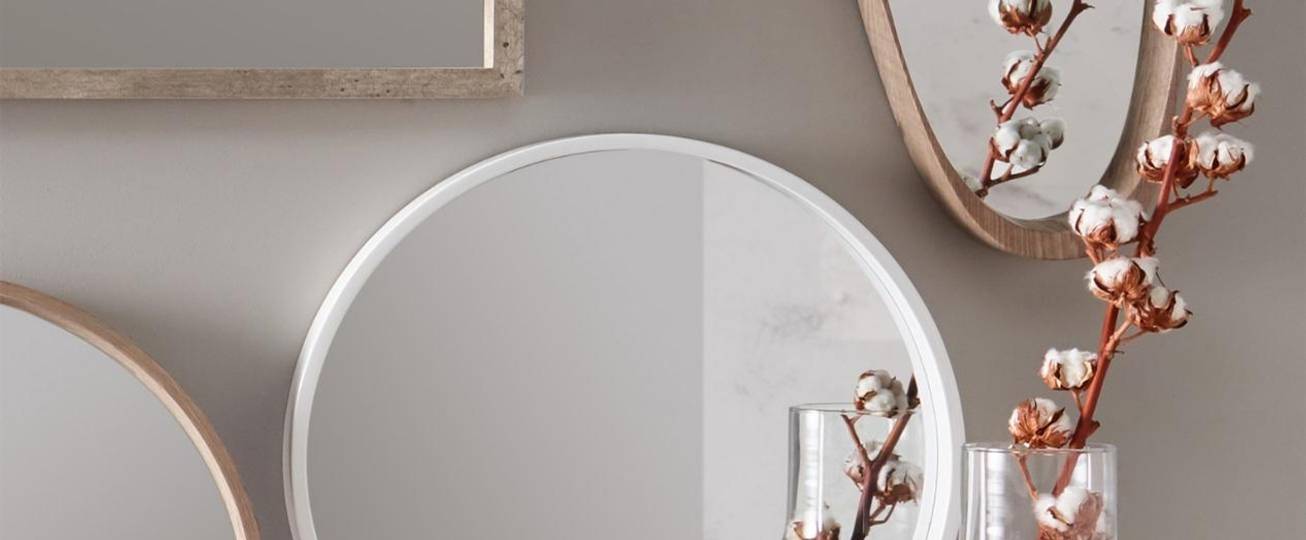 mirrors at furn.com.
Discover our beautiful mirror collection. We have a wide variety of gorgeous mirrors that range from chic organic shapes to handwoven rattan designs. You can find the perfect mirror for your space, whether it's an gold mirror to catch the light or large mirror to hang above your mantelpiece.
how to choose a mirror.
From shape and size to material and style, the right mirror can make all the difference to your room. It can brighten up the room and create the illusion of space, add a cute styling moment and help you check your appearance – it's a multifunctional item that every home needs!
So how do you decide? First consider function, as that will help inform the size and shape. If your mirror is practical first and foremost, then you need to make sure it's big enough for you to see your reflection in. Just looking for an accent mirror? It can be any size you like!
If you're looking for a decorative mirror to pair with a piece of furniture, then the size of the mirror needs to be smaller than the furniture, but still in proportion. Look for a mirror that is around 2/3 or 3/4 of your furniture, whether that's a sofa, a console table or a vanity.
When it comes to style, a circular or organically-shaped mirror creates a soft, modern look, perfect for scandi and minimalist styles. For a more formal look, go for squares, rectangles and angular shapes. Looking for a statement mirror? Try an ornate or unusual frame.
The material of your mirror also helps to create a sense of style. Natural materials like wood and rattan are perfect for boho, while concrete and metal are more industrial.
how to clean mirrors.
Cleaning your mirrors can feel like an impossible task. But don't worry, there is a way to get your mirror sparkling and streak-free!
First, make sure there isn't any obvious dirt or marks. We know that toothpaste, make-up and various beauty products can easily make their way on to mirrors. Get rid of them with a damp cloth and a generous spritz of glass cleaner.
Then, using a clean cloth, wipe the mirror from top to bottom with glass cleaner or water with a couple of drops of vinegar. Work from top to bottom, then side to side. Polish with another clean cloth or a paper towel for a smear-free finish.