Back to top
Beige Throws.
bask in the best of balmy shades with our beige throw blankets.

The perfect cosy layer that brings softness in every sense of the word – you've never known soothing quite like our beige throws collection. From lightweight crisp cotton to warming fleece fabric, to boho tassels and tufted geometric patterns, our stylish selection brings softness and style in a range of warming natural shades. Shop the collection.

Wave the 'beige is boring' allegations goodbye with our chic collection of natural colour throws. Whether you're sweet on simple stripes, fond of funky tufts or can't get enough of cosy crinkle cotton – we've got beige throws to suit every style and scheme.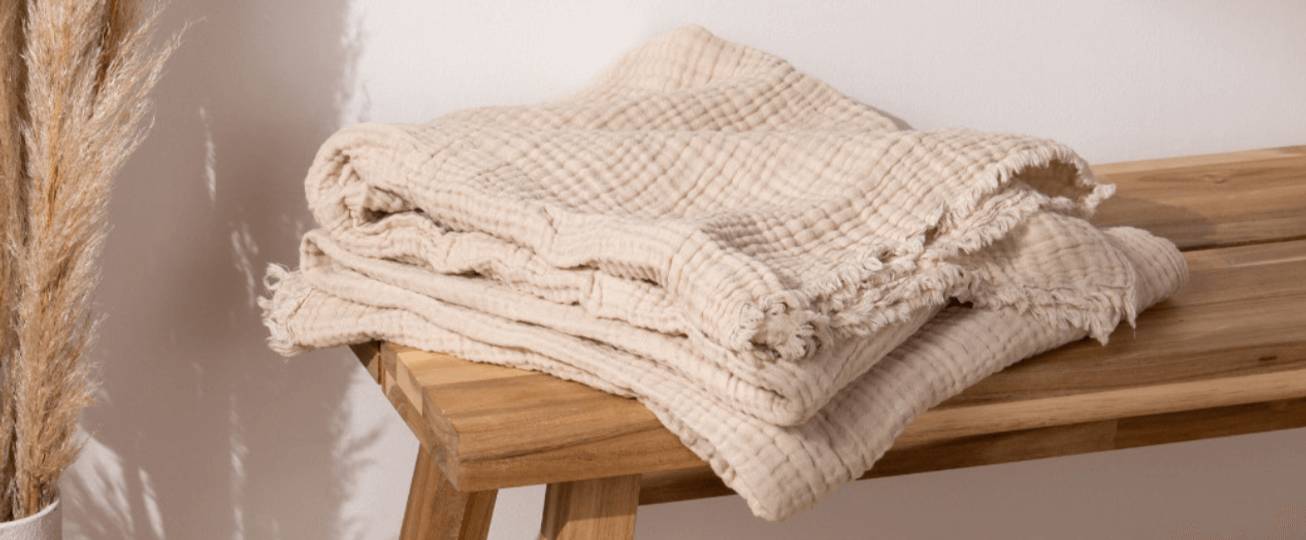 beige throws at furn.com.
No interior is complete without its finishing touches, and it's often those finer details that end up making the biggest impact. Soft, snuggly furnishings are a universal must-have, bringing those crucial layers of cosiness that are essential in taking your space from house to home.
Feeling baffled by blankets and needing some advice? Head over to our Inspiration Blog for a full set of helpful tips and guides, from how to pick the right throw for you to 5 ways to style throws in your home.
why go for a beige throw?
Our toasty beige throws offer a quick, easy and affordable way to totally transform your bed or living room. Just one drape, fold or toss is all it takes to create valuable layers of dimension and depth – and you'll reap every last benefit of bundled-up comfiness. Whether you've got a bare bed arrangement in need of stylish layers, or a stale sofa-scape that's desperate for some TLC, you'll find the perfect solution in our selection of beige throw blankets.
Our natural colour throws come in a range of soothing beige shades from warming creams to brown-tinged greys, offering elegantly understated style that'll fit like a glove in any colour scheme. Beige is a neutral tone that's famously easy to design and coordinate with, meaning you can keep it calm or spice it up to your heart's content.
Settle into sweetness with a pairing of pastel pink cushions, go bright and bold with berry red curtains, or capture that cosy fireside feeling with burnt orange bedding. When it comes to working with beige, you'll be coordinating colour schemes like a natural.
how to style a beige throw blanket.
Our natural colour throws are versatile by nature. There's nothing worse than coming across a cushion, throw or bedding set you love, but knowing it'll stick out like a sore thumb in your rigid colour scheme. When you're working with neutral shades like beige, black and white, however – the styling possibilities really start to open up.
If your bedroom's got a lot of stark whites and stoney greys going on, a beige throw can bring the perfect touch of warmth and texture that'll stop things feeling too icy. White, grey and black are great neutral tones that look stunning in most colour schemes, but they all lack the warmth that beige brings through its subtle brown undertones. Everyone wants a bedroom that feels cosy, and introducing beige in smaller accents like cushions and throws is an easy way to warm things up.
If we're getting technical, beige actually has many different undertones aside from brown – including yellow, green, pink and orange. Natural tones will pair with any of these undertones gloriously – just try to not get carried away and drown your beige throw out with lots of conflicting couplings. Sage green cushions, ochre yellow bedding or dusky pink pillowcases are just some of the avenues you might go down.