Back to top
Orange Velvet Cushions.
enjoy a fresh drop of luxury with our orange velvet cushions.

Bold, bright, cosy and refined – we've brought all the best elements of orange and velvet together into one stunning cushion collection. Whether you're after a cosy terracotta shade to warm up your neutral bedroom, or a juicy tangerine hue to breathe some life into your living room décor – our orange velvet cushion collection's got something for you. Shop the collection today.

Made in the UK from the finest durable and super-soft fabrics, our orange velvet cushions are the perfect pairing of style and function. Available as cover only, or pre-filled with our hard-wearing polyester or washed duck feather pads, you've got plenty of options to keep comfy while making a bold style statement.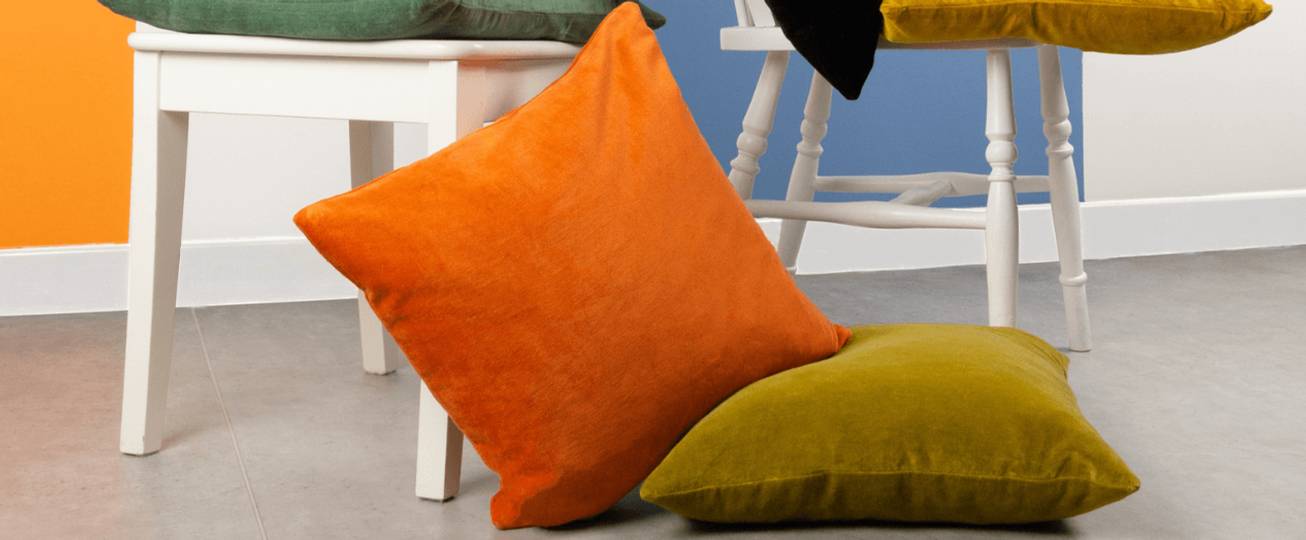 orange velvet cushions at furn.com.
Our selection of orange velvet cushions features everything from hypnotic geometric patterns in warm rusty shades, to ripe and vibrant orange hues adorned with tropical nature designs.
Made from the finest sumptuously soft velvet that'll bring toasty warmth and shiny vivid colours to any space, our collection offers the perfect blend of style and substance. You can buy your orange velvet cushion covers separately and fill them yourself, or make use of our 100% polyester or washed duck feather pre-filled options.
Our polyester filling is super soft while providing great durability, and easily retains its shape for a freshly-plumped look and feeling over time. It's also the best option for allergy sufferers, as its synthetic hollowfibre properties trap air to keep things light and breezy.
Our 100% washed duck feather filling is all about plush softness and luxury, providing sinking comfort, but not sacrificing durability. You'll need to give duck feather cushions a plumping from time to time, but their comfort level is difficult to find elsewhere.
Want to know more? Our handy cushion filling guide and cushion sizing guide are packed with helpful information to help you feel confident in your selection.
how to style orange velvet cushions.
Zesty, uplifting and full of life – a simple touch of orange goes a long way in bringing some character to your space. Couple this with the warmth, texture and effortless luxury of velvet and you've got a stunning accent that'll bring a tasteful pop of energy to your décor.
Wildly popular in the 1970s when flamboyant orange fashion pieces and hypnotic geometric patterns were all the craze, the shade has since become a bold interior design option that draws the eye with ease. Whether you're looking to recapture the free-spirited '70s vibe with a bold geometric cushion or add some contemporary spice with a rustic burnt shade, our orange velvet cushions collection will help you nail the look.
If you've got a neutral-shaded space that could use some spicing up, adding a bold colour like orange in your accents is a quick and easy way to dial up the energy. For busy areas like the living or dining room, bright tangerine shades work brilliantly to liven things up and create an uplifting vibe. Velvet carries colour better than any other material, so it's the ideal fabric option for vibrant accent pieces. Orange works well with most neutral shades, but taupe and deep grey are especially nice pairings. Layer bright orange velvet cushions with brown cushions or taupe seat pads to give your space a sophisticated minimalist look that's playful in its accents.
Orange can be quite a dominating shade, especially in brighter zesty hues. If you want to bring some orange to your space without going over-the-top, darker burnt shades are perfect for creating a more toned-down rustic vibe. Burnt terracotta shades fit beautifully with charming country styles, and work especially well in the bedroom for creating a cosy feel. Layer your orange velvet cushions up on some neutral velvet bedding to create a stunning focal point that's dripping in comfort and luxe. To fall more on the rustic or country side of interior style, pair with natural accents like a wooden mirror and cream throws.