Back to top
Outdoor Coffee Tables.
sit back and relax with our outdoor side tables.

Spilled one too many mojitos on the grass? Looking for somewhere to place your drinks to avoid any more accidents? Look no further than our outdoor coffee tables. Made from sturdy steel and coming in an array of eye-catching colourways, our outdoor side tables are a durable and stylish addition to your outdoor spaces. Shop the collection. Whether you're searching for somewhere to keep the suncream, your favourite book, or teapot, our outdoor coffee tables are here to help. With a removable top that doubles up as a tray, not only will your hosting skills be taken to a new level, but you can also easily transport it around with you for park picnics or beach barbeques.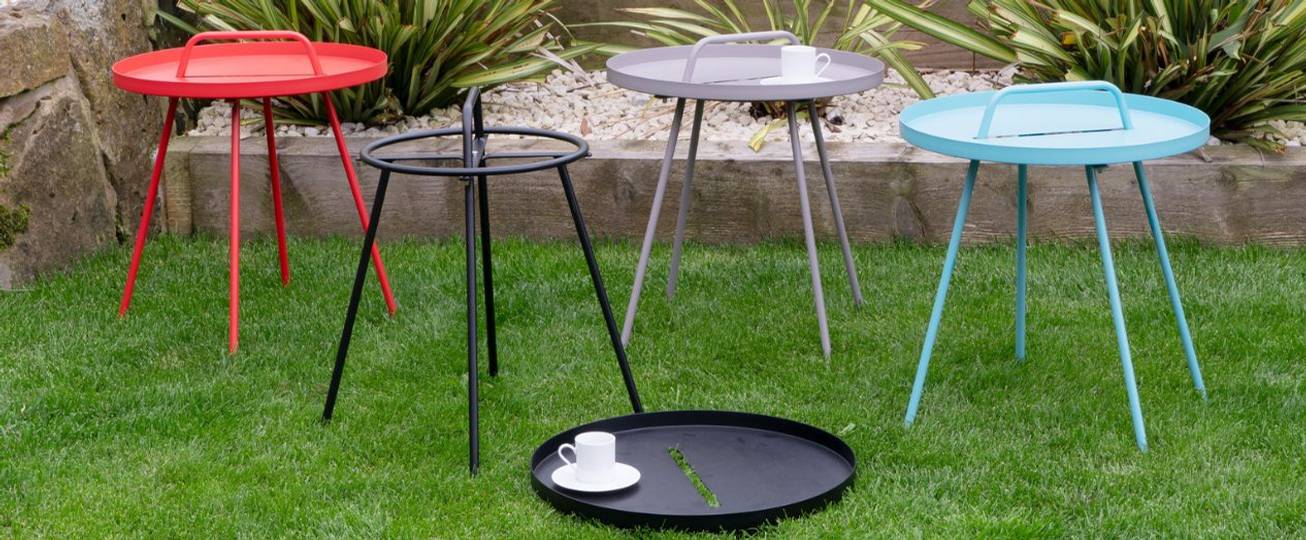 outdoor coffee tables at furn.com
Our outdoor coffee tables are great side tables to rest your drinks, food, or sun cream! Whether you have a big garden, a compact patio, or little balcony, our coffee tables are perfect for any outdoor space. Featuring a tray top with a carry handle that can be detached for easy transportation, there's no doubt you will be the hostess with the most-ess this summer.
Browse our stylish outdoor coffee tables in an assortment of stunning shades. If you're going for a vibrant addition, we have bright red and orange side tables to express your wild side. More into the pastel look? Find blush pink for the prettiest of gardens. Or if you're all about the sleek, minimal, and monochrome, you'll find bold black and grey to complete the look.
Strong, sturdy, and durable, our outdoor coffee tables are built for all weathers. Made from powder coated steel to withstand the elements – even if they're left out in storms and snow – they'll last you many years to come. However, if you want to keep your outdoor side table in pristine condition, you may consider storing it away in the garage or shed when not in use.
Need more help on choosing the right furniture to create your perfect garden? Check out our outdoor furniture buying guide.
how to style an outdoor coffee table.
If you favour style over practicality, you may be wondering what to put on an outdoor table. Well, the possibilities are pretty much endless (as long as the items you choose are relatively small).
You could choose to layer objects –adding textures and colours will create a space that feels lived-in, and by extension, welcoming. Try colourful napkins and dainty dining ware inspired by an afternoon tea. All you'll need to do is bake the scones!
Consider bringing the inside, outside. We're talking everything from candles to small clocks to plants. Who says they can't work just as well outside as they do inside? You could even create an outdoor work-from-home desk to soak up the vitamin D whilst you reply to your emails. Pop down a chair, pot of pens, and photo of your family, and don't forget an outdoor cushion to keep you comfortable as can be.
Adding a personal touch is always a failsafe way to get your outdoor (and indoor) spaces feeling unique. Got a collection of favourite books? Vintage items passed down from family? Why not add a little bit of you to your garden and use them as outdoor décor accessories.
If kicking back in the sunshine and working on your tan is one of your favourite past-times, why not invest in a sun lounger? Placing your coffee table down beside your lounger will mean you have somewhere to pop your book, tanning oil, and phone. Perfect.
how to clean an outdoor coffee table.
An outdoor coffee table is bound to be the subject of spills and stains. When cleaning your garden side table, use a cloth with warm water and soap. We do not recommend using harsh chemicals or an abrasive sponge as this may damage the tables exterior and cause scratches.