Back to top
pendant lighting.
discover statement pendant lights to complete your décor.

Usually a single lighting fixture hanging from the ceiling, statement pendant lighting is simple to install but makes a huge difference to your room. Whether it's a dramatic design with multiple drop bulbs above your dining table or a more practical general light for the whole room, you'll find a number of stylish pendant lights in our collection. Live life under the spotlight and shop yours now.

If you're looking for crisp white with golden accents, we have an exciting range of pendant lights available for you. Or, for a completely different feel, our modern black shades complete with antique brass highlights will truly stand out against lightly coloured walls.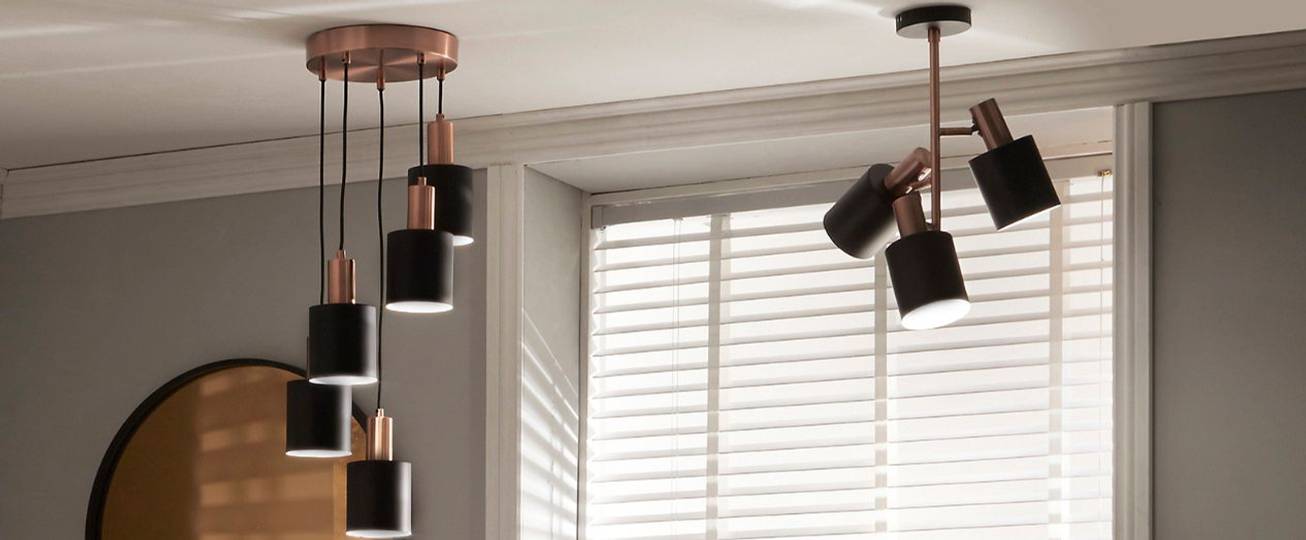 pendant lights at furn.com
Retro, contemporary, luxurious. Discover our range of pendant lights that are sure to liven up, and lighten up, your home. Want to stray away from standard ceiling lights, but don't have enough room for floor or table lamps? Pendant lighting is a fun and trendy way to accessorise your home whilst also providing a great source of light.
Whilst they work perfectly as task lights, our pendant lights will also help you set the mood for a romantic evening. All our pendant lights are dimmable, so you'll never have to squint through harsh light again!
what is a pendant light?
So what is pendant lighting? Sometimes known as drop lights, pendant lights are light fixtures suspended from the ceiling by a cord, chain or metal road. Suspended like a pendant on a necklace (hence the name) pendant lights are brilliant for lighting hallways, stairwells, kitchens, bedrooms – basically, every room in the house.
When using lights in your home, consider the three main layers of light: general, task and accent lighting. To use your pendant light for general lighting, hang your pendant light in the centre of the room to illuminate most of your room whilst creating depth and dimension.
Pendant lights are perfect to use as task lighting to draw attention to paintings, sculptures, or certain areas of your home without specific lights. They are often used in multiples for area lighting above kitchen islands and dinner tables. If your electrical opening is in the centre and your table isn't, buy a drop light with an extra-long cable to pin in the right place using a hook.
Ideally, hang your pendant light seven feet above ground, and 30 inches above a tabletop for ultimate practicality. If space is at a premium, simply try different heights until you're happy with the way it looks.
Not everyone has the luxury of living in a period property with high ceilings, but that doesn't mean you can't splash out on pendant lighting! Hang your pendant light low above a table to create ambience and to decorate an empty space.