Back to top
Side Tables.
find the perfect companion for your favourite seat with our side tables.

No well-furnished home is complete without a smart spread of functional surfaces, and our chic side tables make the perfect space-friendly fit. From trusty traditional pieces with elegant balustrade legs, to sleek scandi pine wood and art deco designs sculpted in glistening gold – our collection offers side tables that belong centre-stage. Shop the collection.

Whether you're looking for glam and glossy luxury or a simple and sturdy minimalist design, our side tables are the ideal complement to any cosy spot. Go with strapping natural pinewood for party-friendly portability, or make a sumptuous style statement with polished metal and elaborate Art Deco designs.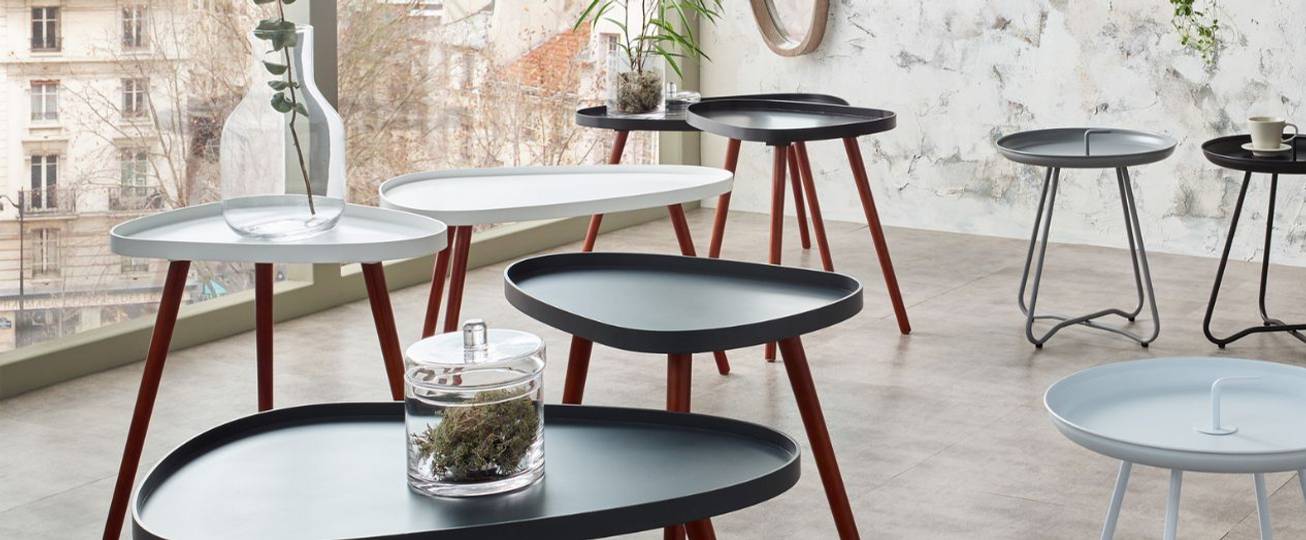 side tables at furn.com.
No room for a bulky coffee table, or simply looking for something a little more compact and graceful? Then our sleek side tables might just make the perfect fit. Pop them beside your sofa or armchair for a handy spot to store your tea, or by your bedside for the ideal minimalist nightstand. Fashionable, fuss-free and easily portable for those serendipitous social gatherings – there's not a better table to have by your side.
Got a big makeover job on your hands? Why not take a look at our other furniture, too. We've got quality coffee tables, console tables, bookcases and plenty more to explore.
Or, if you're in need of some fresh ideas, make sure to swing by our Inspiration Blog for the very best in guides and design concepts. We've got a detailed outdoor furniture buying guide, as well as general style advice like how to create a timeless decor scheme.
what is a side table?
A quick browse through any furniture store is enough to reveal the overwhelming torrent of table types that exist in today's interiors. From classic kitchen tables where families gather and meals are shared, to writing desks and dressing tables where hours of meticulous work is done – it can all feel a bit hard to get on top of.
Most tables serve the same purpose on a broad level – providing a space to pop essential items, ornaments or whatever loose trinkets you've got knocking around in your pockets. The only differences, really, are in where tables are placed and whether they've got a specific purpose.
A side table is placed beside a piece of furniture you'd sit on, so important items can be kept in reach. A small table beside your living room sofa which holds a lamp within arms' reach, for example, would be called a side table. They should be shorter than the furniture they're placed next to, and are generally less decorative than coffee or console tables.
how to decorate a side table.
Whether you're simplifying your bedside table, are in need of an extra storage surface or you're simply looking to style up an empty corner in your living room – a side table is always a good option. Although they look great – from our glamorous gold options to sleek minimalist designs – side tables aren't an accessory in and of themselves. You'll need to do some decorating and arranging to get the most out of your table, and we've got great tips to guide you through the process.
The first thing to make sure of is that your tabletop ornaments vary in height. This will create a chic sense of balance and stop your table looking crowded or blocky. If you're adding a tall table lamp, add something that's lower too, like stacked books or a tray of your favourite trinkets.
For a breezy nature-inspired look, decorate your side table with something organic like flowers, a potted plant or even some shells from your latest beach adventure. Something scented, like a diffuser, candle or pot pourri, will add sensuous depth and make your room smell delightful.
As with all styling, sometimes it's simply a matter of trial and error. Try a table arrangement, step back, snap a pic and see what you think. What's working for you and what isn't will quickly become apparent, and you can tailor the look to your liking.