Back to top
Sun Loungers.
drench yourself in sun with our comfy loungers.

Kick back and work on your tan with our soft, comfy and stylish sun loungers. Who needs a poolside in Spain when you've got your own slice of heaven in your back garden? Our collection is available in a range of colours including blue, pink, and black, making coordinating with your outdoor style easy. Shop the collection.

Our sun loungers are available to purchase as sets of two, meaning everyone will be queuing to come over and spend time in your garden. Manufactured from a strong powder coated steel, our sun bed loungers are built to withstand both rain and shine.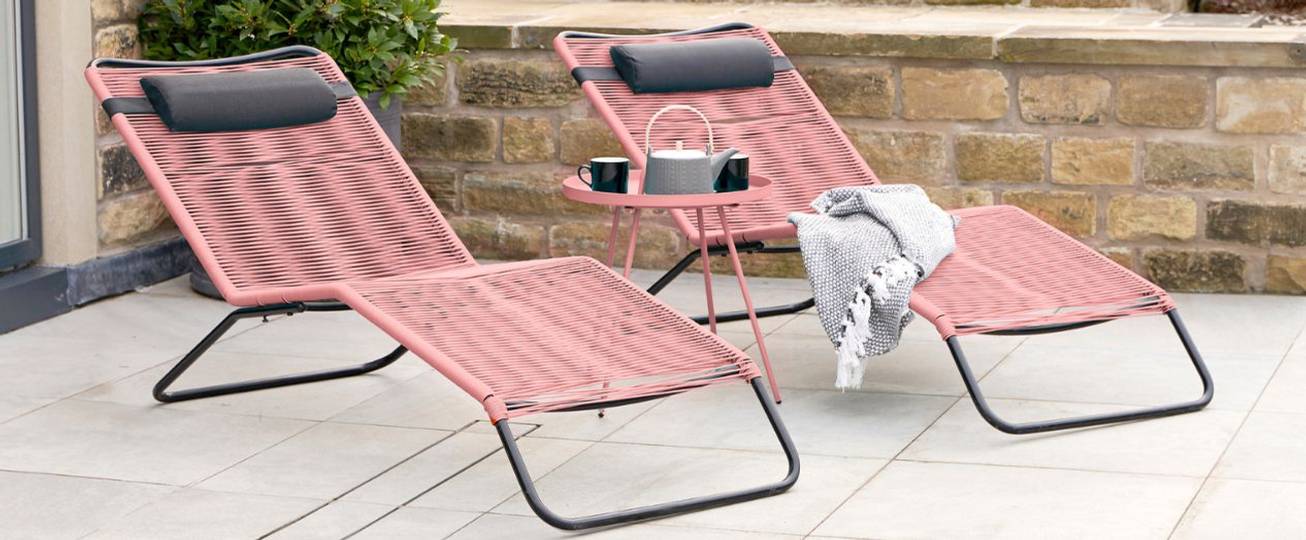 sun loungers at furn.com
Add the finishing touches to your outdoor spaces with our garden sun loungers. The perfect summer must-haves to spend many a warm day basking in the sunshine. Our garden loungers are available to purchase as a pack of two so you can top up your tan with your partner, friend, or family member.
If you're wanting only the best for your garden this summer, then why settle for less! With a built-in, incredibly comfy head rest, our on-trend sun loungers will soon become your favourite place to sit and relax on your balcony, patio, or garden space. Designed with a flexible weave and a strong powder coated black frame, our sun bed loungers are long-lasting and weatherproof.
These stylish metal sun loungers are available in a variety of colours, so whether you want to keep it tonal and modern or add a pop of colour, there's something for every garden! Choose between vibrant orange, soft pink, and lively blue for something bright, or go for a sleek addition with bold black and classic grey shades.
Why not complete the look with an outdoor coffee table? They're the perfect place to pop your drinks and suncream on whilst you sunbathe. And you can even add outdoor cushions and throws to enhance the comfort.
For more advice on placement, style, and care of your sun loungers, take a look at our outdoor furniture buying guide for extra info.
how to store sun loungers.
Our sun loungers are designed to be left outside and withstand the elements. Given their synthetic properties, they're weatherproof, durable and UV protected – so you don't need to worry about heatwaves or rainstorms compromising your loungers.
However, if you would like your garden loungers to stay in top-tip condition and last many summers to come, you may consider storing them inside a dry shed or garage. Our sun loungers can be neatly folded away, meaning they won't take up too much space when putting them away for the winter.
how to clean sun loungers.
Our sun loungers are made from a synthetic manmade metal that mimics the look of natural wicker. The material doesn't degrade as quickly as natural wicker meaning it's long-lasting, low maintenance, and not easily spoiled.
Garden furniture will inevitably need a clean from time to time, what with muddy paws and food spillages. So, if your sun lounger does become dirty and in need of a clean, here's what we suggest...
Step 1 – Use a feather duster brush to remove any loose dirt or dust between the string's gaps.
Step 2 – To remove any stubborn debris, try scrubbing with a softer tool, something like an old toothbrush will work great.
Step 3 – Take a bowl of warm soapy water and use a sponge or even use your garden hose to clean the garden loungers.
Step 4 – Make sure to rinse away the soap or cleaning detergent you've used. Leave your loungers out in the sun to air dry before enjoying reclining on them once again.
We do not recommend using any harsh chemicals or abrasive sponges when cleaning your sun loungers as this can damage the finish.