Back to top
Halloween Bedding.
sepulchre yourself in séance-friendly style with our Halloween bedding.
We all need a lair of luxe to return to after a long night of scoffing snacks and slaying monsters – and that's where our
Halloween
bedding comes in. Crawl your way – if you dare – through eerie abstract prints, sinister starry nights and terrifying tufted designs, all captured in chilling tones of midnight black, spectral white and earthy
autumn
orange. Shop the collection.
Our spine-chilling signature designs are hand-crafted in the UK at our Yorkshire studio, making our Halloween bedding an entirely homegrown horrorfest. Entomb yourself in the finest of soft 100% cotton, or give yourself the best of both worlds with our easy-care polycotton blends. Our child and single sizes – perfect for little devils – come with one matching pillowcase, while double sizes and up come with two.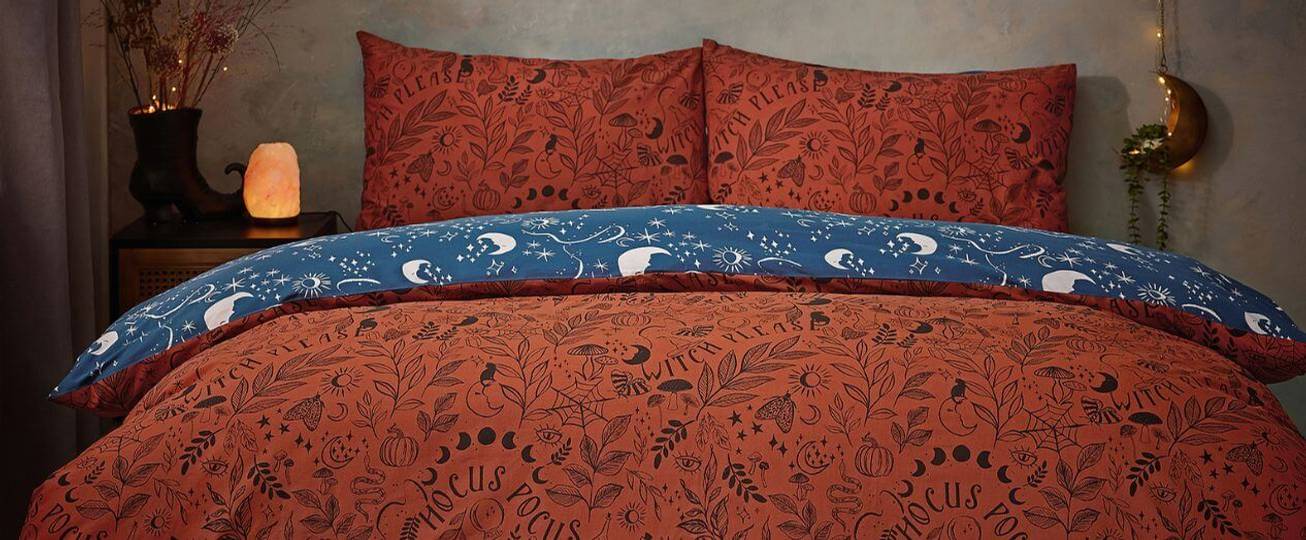 Halloween bedding at furn.com.
We're proud to say we've got some of the most hair-raising Halloween bedding in all of the UK. From slithering serpents and curious black cats to tufted cotton symbols of pumpkins, skulls and ghosts – we've turned all your Halloween favourites into devilishly dreamy designs. Smother yourself in spooky vibes with traditional Halloween hues of fiery orange, midnight black and ghostly white, or opt for something more autumnal with rich harvest hues of sweet auburn and earthy green.
Scared silly yet? We've got plenty more horrifying home furnishings where that came from. Beat the heebie-jeebies and snag yourself something cosy to cling onto with our Halloween cushions, give your bed a haunted mansion makeover with spooky duvet cover sets, or bring some layers to your lair with our toasty Halloween throws.
If you're on the hunt for Halloween decor but it's starting to feel like all your ideas are cursed, why not head over to our blog and let some fresh inspiration possess you? Tread carefully through our stellar selection of easy guides and styling tips for seasonal occasions. We've covered everything from how to choose bedding to styling your home for the spooky season, and we've even got tips on how to celebrate Halloween at home.
when to put Halloween decorations up in the UK.
A regular point of contention between fright fanatics and haters of All-Hallow's-Eve – when exactly Halloween decorations should be put up is constantly debated. While there's no written rule, and the right moment to let those paper pumpkins loose is entirely up to you, we've got some tricks and treats for transitioning into the spooky season with ease.
The acceptable date to start slinging up those scary decorations all comes down to the type of Halloween decor you're working with. While you might want to keep the jack-o-lanterns and buckets of fake blood under wraps until October arrives, there's no harm in bringing out something a little more subtle before the festivities (technically) begin.
Our Halloween decor collection is swarming with pieces that offer a more understated take on the season, meaning you'll be able to brandish them proudly without worrying about nosy neighbours giving the ghostbusters a call. Our tufted Halloween bedding can be used year-round if you're so inclined, without driving any spooky-season-scrooges batty. The designs are clean and subtle, yet bring a healthy dose of horror that looks ghoulishly good in the Halloween season. If you're looking for something even more lowkey, we've got tons of options that are more autumnal than affrighting. Stick with warm, earthy hues that carry associations with the harvest season, and you'll have a stealthily-spooky aesthetic that not even the slyest of spirits will catch wind of.