Back to top
Halloween Cushions.
style your space the spooky way with our spellbinding Halloween cushions.
Deathly designs, terrifying textures and a whole host of hair-raising hues – it must be our
Halloween
cushions collection. Welcome in the witching hour with slithering serpents, curious cats and eerily abstract prints, or embrace cosy
autumn
tones of pumpkin orange, midnight black and glowing potion green. Shop the collection.
Our Halloween
cushion covers
are the ultimate way to introduce a concoction of spine-chillingly snug vibes to your home this spooky season. Summon a haunted mansion aesthetic with witchy prints and otherworldly abstract figures, or keep on the cosy side of the season with our soothing selection of Halloween hues. Many of our Halloween
cushions
are designed in the UK at our Yorkshire studio, and sent for manufacturing at our factory in Staffordshire.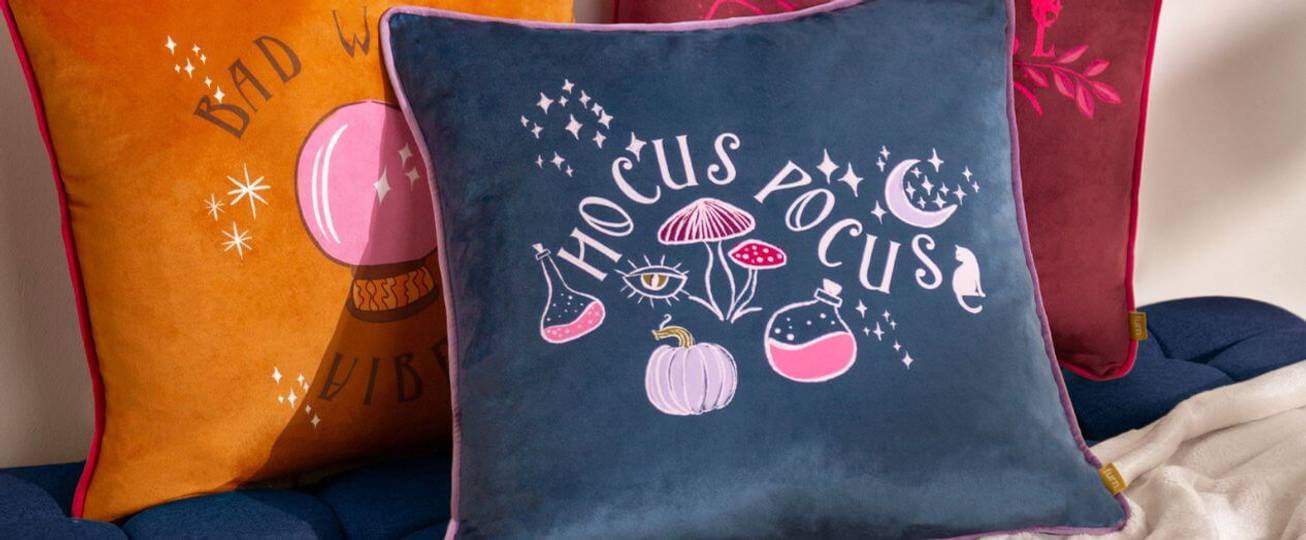 Halloween cushions at furn.com.
Whether you're a true trick-or-treater, Halloween party haunter or a certified scaredy cat – we're sure you'll find something to scream about in our captivating collection of Halloween cushions. Make a spooky style statement with witches' hats, crescent moons and petrifying potions, or keep things subtly seasonal with autumn shades of pumpkin orange and cauldron black.
All set for All Hallows' Eve? Get in the spirit of the spooky season with our creepy collection of Halloween home furnishings. Give your sleep sanctuary a scary cemetery vibe with BOO-tiful Halloween bedding, or bring a cosy touch to your living room with our autumnal throws.
If you're eagerly awaiting the night of witches but need some decorating advice, our inspiration blog is bubbling with helpful guides and seasonal decor suggestions. Make your Halloween cushions a hit with our cushion covers buying guide, learn how to clean your decorative cushions with our handy guidelines, or get inspired to celebrate Halloween at home with our seasonal suggestions.
how to decorate your living room for Halloween.
Halloween is one of the most magical times of the year, but that doesn't mean it's not haunted with holiday stress. From stuffing the cupboards with trick-or-treat titbits to decking out your little ones in devilish costumes – sailing smoothly through the spooky season isn't as easy as it looks, and we've not even started talking about decorating your home for Halloween yet.
When it comes to creating a vampiric vibe at home, you don't get much more fitting than our Halloween cushions collection. Whether you're looking to bring a little spookiness to your living room or a touch of the macabre to your bedroom decor – we're sure you'll find a Halloween cushion to set your spirit alight. The living room is the social hub of the home, so you'll need to make sure it looks the part if you're planning on hosting a Halloween party this year.
Choosing a monstrous motif or two and building a theme is always a good option, and will help create a sense of overall cohesion in your space. Look for Halloween cushion covers that feature your favourite spooky symbol – whether that's cursed black cats or wicked witches – and continue the motif in accents like throws, cushions and wallpaper.
Our autumn edit is rich in mellowing motifs and fiery fall hues if you fancy an understated take on the festivities. Decorating with orange, black and green will hike up the Halloween vibes while making sure you won't have to hide your decorations until next year. Choose from autumnal orange cushions, midnight black wallpaper or an earthy green throw – and you'll have a harmonious Halloween aesthetic that avoids kitschy conventions. Spook things up with curated faux cobwebs, a smartly positioned skeleton or some paper decorations if you're craving a creepy touch, and you'll have a shuddersome Halloween setup that won't be a nightmare to take down.