Back to top
Orange Cushions.
bring a burst of colour to your home with orange cushions.
Discover gentle ginger, deep paprika and burnt orange cushions that will breathe new life into any room. With a wide variety of patterns, including trendy geometric and adorable animal prints, you'll have no trouble finding an orange cushion to truly make your heart sing. Find your orange cushion today.
Filter through our available fabrics including lavish velvet and smooth faux wool and you'll be sure to find the orange cushions you have always desired. We also have a vibrant range of
orange outdoor cushions
made with UV resistant and water repellent material, allowing your garden to stay fabulously fresh all year round.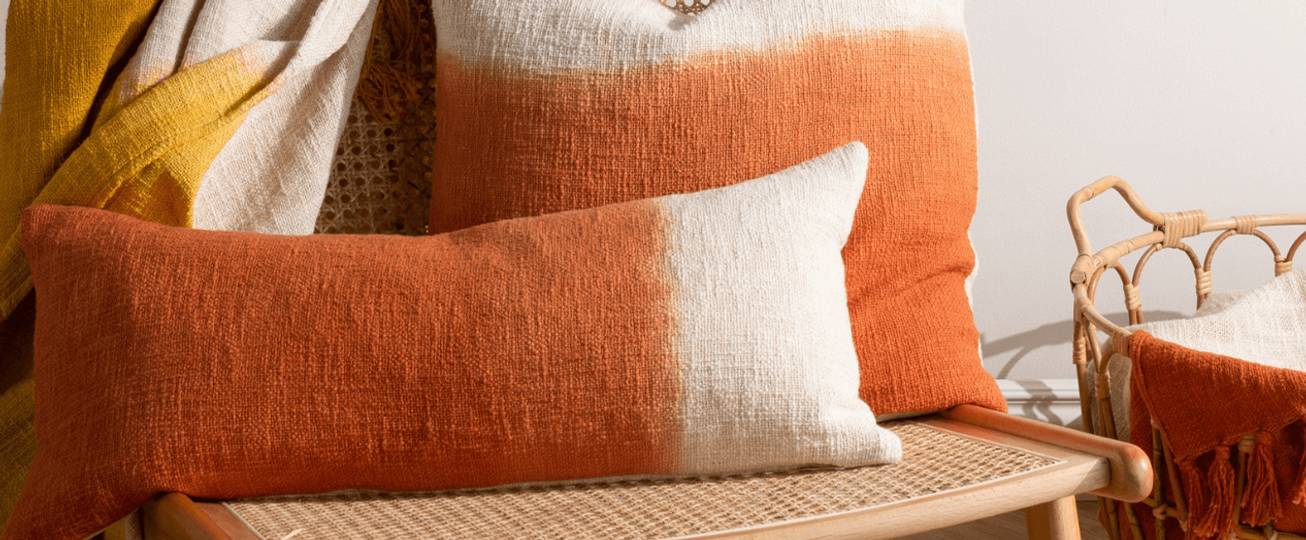 orange cushions at furn.com
Strong, energetic, and uplifting are just some of the words that come to mind when thinking of the colour orange – so why not bring the same energy to your home? Tangerine, clementine and orange are perfect for creating a bright, citrus zing amongst all themes.
If you want your home to have the same calming vibe as sun-kissed skies and candle-lit nights, our orange cushions are available in rust, brick, and terracotta - bringing a more natural feel to your home.
When styling your home, comfort should always come first. Afterall, what's the point in having beautiful cushions if you never want to use them? The majority of our orange cushions are available to buy as a cover only, polyester filled or feather filled, which allows you to love your cushion both inside and out.
If you like to switch up your look, our orange cushion covers are perfect for doing so effortlessly.
Not sure which filling is best for you? Check out our buying guide for cushion inners. You'll find information on which cushion inner pads are the best for your cushions.
what colours go with orange?
Naturally occurring in fallen leaves, pumpkins, and sunsets, it's no surprise burnt orange is the recognised colour of autumn. To re-create the serenity of autumn in your home, pair your burnt orange cushions with other earthy tones. Dark wood furniture with its deep browns and rich tones will really help the burnt orange colour pop. Pair with smaller bottle green cushions to add more depth to the colour scheme.
Orange is a blend of red and yellow, so it's not surprising that these two colours will pair perfectly with our favourite hue. To create a warm, summery space, pair your orange cushions with red duvet cover sets or Moroccan rugs, and decorate with yellow throws or ornaments to bring a burst of vibrance. Add a sunset vibe with shades of pink too.
Loving orange? Show your devotion by pairing orange cushions with more orange! To avoid your furnishings blending together, consider using different shades of orange such as bright tangerine with a more muted version. Adding variations in textures and patterns will help prevent your home from feeling flat, and using neutral tones as a pillar between shades will emphasise the difference in hues.