our showstopping outdoor rug collection has just rolled out!
Taking inspiration from exotic jungle vistas; ancient cultural symbols; psychedelic florals and swirling abstract designs – our new outdoor rug collection is finally here. We've got a lovely mix of materials as well as styles, with rugs available in either dreamily soft polyester flatweave or eco-friendly 100% recycled plastic options.
All our recycled plastic rugs are waterproof and UV-resistant, while our polyester selection is UV-resistant and durably weatherproof. The entire collection is suitable for both indoor and outdoor use, and can be easily folded or rolled up for quick and efficient portability.
---
why outdoor rugs are a garden essential.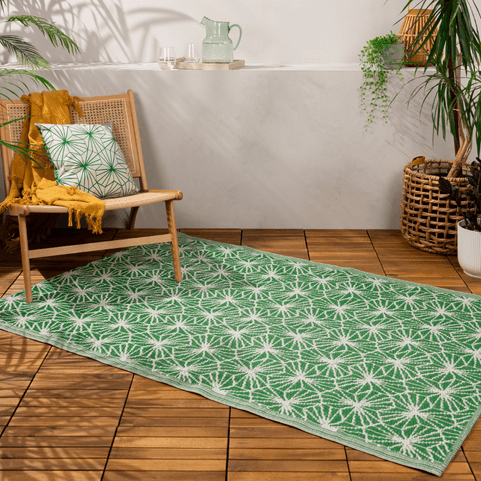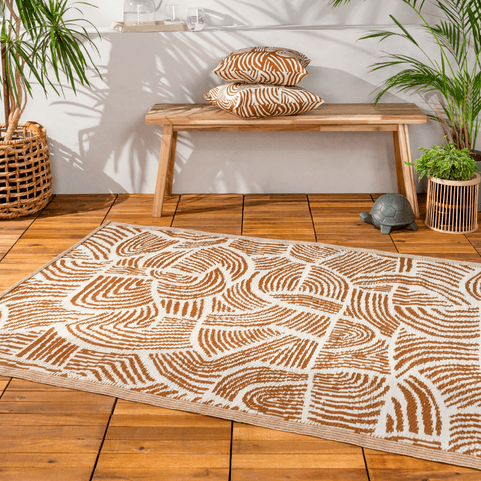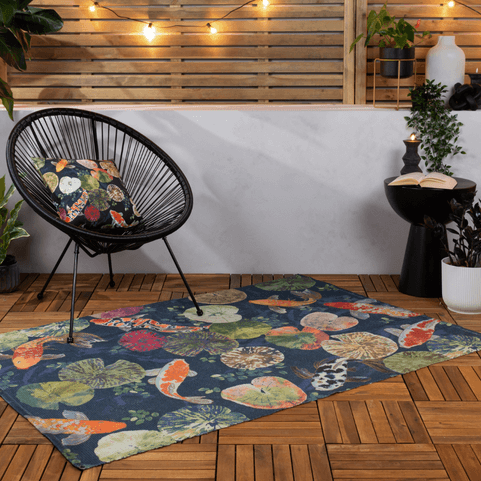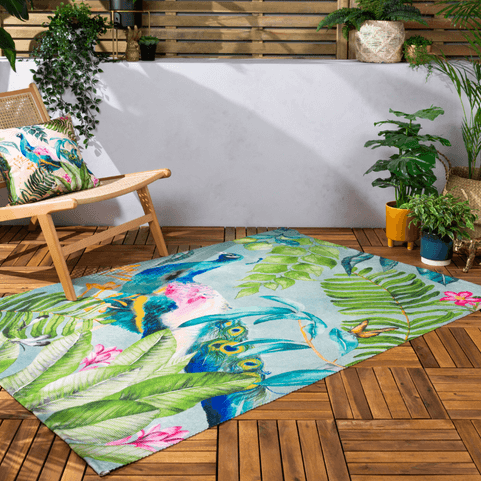 furn.com
Whether you want to soak up the sunshine with friends on a busy decking, or convert your small garden space into an intimate oasis of calm – an outdoor rug can work wonders for bringing some depth and life to your space.
We all know that a good rug can tie a whole room together, and the same goes for patios, gardens and other outdoor spaces.
An organic, understated minimalist space can take on a strong sense of structure and cohesion with the right neutral-hued rug.
In a similar way, the energy in an eye-catchingly eclectic garden can be dialed up a few notches with the simple introduction of an outdoor rug with a bright and audacious colour scheme.
Not to mention, outdoor rugs offer a soft and foot-friendly alternative to rough outdoor surfaces. We all want the option of frolicking barefoot through our outdoor space like we're at a tropical island resort, but splintering wooden decking and coarse gravel patios aren't always too kind to bare skin.
Our polyester and recycled plastic outdoor rugs are gentle on skin, bringing maximum comfort and the peace of mind that no sharp surprises are laying underfoot.
---
furn.'s new outdoor rug collection.
We've been working on a jaw-dropping range of colours, designs and patterns for this collection. Using examples from both our recycled plastic and soft polyester rugs – we've broken down a few of our favourite designs that will make a transformative statement in your outdoor décor.
---
klay outdoor rug in natural.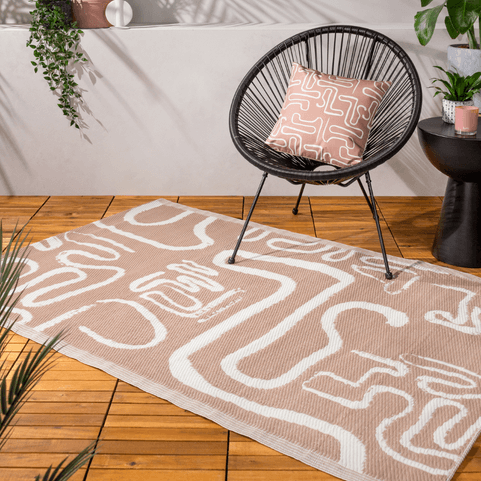 furn.com
100% recycled plastic.
This stunning piece is an ideal example of just how bold and interesting neutral colours can be. The whirling, free-spirited design perfectly captures the openness of the great outdoors.
The colour scheme is sophisticatedly neutral, and has a beautifully grounding effect on the dreamy, abstract patterning. This rug is reversible and flips over to reveal a slightly brighter look, if you fancy a change.
---
tibetan tiger outdoor/indoor rug in coral.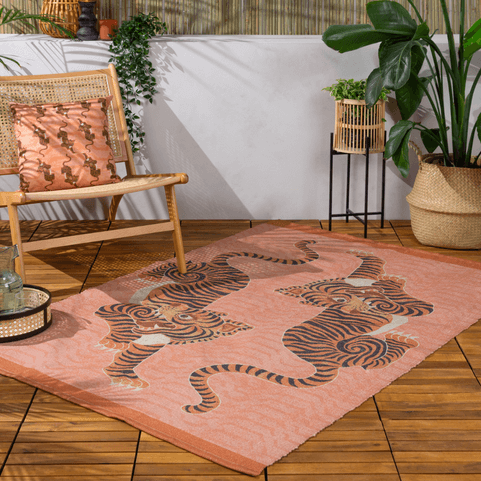 furn.com
polyester.
Inspired by the ancient cultural symbol of the Tibetan tiger, this fierce design will bring an exotic and mystic vibe to your outdoor space. Said to ward off evil spirits, the tiger is a revered and honourable figure in the Buddhist tradition.
The intensity of the black stripes create immediate drama and interest, and the washed coral tones make the perfect backdrop for the tiger illustrations to really pounce out.
---
tocorico outdoor rug in mustard.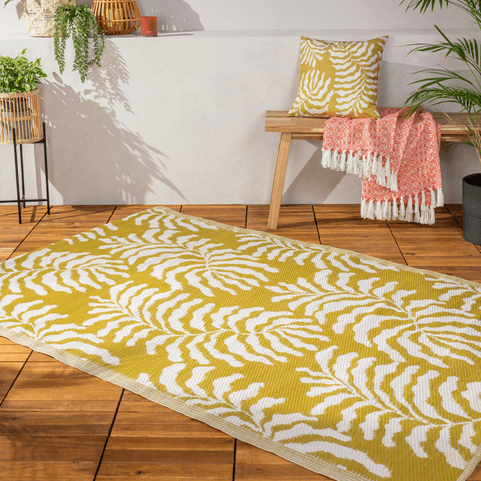 furn.com
100% recycled plastic.
The mellow, summery mustard hue makes this rug a real standout. With the perfect colour scheme to complement the sunshine on a decking, patio, or even at the beach – it's a must-have for the outdoor season.
The simple floral pattern is soothing and easy on the eye, and the reversible design offers a lighter look if you feel like switching things up.
---
leopard outdoor/indoor rug in ochre.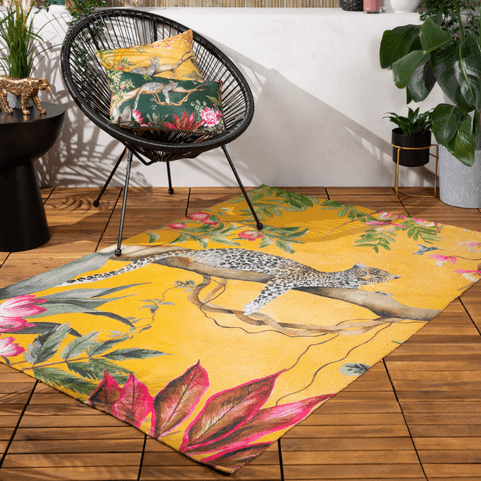 furn.com
polyester.
If you're looking for a real statement piece that'll steal the spotlight in any space – our leopard outdoor rug might just be for you.
The hand-drawn illustration of a lazing leopard is a majestically bold focal point, and the surrounding bursts of colour bring this rug's vibrancy to a new level.
---
checkerboard outdoor rug in green.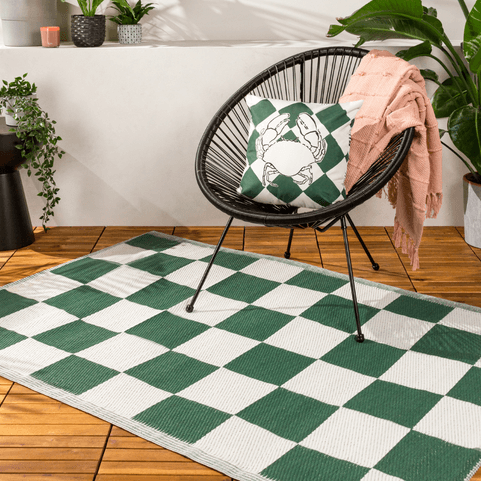 furn.com
100% recycled plastic.
An age-old interior design trend that's been making a strong contemporary comeback – our checkerboard rug is the perfect way to bring some structure to your space while not getting too solemn.
The forest-green and white colour scheme is the perfect match for outdoor garden spaces, and the easily reversible design is a lifesaver against any unfortunate spills or stains.
---
psychedelic jungle outdoor/indoor rug in pink.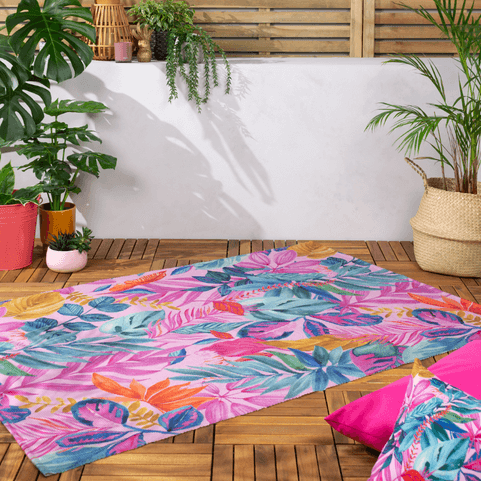 furn.com
polyester.
Guaranteed to turn heads and become a topic of conversation, our psychedelic jungle rug is the perfect outdoor statement piece for lovers of the bright and bold.
Showcasing a kaleidoscopic collage of blue, orange and pink jungle flora – the soft pink base tone provides a warm and soothing backdrop for this eclectic design.
---
---
---
---